BLACK SWAN
Shake The World
Frontiers Music Srl - 2020




If you are looking to establish a new band with an already established rock and roll pedigree, putting singer Robin McAuley (MCAULEY-SCHENKER GROUP), guitarist Reb Beach (WINGER, WHITESNAKE) and bassist Jeff Pilson (DOKKEN) together is a really good start to things. Add in drummer Matt Starr, who has played with Ace Frehley, BEAUTIFUL CREATURES and Joe Lynn Turner to name just a few, and you have yourself a powerhouse lineup and can look forward to an album filled with a great musical soundtrack, killer vocals that can rip through a fast burning rocker and then rip your heart out with a emotive performance for a more ballad driven tune.

And that is mostly the case with the Shake The World, the debut album from BLACK SWAN. I know you are probably thinking that because the album was released by Frontiers, that it has that "Frontiers sound" to it, but with all songs written by McAuley/Beach/Pilson (who produced the album as well), there's still more of an melodic edginess to songs.

In order to announce your presence with authority, a band really needs to kick off the album with an attention-grabbing rock and roll song. Such is the case with the hard-driving anthemic title track. Starr's drums are the first thing you hear and it quickly establishes the band's heavier sounding rhythmic foundation. But once all the individual parts mix together, the song is an in your face ball-busting explosion of rock and roll. McAuley's vocals (along with the backing vocals in the chorus) are compelling here. When the band follows that up with a still rocking but slightly more hook-laden "Big Disaster", you know they've really hit on something here.

Those two songs were the first tracks released in advance of the album's official release date so I heard them early. And I loved them.

As for the remaining material, there's a lot to work with on Shake The World. The lyrics get a bit topical on the song "Johnny Came Marching", which looks at those serving in the military and the accompanying issues with re-entry when they come home.

Since I'm a big fan of McAuley's voice, I loved the varying tempos he pushed his singing to depending on the style of the song. As I said, he really went for broke on the title track. However, he nails that more emotional necessity for a power ballad like a seasoned pro. It's isn't a surprise of course, but while the lyrics on "Immortal Soul" are from a more "love song" viewpoint, the faster pacing of the song makes the two elements combine superbly. A more traditional power ballad had a great vibe to it and the emotions conveyed through McAuley's voice made the song a winner.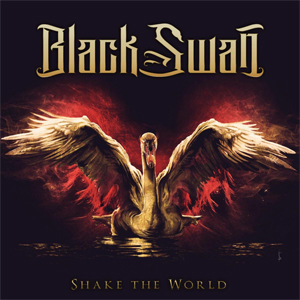 If I'm being honest, there's a couple of songs that just didn't work for me. The caught cheating track "She's On To Us" has a great musical sound to it but left me otherwise uninterested. And the closing song "Divided/United" spent the first three minutes of its running time being a slow to midtempo drag. It turned into a fast tracking rocker after that. I liked that part of the song but the first part is just hell to get through.
On the other hand, I initially didn't think much of "Long Road To Nowhere" but as I listened to the album a few times, it grew on me to the point where I would chalk it up as one of the better songs on the album. When the band hits the gas and plays an unrelentingly hard rocking track, they are especially on fire. Reb Beach sounds great on tracks like "The Rock That Rolled Away", "Sacred Place" and "Unless We Change".
The album was mixed and mastered by Alessandro Del Vecchio, who is closely associated with Frontiers so going back to that "Frontiers sound" I mentioned at the start of this review, there is a little bit of that feel to the overall sound of some of the music. However, it isn't overpowering and that lets the album avoid feeling like it was put together on an assembly line.
The lineup for BLACK SWAN is a great combination of each members musical talents. Shake The World showcases those talents into a damn fine hard driving yet melodically intense rock and roll album.
4.3 Out Of 5.0