KILL RITUAL The Opaque And The Divine


By Andrew Depedro, Ottawa Corespondent
Friday, May 1, 2020 @ 11:10 AM


| | | |
| --- | --- | --- |
| | | |
KILL RITUAL
The Opaque And The Divine
Headless Corpse Records




Born out of the marriage of former members of aspiring Bay Area trad metallers IMAGIKA and ELDRITCHKILL RITUAL have boasted a fine balance between their old school metal spirit and their modern adaptability. Its music has always been very guitar-oriented, courtesy of axe-slinger and founder Steven D. Rice, the band's singular, constant presence since its inception. Four albums into their career starting with 2012's impressive debut The Serpentine Ritual and amassing a notable array of touring experience with the likes of ICED EARTH, SANCTUARY and VENOM among other sizeable names in metal, KILL RITUAL are just as well-known for its musical versatility as it is for its work aesthetic.

It would explain why their recently-released fifth album The Opaque And The Divine features some guest appearances throughout its setlist, among them Chris Lotesto (ION VEIN) who lends his melodic riff magic to the solo on "Touch The Dark", Joey Concepcion (THE ABSENCE, SANCTUARY, JASTA), who masters both solos on "The Veil Of Betrayal" and especially Andy La Rocque (KING DIAMOND), who not only conquers the soloing on the driving "King Of Fools" but also shares the album's engineering duties alongside Steven D. Rice.

Most importantly, the album was essential in breaking in the band's new frontman Brian "Chalice" Betterton (DIRT), who brings a broad, metallic vocal range that is emblematic of the band's classic and current metal style, with his screams from hell to classic rock and metal voices prevalent throughout the album. He brings his best modern gruff-sounding Rob Halford style voice on the opening tracks "Rest In Pain" and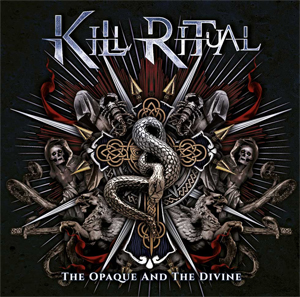 "Dead God" – both of which could easily fit nicely on the last two PRIEST albums. Another high point from the album would be the duelling solo work on "Veil Of The Betrayer", which is the longest track throughout both this album and probably KR's entire career, clocking in at just under 8 minutes.
With that said, Opaque is probably the longest album in KR's discography with the average song length being at 5 minutes, and while many of the songs showcase the band's vast array of talent, from Rice's flawlessly-executed shifts from rhythm to lead duties and Chalice's versatile range, there's also the notion present that a good quarter of those songs could benefit from being 3 or 4 minutes long. "World Gone Mad" and "Praise The Dead", in particular, could benefit from some of their sporadic time changes in between to be as effective as two straight-up thrashers each. Even the closing number "A Child To Die For Again" could do with about a minute or so of its fade-out being trimmed so as to avoid the tone of the album overall becoming, well, too ritual and not enough killing in its impact in parts. Otherwise, for many true metal enthusiasts, The Opaque And The Divine makes its adulation for metal perfectly clear.
4.0 Out Of 5.0
www.instagram.com/killritual
www.twitter.com/killritual
www.facebook.com/killritual




Please log in to view RANTS

If you don't have a username, click here to create an account!