HAVOK V


By Francisco Zamudio, Metal X Candy 2.0
Monday, June 1, 2020 @ 11:27 AM


| | | |
| --- | --- | --- |
| | | |
HAVOK
V
Century Media Records




Thrash Metal will likely stand alone as a genre that never had to evolve too much. Its consistent formula has had a better hit or miss ratio in its favor ever since the crossover gateway drug was introduced back in the 80's. The fast pace drums and guitars that went more abrasive not only vocally but in guitar tones and drums as well, still contained lyrical content of as social and anti-political in nature. It's something that's basically a historical relevance ever since music with words was created. The current upswing that has been thrashing along for about 10 years (give or take depending on who you ask) has had a constant growing fan base and growth in the abundance of bands. One of the groups seeing the benefit of this growth is Colorado's HAVOK who have been in the scene since 2004 before breaking out with their shattering release BURN (Candlelight Records) in 2009. This helped create a New Wave of Thrash bands in America and in 2020 they are holding strong. Now on their latest, their second under the CENTURY MEDIA flag, they release their 5th album, appropriately titled V.

The near-west coast thrashers have been going strong for 15 years. They don't feel the need to over do it with technicality. They stick to the basic thrash formula that has worked for decades. A large part of that working formula is vocalist and guitarist David Sanchez whose lyrics set out to enlighten the listener on those ideas that we as humans should be more aware of. You know, the political and environmental (hidden) agendas that benefit no one but the big businesses that abuse their power and try to divide and control us for their own greed (and if you don't value music, or art for that matter, with a message - I think you should re-evaluate yourself as a human).

If you simply look at song titles like "FEAR CAMPAIGN" it easily describes the current state of things, a tale as old as time. A real kicker of a song, it is relentlessly thrashing its way through your speakers with the gang-chant of "FEAR!!" What HAVOK also do is entwine a lot of melody into their style. More so now on this record that is nearly their ...AND JUSTICE FOR ALL in a lot of ways. At least that is certainly the vibe off the opener "POST-TRUTH ERA", another whose title can easily apply to today. Whether you groove to songs like "RITUAL OF THE MIND", "INTERFACE WITH THE INFINITE", "BETRAYED BY TECHNOLOGY" – or feel like thrashing about to blistering tracks "COSMETIC SURGERY", "MERCHANTS OF DEATH" – this album give you the best of both worlds and goes straight for the gut.

Whether done on purpose or not, and in a genre that isn't too multifaceted unless it crosses over like many bands have, they pay direct homage to the likes of the America's version of "The Big Four". Thankfully so too as crossover bands eventually gave way to DEATH, both in genre and band. If you believe that Thrash should maintain some semblance towards traditional hardcore punk, I would tend to agree. HAVOK has maintained this touch throughout their time but also add quite a bit of melody, and not to mention much of the traditional groove that slows thing down a bit before the pit-light turns green. Over the years they've sharpen their teeth on the aggressive steel they shed, while stepping a little sideways like on their CENTURY MEDIA debut CONFORMICIDE (2013).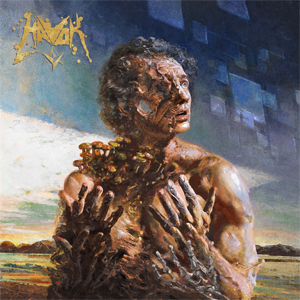 V is more contained than its predecessors yet dips its toes into some more extreme territory in terms of technicality and progressiveness and even production sound. Thanks to the engineering and mastering touch of Mark Lewis who's work with some prime names in the extreme Metal world. Lewis certainly knows how to hone in that thick and well-rounded sound. A simple example is the low-end provided by latest bassist Brandon Bruce who really makes his presence felt. Drummer Pete Webber double kicks pummel you throughout the album while the guitars are razor sharp cutting through just right.
This is the time where music and the words behind them will get soaked in by aspiring metalheads and every generation of Thrash-Bangers, not to mention musicians as well. The Metal Community is made up of those whose rebelliousness and individuality screams within us, especially at a young and influential age. We need to stand up and be heard and V certainly has the gall to support our type of Anarchy.
4.0 Out Of 5.0




Please log in to view RANTS

If you don't have a username, click here to create an account!