BPMD American Made


By Ruben Mosqueda, Contibutor
Monday, June 1, 2020 @ 4:14 PM


| | | |
| --- | --- | --- |
| | | |
BPMD
American Made
Napalm Records 2020




A new supergroup has assembled, that band is BPMD and it features BOBBY 'BLITZ' ELLSWORTH from OVERKILL on vocals, drummer and the man of 1,000 bands, MIKE PORTNOY of THE WINERY DOGS and SONS OF APOLLO amongst others, bassist MARK MENGHI from METAL ALLEGIANCE fame and guitarist PHIL DEMMEL formerly of Bay Area acts VIO-LENCE and MACHINE HEAD. BPMD will release their debut album American Made on June 12th, 2020 via Napalm Records. The album is a collection of the band's favorite songs from 'American' acts from the 70s and they've stacked the deck!

Featured within American Made are such classics like TED NUGENT's "Wang Dang Sweet Poontang", AEROSMITH's "Toys in the Attic", "Evil" as made famous by PAT TRAVERS BAND, ZZ TOP's "Beer Drinkers & Hell Raisers", LYNYRD SKYNYRD's "Saturday Night Special", BLUE OYSTER CULT's "Tattoo Vampire", VAN HALEN's "D.O.A.", JAMES GANG's "Walk Away", MOUNTAIN's "Never In My Life", and GRAND FUNK RAILROAD's "We're An American Band" closes out the album. While the bulk of these tunes are brilliantly executed on a musical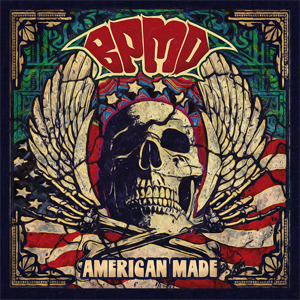 level given who is playing on them. Ellsworth's vocals could prove to be the deal breaker as his snarly, 'cartoony' vocal approach is an acquired taste. We have heard Ellsworth take a crack at classics in the past on OVERKILL's 1999 cover album, appropriately titled Coverkill. I don't need to tell you how killer of a drummer Portnoy is or how criminally underrated Demmel is because their work speaks for itself! And Menghi is a hell of a bass player as he holds down the fort with a booming bottom end.
My personal favorites are as follows: "Wang Dang Sweet Poontang", "Toys In The Attic", "Beer Drinkers & Hell Raisers", and "We're An American Band"---all work very well with Ellsworth's vocal style and are worth the price of admission alone. American Made is no question a nostalgic album, with excellent song selections. It stands out above the pack in terms of cover albums. With some of the participants on this album taking a part in METAL ALLEGIANCE it makes you wonder why it wasn't turned into one of those projects. It muddies the water some, and with the 'quirky' lead vocal--it could have some listeners stopping the album for a breather.
4.0 Out Of 5.0




Please log in to view RANTS

If you don't have a username, click here to create an account!