OZ
Forced Commandments
Massacre Record




It's amazing how global the world is today. With smart technology I can send a text halfway across the world in a matter of seconds. A far cry for my teenage years where just getting music from a band in another country was a monumental undertaking. A band had to get either picked up by an importer (Jem or Important Records for example) or the band would have to get lucky and get their album distributed by an American label.

Such was the case for Finland's OZ. Formed in 1977, they released their first album, Heavy Metal Heroes in 1982. But in 1983 they struck a deal with American powerhouse label Combat Records based in NYC. So that meant Metalheads here in The Colonies could see what OZ had to offer. And it just so happened that their '83 opus Fire In the Brain was a massive slab of Heavy Metal Mayhem!!! Featuring cuts like "Black Candles", the title track and the crushing "Stop Believin", it threw OZ right in the fray with Switzerland's KROKUS, Germany's ACCEPT and Japan's LOUDNESS showing us here how that the rest of the world had plenty of Metal to offer up as well.

Naturally a band that has been around for that amount of time, as I've said here many times invariably has one captain still piloting the ship. In this case, it's OG drummer Mark Ruffneck. Now OZ hasn't continuously been active all these years, as they took a hiatus from 1991 to February 2010. I was very fortunate to see OZ on their 2013 US Tour in NYC, where Mark and OG singer Ape DeMartini were taking some youngsters around and blasting their classic tracks to their hardcore American fanbase! Ape retired in 2016 and left the ship in Pekka Mark's capable hands.

Besides Mark, here in 2020 OZ has a newer set of recruits, most having joined up in 2015. That includes bassist Peppy Peltola, guitarists Juzzy Kangas and Johnny Gross, and singer Vince Koivula who joined up in 2016.

The latest offering, Forced Commandments, is the 2nd with the above mentioned band lineup, including 2017's Transition State also. So what does OZ 2020 sound like? Let's delve into it and see shall we?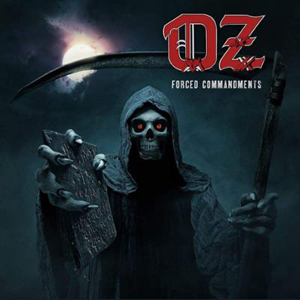 Kicking things off is "Goin' Down", which starts off with an eerie intro before a monster riff and a mighty scream kick things into high gear! A crisp production and some killer screams from Vince set a Metal tone to be sure. "Prison of Time" is a slow cruncher with the band reminding me a bit of Sweden'sHAMMERFALL. "Switchblade Alley" is also a mid-paced banger with an 80's ACCEPT riff leading the way. "Revival" reminds me of classic OZ musically with some great harmony vocals in the chorus. "The Ritual" flexes its muscles with some great lead tradeoffs and some excellent gang harmony vocals in the background. "Spiders" is next and OZ sneaks in a little acoustic interlude in the middle for a nice change of pace. And speaking of acoustic guitar, "Long and Lonely Road" follows and is a classic power ballad in the finest 80's tradition. Close your eyes and picture MTV and some lighters in the air and you are there! "Liar" kicks off with some tasty guitar shredding before turning into a double-bass pounder that should have fists pumping and heads banging! Both guitarists Juzzy and Johnny can both shred or riff with the best of them. "Diving Into the Darkness" is the album's epic track stretching out over 7 minutes long but never wears out its welcome. Constant tempo changes and stellar musicianship makes it a standout track. Two bonus tracks, "Break Out" & "Kingdom of War" finish up the album in fine fashion with the latter being the jewel of the two. Some serious headbanging will be the order of the day on that one!
So to answer my above stated question: OZ in 2020 is in capable hands and still bangin' away in fine fashion. Am I going to tell you that it sounds just like the classic OZ we all grew up with? Of course not. But if you love quality Euro Power Metal then give these underdogs a try won't you? I'm even fairly certain that you could play this within a group of "casual" rockers without drowning in tears of wussdom.
And for my Vinyl familia, there is a limited edition gatefold Vinyl with 3 color variations! Buy or Die! Support the Underground.
3.8 Out Of 5.0 Skulls