MIKE TRAMP
Second Time Around
Target Records - 2020
http://www.miketramp.dk




While Mike Tramp hasn't shied away from his 80's metal glory days, his solo career has taken him much further afield from the sound of his heyday than many fans might've ever suspected.

Tramp has crafted quite a niche for himself as he straddles the line between rock and roll singer and the more lyrically intense singer-songwriter label.

But for Second Time Around, Tramp has upped the ante a bit with regards to his more rocking nature. There's still plenty of lyrical meat to sink your teeth into but it is combined more often with a rocking soundtrack instead of something resembling an acoustic based songwriting craft.

This begins right at the start of the album with the song "All Of My Life". This song grabs you right from the start. It's a fast paced rocking sound with a big melodic hook and a real sense of in your face presentation. There's nary a breath taken here so there's a crackling sense of the energetic running through the entire song.

On the outstanding track "Come On", Tramp intones "I just want a little piece of everything", and that is definitely what you get here. There's straight on rockers like "No Tomorrow" and "Back To You" but there's a few slower numbers that aim for and pretty much reach that more emotional side of Tramp's songwriting. A song like "Anymore", where the examination of the end of a relationship is presented as more of resignation than overt sadness. The closing song is a ballad called "When She Cries" and that goes into the reaction and response upon the birth of a child.

There's also songs that really combine fast pacing and a real depth of lyricism. I'm not sure just who Tramp might be singing about in the song "Highway", but it also made me think of someone in my life who has become very important to me.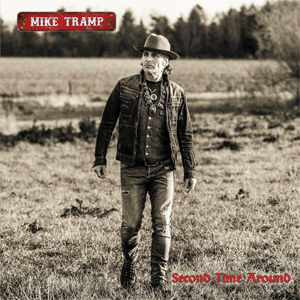 If nothing is truly perfect, the proof of that for this album would be the song "Lay Down Your Guns". The song really didn't do much for me as a whole but kind of plunged even further with the inclusion of a "La-La-La" vocal in the chorus. The best way to sum up my reaction to this song is simply "UGH!"
The standout track for me was the song "Between Good & Bad". It had a real exhilarating rocking pace to it and featured a smoking, albeit brief, guitar solo that found me humming along to the song each time I played the disc for this review.
It's no secret that I've been a big fan of Mike Tramp's most recent solo albums. The depth of feeling and quality songwriting has positioned Tramp as one of the better singer-songwriters of the rock genre.
Mike Tramp has got another fantastic album on his hands and with the release of Second Time Around, he once again shows that it is not only possible to have a second act in life but to excel in it as well.
4.7 Out Of 5.0