BEYOND THE BLACK Horizons


By Daniel Höhr, European Correspondent
Monday, July 6, 2020 @ 2:04 PM


| | | |
| --- | --- | --- |
| | | |
BEYOND THE BLACK
Horizons
Nuclear Blast, 2020



If any subgenre of metal attracts huge numbers of followers beyond the usual metal audiences here in Europe, it must be what is generally called symphonic metal – just look at the success of NIGHTWISH, whose latest release Human. :II: Nature. topped the German vinyl charts in April and was the third album of the Finns to do so. Symphonic metal is particularly huge over here in the country of Beethoven and Brahms, and BEYOND THE BLACK are a household name, not just in Germany but throughout Europe and certainly not just amongst metal fans. Commercials for their recent release Hørizøns have aired on various German TV stations and the participation of BEYOND THE BLACK singer Jennifer Haben in a reality TV show, namely the German version of The Best Singers, has enabled the band to extend their popularity and reach wider audiences. And yet it is by no means the popularity of female-fronted symphonic metal bands or clever marketing that has given the five-piece their current status as one of Germany's most successful younger rock and metal acts, it is also the band's melodic and atmospheric music that hits the spot with many people out there and certainly not just metalheads. And this is the context in which we need to give Horizons a good listen.
From the opening title track to the final song "Welcome To My Wasteland", Jennifer Haben and her band present thirteen songs that do not leave any doubt as to the sheer quality of the songwriting and musical skills of the five-piece. The compositions abound in catchy riffs and melodies skillfully weaved into a rich, atmospheric, and at times surprising sonic tapestry that goes far beyond the boundaries of symphonic metal. Metal purists will raise an eyebrow or two and some people will doubtlessly criticize the commercial nature of some of the tracks on the album. And without any doubt, the albums has caused and will continue to cause many debates among BEYOND THE BLACK fans. In particular, the first six tracks are almost completely devoid of the usual symphonic metal clichés. Instead, the Germans step onto new territory and explore different sonic worlds. There are elements of electronic music and more than one occasional generous dose of pop. "Golden Pariahs", on the other hand, goes very much into the direction of industrial rock, while "Wounded Healer", the duet with AMARANTHEElize Ryd, has a distinct alternative rock feel about it. But whatever they do on Horizons, they do it with originality, skill, and good taste.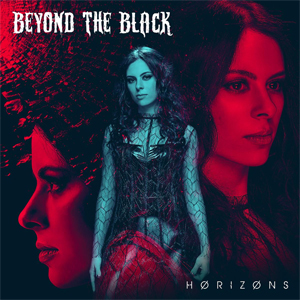 And yet, BEYOND THE BLACK have not completely reinvented themselves. While development and diversification of their style is prevalent on Horizons, there is also great continuity. "Coming Home", the atmospheric ballad "I will Surrender", complete with a solo cello and a good dash of symphonic metal bombast, as well as the ensuing up-tempo closer "Welcome To My Wasteland" are more along the lines of traditional BEYOND THE BLACK tracks and will doubtlessly go down very well with fans who might have problems with some of the tracks earlier on.
While most – if not all – of the tracks on Horizons have huge hit potential and are doubtlessly written to appeal to a wide range of music fans, it is the sheer abundance of intriguing and catchy melodies, the colorful arrangements, the band's stellar playing, and, above all, Jennifer Haben's outstanding singing that make Horizons a great album. Despite all the catchiness, it is an album with many facets and layers and needs to be explored. While pure metal fans may reject it as pop music, it is definitely still recommended across the rock and metal community and will hopefully help to establish BEYOND THE BLACK as a promising act overseas.
4.5 Out Of 5.0




Please log in to view RANTS

If you don't have a username, click here to create an account!