MAGNUS KARLSSON'S FREE FALL
We Are The Night
Frontiers Music Srl




Review By Daniel Licitra

From Frontiers Records, this is the third album from MAGNUS KARLSSON'S FREE FALL.

Besides Magnus Karlsson (PRIMAL FEAR) playing guitar, bass, and keyboard and Anders Kollerfors (STARBREAKER) on drums, there's guest vocals galore.

The first track, "Hold Your Fire" starts out very bombastic with the heavy and dominant keyboard. It transitions into the powerful vocals of Croatian singer Dino Jelusick (ANIMAL DRIVE). It's a great start.

Second track, "Kingdom Falls", has vocals by Renan Zonta (ELECTRIC MOB, The Voice Brazil). Another great and powerful vocalist.

Third track, "We Are The Night", is sung by Magnus Karlsson himself. I'm surprised he didn't sing the whole album himself. He has a fine voice besides being a great guitar player.

Fourth track, "Queen of Fire", sung by Noora Louhimo (BATTLE BEAST), is the only female vocalist on the album. It starts off quite mellow before it takes off.

Fifth track, "Dreams and Scars", has vocals again by Renan Zonta. Great drum fills and double bass work by Anders Kollerfors on this upbeat track.

Sixth track, "All The Way To The Stars", sung by Mike Andersson (FULL FORCE).

Seventh track, "One by One", has vocals by Ronnie Romero (RAINBOW).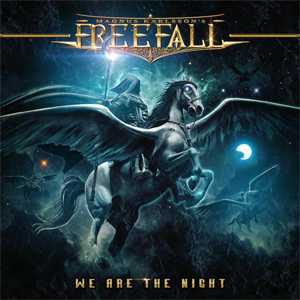 Eighth track, "Under the Black Star", is sung by Dino Jelusick.
Ninth track, "Temples and Towers", has vocals by Tony Martin (BLACK SABBATH). Magnus sounds a bit like Yngwie Malmsteen with the fast and fluid guitar work shining through on this track.
Tenth track, "Don't Walk Away", is sung by Magnus Karlsson.
Eleventh track, "On My Way Back To Earth", the only instrumental, is my favorite track on the album, sounding ever so close to Joe Satriani.
Track twelve, "Far From Over", features vocals by Tony Martin.
Track Thirteen, (Japanese Bonus Track) "All the Way To the Stars" (Acoustic Version), is sung by Mike Andersson.
After multiple listens I'm reminded of the band KAMELOT musically. The sound is similar, excluding the vocals of course. It has a very polished sound with the production by Magnus Karlsson himself.
It's not as heavy as Primal Fear but the songs are well written.
My favorite tracks are the ones sung by Magnus Karlsson, Dino Jelusick, and Renan Zonta.
Definitely one of the better releases of 2020. Recommended.
4.0 Out Of 5.0