ALCATRAZZ Born Innocent


By Andrew Depedro, Ottawa Corespondent
Monday, July 20, 2020 @ 2:09 PM


| | | |
| --- | --- | --- |
| | | |
ALCATRAZZ
Born Innocent
Silver Lining Records




It's been 34 years since melodic metal legends ALCATRAZZ went into self-imposed isolation following their critically-acclaimed (and somewhat critically-reviled) third studio album Dangerous Games. And one would assume that with so much time having elapsed throughout the band's proverbial social distancing from the mainstream that Dr. Anthony Fauci would be impressed (and probably name one of the COVID-19 vaccines after the band) that ALCATRAZZ's down time has slowed the band significantly. This hasn't been the case as the band – currently comprised of founding members Graham Bonnet, Jimmy Waldo and Gary Shea – have mostly been active on the touring circuit going as recently as 2017 on their infamous Parole Denied farewell one-off Japanese reunion show, which was released as a live album a year later. Three years later after what was deemed as their last-ever show, the band's founders appear to have been infected with the performing bug once more and enough social isolation has passed for them to record some new music such as they did with Born Innocent – their extremely long-awaited fourth album.

Produced by Giles LaveryJimmy Waldo and mixed and mastered by Andy Haller, Born Innocent successfully incorporates much of ALCATRAZZ's heavy, melodic and supremely articulated hard rock that the band had shared territory alongside their peers in RAINBOW and the MICHAEL SCHENKER GROUP during the 80's. And like their past discography, the wealth of diverse guitar talent which this album boasts is immeasurable. One-man metal impresario Joe Stump may be the main player throughout this album but he also works alongside the berth of six-string soldiers throughout. Opening with the arpeggio-powered title track with Chris Impellitteri who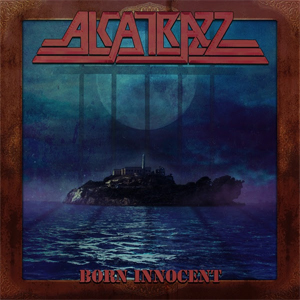 wrote the music and played all guitars on the piece, the album is as lyrically caustic as it is musically hypnotic, and frontman Graham Bonnet still has the gift of a powerful old-school voice and colorful prose. Of further credit throughout the album would be the anthemic powerful solo work of the late Bob Kulick who wrote and laid down the riffs for "I Am The King", the sleek wizardry of novice Japanese guitar maestro Nozomu Wakai on the double-kick steel-plated Irish warrior ode "Finn McCool", the frenetic dual axe work of Italian six-string hero Dario Mollo and ANNIHILATOR's Jeff Waters on "Paper Flags" and even the return of former bandmate Steve Vai who displays his trademark crafty noodling on the jumping "Dirty Like The City". Lyrically, Graham Bonnet is dominating his category on tracks such as "Body Beautiful", "Warth Lane" and singles "London 1666" and "Polar Bear" (which, despite the telling story by Bonnet about "how when the Eskimo got too old, they (the polar bear) would take their lives by sitting in snow, freezing to death and letting the polar bear take the body", should officially be the last-ever song anywhere to use the term "Eskimo" in its lyrics as the common term for them is Inuit).
So after over three decades of confinement, ALCATRAZZ have recorded their comeback album at a time when society has become more restrictive and insular, and the result has been the band's most free-thinking and open-sounding album in their career. If, indeed, Born Innocent is guilty of anything, it's for being cooped up for too long in its own prison.
4.5 Out Of 5.0
Facebook: https://www.facebook.com/grahambonnetmusic/
Instagram: https://www.instagram.com/alcatrazz_official/
Twitter: https://twitter.com/TheGrahamBonnet
YouTube: https://bit.ly/2xIuSAc
Spotify: https://spoti.fi/2KoAaDs




Please log in to view RANTS

If you don't have a username, click here to create an account!