VALKYRIE Fear


By Peter Atkinson, Contributor
Friday, July 24, 2020 @ 9:06 AM


| | | |
| --- | --- | --- |
| | | |
VALKYRIE
Fear
Relapse Records




Fear marks the first album in five years from Virginia's VALKYRIE, and first since lead guitarist/vocalist Pete Adams left the like-minded BARONESS in 2017 after nearly a decade of splitting time with the two - though "splitting time" is arguably pushing it. The higher profile and far more active BARONESS commanded a considerably greater and growing commitment, which is ultimately what led Adams to make his amicable departure to focus on family as well as the less demanding VALKYRIE.

VALKYRIE actually provides an opportunity to do both, as Adams has shared guitar and vocal duties with brother Jake for nearly 20 years. Fear, the band's fourth full-length, certainly benefits from the full attention of the Adams boys. Jammy and expansive, it is also taut and crunchy, making for an album that nicely balances vintage Southern rock sprawl and hard rock/metal muscle.

Fear is as apt to recall LYNYRD SKYNYRD or THE OUTLAWS as it is BLACK SABBATH or THIN LIZZY and CLUTCH or BARONESS. Earthy, raw and beefy, it is also redolent with graceful guitar harmonies and twin leads – not to mention dual vocals – and spiced with freewheeling jams that elevate tunes like "Afraid To Live" or "Fear and Sacrifice" from powerhouse hard rockers to genuine epics.

Oddly enough, though, the lone instrumental, "Exasperator", ends up being just that and is the album's weakest tune. You might think this is where the guys would really go nuts, especially since it's the closing track. But "Exasperator" is pretty laid back compared to the feistiness found elsewhere and its Western jangle makes for an underwhelming finish, especially when following the rousing "Evil Eye", the catchiest, most propulsive track here. Perhaps it might have been better served leading things off as an intro before giving way to the ZEPPELIN-esque thump of "Feeling So Low". Just sayin'.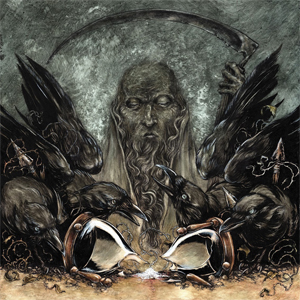 But that is minor complaint on an album where there is precious little to grouse about. The interplay and harmonizing of the Adams brothers, both on guitar and vocals, is surrounded by a ton of great riffs and earnest, engaging lyrics. The natural, unpolished production gives Fear a resounding, yet authentically vintage sound without resorting to minimalism – a common mistake so many retro-minded bands seem to make. Old school need not equate merely to low-fi.
Fear is ragged yet resonant, a la BARONESS, and rocks pretty darn hard. Buoyed by Alan Fary's lithe, rumbling bass lines, which echo SABBATH's Geezer Butler back in the day, especially on "Afraid To Live" or "Loveblind", the album chugs along like a locomotive easing its way up to speed. Add a diverse batch of memorable songs – and some truly great jams – and Fear delivers an honest, old-fashioned hard rock kick in the ass. And you can't ask for much more than that.
4.0 Out Of 5.0




Please log in to view RANTS

If you don't have a username, click here to create an account!