DEE SNIDER For The Love Of Metal Live


By Daniel Höhr, European Correspondent
Monday, July 27, 2020 @ 11:06 AM


| | | |
| --- | --- | --- |
| | | |
DEE SNIDER
For The Love Of Metal Live
Nuclear Blast, 2020




TWISTED SISTER has always been one of my favourite bands. Their mixture of melodic but straight-in-your-face heavy metal, over-the-top rock'n'roll and fuck-the-establishment attitude, their raped-drag-queen-on-speed appearance and the unique dash of humour is iconic and has shaped the image of heavy metal for generations. After the death of drummer A.J. Pero in 2015 and the band's 2016 farewell tour, TWISTED SISTER disbanded and became history. But – and I don't apologise for the next cheesy line – the legacy lives on. TWISTED SISTER vocalist and frontman Dee Snider is pretty much the embodiment of everything TWISTED SISTER stand for. But far from being a nostalgia act, Dee is very much happening now and if anybody has any doubts about that, stick on his new DVD/Blu-Ray For The Love Of Metal Live.

This DVD/Blu-Ray is something special indeed. Rather than being a standard live DVD, For The Love Of Metal Live is more like a documentary. Behind-the-scenes footage, interview clips, insightful personal commentary and kick-ass live performances combine to a captivating, interesting and highly entertaining rockumentary. The live footage on the DVD/Blu-Ray as well as on the accompanying live album, which is available in various formats, was recorded literally worldwide – at festivals in the US, Australia, Europe and other parts of this planet.

So far so good. The desired purpose is of course to show that Dee Snider is a global heavy metal personality – and there is no doubt he is. Part of the enjoyment of rockumentaries like this – and IRON MAIDEN's Flight 666 falls into the same category – is that we, the fans watching it, are taken on a journey with the band or the artist; it's like being on tour with them – or rather on the bits they want us to see. It's great to see one song filmed live in one part of the world, the next one somewhere else etc.

However, what I don't like is when footage of the same song performed in different locations is combined, so in one second you see the band performing at daylight at a festival and in the next at an indoor show etc. This is irritating, needlessly artificial and seriously damages the effect of a live video. Unfortunately, this is case on For The Love Of Metal Live.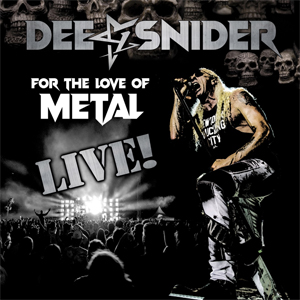 Neverless, the live performances are electrifying and energetic and Dee's band has a heavy and cutting edge sound. Dee himself hasn't lost any of his force as a performer and a vocalist. With an enormously tight band and a superb vocal performance, the musical side of For The Love Of Metal Live is top notch. The setlist comprises altogether 18 songs from various stages of Dee's career ranging from "I Am The Hurricane" and "For The Love Of Metal" from Dee's solo catalogue to immortal TWISTED SISTER classics like "I Wanna Rock" and "Burn In Hell". As anybody who has seen Dee Snider live knows, a cover version of a rock classic is part and parcel of his show. On For The Love Of Metal Live, Dee and his band cover AC/DC's "Highway to Hell". Even though it is impossible to single out one of the remaining 17 tracks on this release as they are all awesome, the AC/DC cover really sticks out.
The behind-the-scenes footage and the interview clips are insightful and let you get extremely close to the person that is Dee Snider: quick witted, funny, charismatic, intellectual but rock'n'roll through and through, a larger-than-life performer and artist in his own right. If you're not a Dee Snider fan when you stick the DVD or Blu-Ray on, you will turn into one.
For The Love Of Metal Live is a great package musically, visually and entertainmentwise. It's not only a must-have for any TWISTED SISTER and Dee Snider fans but also for anybody who appreciates awesome performances of great heavy metal music.
4.0 Out Of 5.0




Please log in to view RANTS

If you don't have a username, click here to create an account!