ZAKK SABBATH Vertigo


By Rob McNees, Vinyl Aficionado
Tuesday, September 22, 2020 @ 9:04 AM


| | | |
| --- | --- | --- |
| | | |
ZAKK SABBATH
Vertigo
Magnetic Eye Records




If you're a Metalhead, and I mean a REAL 100%, eat, breathe and live it 24/7/365 Metalhead, and I know there's some out there because I'm one myself, then believe it or not there is something actually to celebrate this year. I know, that's a mighty tall statement. But hear me out. The celebration of the 50th anniversary of what I believe the very 1st Heavy Metal album ever released. You who I spoke of earlier know of what I speak, but for the young or just amateur in the crowd, I'm talking about the release of the debut album from BLACK SABBATH! The self-titled album was released on February 13th, 1970 to an unsuspecting world and it's worshipped ever since. Unfortunately because of this bullshit virus that pretty much shutdown most of if not all of the world, there are no celebrations, no huge parties, and no reunion shows from the four still living members of the band. And honestly, even without the virus I don't think that last bullet would've happened anyway, Covid or not.

But one man has taken the devil by the horns as it were, and decided to take it upon himself to celebrate this monumental album by doing a full-blown tribute album. And that man is Zakk Wylde. And that album is Vertigo, which is the named after the record label in the UK that had the vision and the balls to release Black Sabbath 50 years ago. And Zakk has the pedigree to go along with this tribute considering he's been the guitarist for The Price of Darkness himself, Ozzy Osbourne for the better part of two decades. He also has his own SABBATH cover band called naturally, ZAKK SABBATH.

The album itself starts off just as the OG, with the rain, thunder, and the tolling of the bell. I still remember hearing this album as a wee lad, and really listening to the lyrics and freaking the hell out on what I was hearing!! Vertigo sounds amazing, with Zakk and his merry band featuring Blasko on bass (who's played for not only Ozzy, but ROB ZOMBIE and DANZIG) and Joey Castillo (who's played with DANZIG as well as QOTSA) on drums, they do the songs and themselves proud. Now if you're that diehard I mentioned above, then worth noting is that the album is played in the exact chronological order of the U.S. release that came out on Warner Bros. Records in 1970. I bring this up because the OG Vertigo release actually included a cover song, "Evil Woman" by a band called CROW. This was not on the U.S. release nor is it on Vertigo the tribute. Probably neither will the huge upside cross that was inside the gatefold sleeve of the original.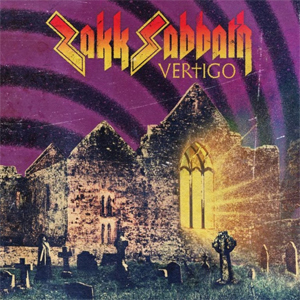 But they're all here. "The Wizard", the 10 minute "Wasp" / "Behind the Wall of Sleep" / "Basically" / "N.I.B." , "Wicked World" and the 15 minute finale, "A Bit of Finger" / "Sleeping Village" / "Warning". And if you're interested, it's played with reverence but not note for note. Since the whole band are accomplished players, they put their own touches on the songs without getting carried away. To these ears it's a kickass updated version of the legendary album that as stated above started Heavy Metal as we know it. And it's heavy as hell. Oh, and how could I forget the cover. No way you could come up with a cover that was as iconic as the OG SABBATH release. But I think the one selected for Vertigo does the trick. All in all for me, if you're a SABBATH fan, a Zakk Wylde fan or just a Metalhead in general, I think this is a fitting & ass-kicking tribute to a monumental album and band. Buy or die!
And for my Vinyl Brothers & Sisters, this originally was just a 500 copies only release. And man, was I pissed! It was sold out before I even got the email about it. But luckily cooler heads prevailed and now it's been made available to the world, in a couple of different color variations to boot. My turntable is ready and waiting!
4.9.Out Of 5.0 Skulls




Please log in to view RANTS

If you don't have a username, click here to create an account!