INCANTATION Sect Of Vile Divinities


By Francisco Zamudio, Metal X Candy 2.0
Thursday, September 24, 2020 @ 9:56 AM


| | | |
| --- | --- | --- |
| | | |
INCANTATION
Sect Of Vile Divinities
Relapse Records




With the help of tape-trading between fans and bands and compilations put out by labels who they themselves were developing their roster and recognition, these factors helped expose Metalheads to the new evolution in Metal at the time, DEATH METAL. Since its inception, the abundancy of bands that sounded TOO alike was certainly apparent. Then there were a great deal of many bands that rose above the rest not only with the uniqueness in their sound and song-writing, but at the most important – still stand the test of time. Certain bands became a corner stone of their sub-genre. One band that has solidified its name in under the file "New York Death Metal" is New Jersey's INCANTATION. Since 1990 guitarist (and would eventually be vocalist as well) John McEntee and company have bred their brand of Death Metal that is still relevant to the day, still puts out great albums and has influenced many of today's modern extreme bands. Now on their 11th full-length put out through the legendary label Relapse, SECT OF VILE DIVINITIES is set to deliver more ugly funeral doom-style Death Metal like only INCANTATION can.

If you're not at all familiar with what INCANTATION is about, it can certainly sound mundane to the untrained ear. Their full-length debut (a certain must-have in any collection), ONWARD TO GOLGOTHA (1992, Relapse) set a tone that introduced a slow and drony style of Death Metal that demonstrated that a band didn't need to be insanely fast to be heavy. Headbanging riffs colliding with thunderous drums make for a great combination. Having spent a large part of their existence on Relapse, a brief change in labels never swayed or negated their momentum. Having returned to original label on their last album, 2017's PROFANE NEXUS which was greatly received, SECT OF VILE DIVINITIES is an excellent follow-up.

INCANTATION is another one of those bands that write epic songs and albums. With intense intros that build up into something sinister and songs that seem to tell tales of evil, which is exactly what this album is about. Blast beats and solos and McEntee's guttural vocals that he's owned since 2004's DECIMATE CHRISTENDOM continue to provide amazing traditional Brutal Death Metal. Whether you prefer the slow doom-style songs or fast pace action, this album has something for everyone. The lead off track "RITUAL IMPURITY (SEVEN OF THE SKY IS ONE)" gives you the intense blast beats and speed you desire. Followed up with the epic intro on Track 2, "PROPITIATION" that has a lot of groove and was also the the first (lyric) video they put out. The 3rd track and final video put out for "ENTRAILS OF THE HAG QUEEN" is written with all of their traditional elements in mind. And no INCANTATION album would be complete with the slowed down evil that they have always produced, elements spread out throughout the album on various songs but the 6-minute track "UNBORN AMBROSIA" nails this down excellently.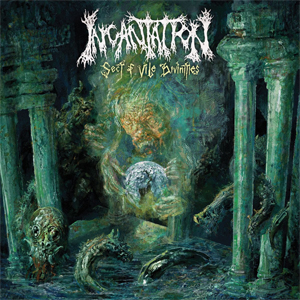 It's certainly worth mentioning again that Death Metal, both Underground and "Mainstream" (a bit of an oxymoron if I do say so myself) has been on a steady incline recently and for nearly 10 years. Veteran bands and musicians can confirm this too. The list of DM bands that have come out since the mid 80's and early 90's and still to this day that are wreaking havoc, is a long one proving that this isn't going away, no matter how much the pop-music world or trendy posers try to devalue it. The loyal following that Death Metal has as a whole is only fully understood by those who actually live the lifestyle, whether as a fan (probably the most important aspect) or as a musician, or maybe even both. From the new school bands to the old school and from all over the world, the scene is so explosive - a great band is a stone's throw (click) away. SECT OF VILE DIVINITIES will demonstrate that INCANTATION are not only still riding a great wave of momentum of the expanding Underground and its fan-base, but a phenomenal album that shows that they still got what it takes to take the lead as one of the leading pioneers of Funeral-Doom style Death Metal.
Be sure to check out my interview with vocalist/guitarist John McEntee and hear about the creation of SECT OF VILE DIVINITIES and hear us talk about the evolution of the band over the years. Check it out HERE.
4.5 Out Of 5.0




Please log in to view RANTS

If you don't have a username, click here to create an account!