CARACH ANGREN
Frankensteina Strataemontanus
Season Of Mist




Black metal fever has swept through the masses in a way not seen since the early 1990's. Rather than concentrating solely on products of Norway, today's listener has many choices and subgenres that my generation of black metal fans did not. Consequently, what was spawned in Norway crept through the underground until offshoots of the genre started to appear in countries all over the world. Now, symphonic black metal lives in many places and has myriad forms. One such sub-genre is Symphonic Black Horror Metal and CARACH ANGREN are the unrivaled masters.

With a catalog that has met with rave reviews since their inception in 2003, CARACH ANGREN has increased their fan base and intensified their sound with every subsequent release. The band's first two EPs, The Chase Vault Tragedy (2004) and Ethereal Veiled Existence (2005), offered them secured footing in Black Metal circles. This led to their signing with German label Maddening Media and the production of their first full length album, Lammendam (2008).

The original trio from Landgraaf, a municipality in the Dutch Netherlands, consisted of drummer Ivo "Namtar" Wijers, keyboardist Clemens "Ardek" Wijers and guitarist and singer Dennis "Seregor" Droomers. This was the core team for the band's seminal albums Death Came Through a Phantom Ship (2010), Where The Corpses Sink Forever (2012), This Is No Fairytale (2015) and Dance And Laugh Amongst The Rotten (2017). Unfortunately, Namtar left the band earlier this year after finishing his part of the band's newest opus, Frankensteina Strataemontanus (2020).

As with their prior albums, Frankensteina Strataemontanus starts us off with an atmospheric, mood influencing intro with "Here in German Woodland", and moves cleverly into "Scourged Ghoul Undead". The title track is next and moves at a solid pace while transitioning smoothly into "The Necromancer" and "Sewn for Solitude". The almost techno-reminiscent beat of this portion of the album is quite interesting as is the clean vocal offered up amongst blasting drums and a wailing violin.

The album works under the premise that Johann Konrad Dippel was the slightly insane creature creator and that story works upon the listener in a way very similar to how Mary Shelley's famous character worked upon those who crossed his path. As with much of the band's previously produced music, the concept of the album starts to emerge and hits hard. The shouts of "I am God" to signify the God-complex of Dippel and his turn at creationism create a disturbing mental image.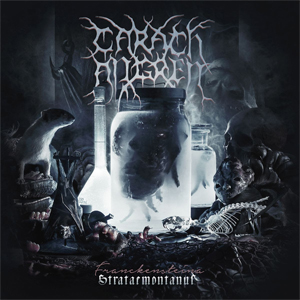 A rousing and grotesque shift into "Operation Compass" and "Monster" offer slick production while still keeping the band true to their Black Metal roots. The effortless conversion into "Der Vampir von Nürnberg" and "Skull With a Forked Tongue" is very much a signature move for the band. The atmospheric and symphonic chords have a heavy and crushing feel that is reminiscent of the orchestral maneuvering done on This is no Fairytale. The album closes out with "Like a Conscious Parasite I Roam" and the surprise bonus track "Frederick's Experiments".
There is much to love about this album. It reflects the growth of the band while also bringing the close of an era with Namtar's departure. Fans didn't expect him to leave the band but his statement regarding his sense of disillusionment with the "music business" rings true for many musicians in this day and age. The ability to self-produce is both attractive and scary and the music business as most of us know it has changed dramatically.
Finally, one of the nicest things about this release is the presentation. I always expect more from this band and their label, Season of Mist. The lovely vinyl edition with a gatefold and double vinyl albums certainly does them justice. While I hate to say "goodbye" to Namtar and I hope he decides to rejoin the band, I am already anticipating their next release.
5.0 Out Of 5.0