RAVEN Metal City


By Rob McNees, Vinyl Aficionado
Monday, October 12, 2020 @ 12:00 AM


| | | |
| --- | --- | --- |
| | | |
RAVEN
Metal City
SPV/Steamhammer Records




I'm always up for reviewing anything new from any of the one-time NWOBHM bands that are still kicking around, and when the latest opus from the ex-GEORDIE's RAVEN hit my radar, I was well up for the challenge.

Believe it or not the story of RAVEN goes back to 1974 when the Gallagher brothers (John on Bass & Vocals, and Mark on Guitar) first formed RAVEN in Newcastle Upon Tyne, England. With such a longstanding history you'd think that the list of members would be like a small child's Christmas wish list (i.e. Long). But it's not as lengthy as one might think. Partially because being a 3-piece for most of their career (save for the beginning 'till roughly 1977) it's mostly been drummers to come and go, including early on, Sean Taylor (he of SATAN & BLITZKRIEG fame), Rob 'Wacko" Hunter, who was there on all the early NWOBHM releases, and 'The Baron' Joe Hasselvander (ex-PENTAGRAM) who exited after the ExtermiNation album sadly from health issues.

But sometimes new blood brings a renewed vigor to a band, and the newest skin basher Mike Heller (FEAR FACTORY) does just that. The latest from RAVEN, Metal City, Mike's 2nd with the band, after 2019's Live album Screaming Murder Death From Above and is the first of new original music. It's one thing to play someone else's music as it were, but putting down fresh material is a different kettle of fish.

Up 'till now for me, I'd always considered Architect of Fear to be my personal pick for the heaviest album they'd done post-NWOBHM, but I'll have to say that the torch has been passed now with Metal City. Kicking (asskicking more like it) off the album is "The Power", full of headbanging fury and double kick power, with John's voice hitting King Diamond like heights. I've always been of the thought process that you open an album or concert with a massive track to get everyone's attention, and Raven has certainly filled that bill to a T here! "Top of The Mountain" is classic RAVEN with Mike's energy (even sneaking in a short blast-beat!) and Mark's riffing and John's bass sound (with Lemmy now sadly gone John's bass sound is now the benchmark) bringing it forward thru the iconic past. "Human Race" is a just a riffing, headbanging blitzkrieg of a track with an interesting gear change mid-song. Truly next level stuff for the band. "Metal City" is dedicated to their old hometown (now they call the U.S. of A. home). A great melody and chorus too. But not just a mid-tempo thumper, its got a little of everything that made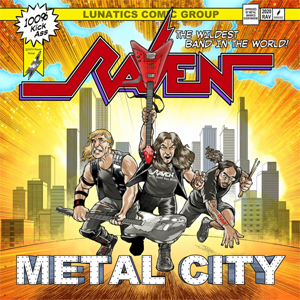 RAVEN great from the start. "Battlescarred" is the anthemic track on the album, although it has plenty of twists & turns that make it anything but commerical. "Cybertron" should be the soundtrack for the inevitable A.I. uprising (if you believe the Terminator movies) and frantic enough to let you see it in your mind as if it's happening for real. "Motorheadin" starts off with classic MOTORHEAD inspired double kick and is the kind of aggressive song that Lemmy would approve of methinks. And under 3 minutes long it's short but to the point that there's no time for fluff here. "Not So Easy" brings back that "All For One" vibe that the RAVEN Lunatics will understand. Timeless without sounding dated. "Break" is a chiropractor's nightmare with plenty to make necks sore and backs out of whack. A album crusher for sure. Last but certainly not least "When Worlds Collide" is the longest track coming in at over 6 minutes and you could say it's the album epic track, including a blistering solo from Mark.
From start to finish this is an album that Raven should be well on chuffed about. The songs are brilliant, sonically it sounds tremendous. Recorded at producing legend Michael Wagener's Nashville studio, it has that thick fat sound that he is known for. Mixing and mastering was done by Zeuss. Top to bottom this is primetime RAVEN. For the old RAVEN Lunatics and the new breed headbangers, I believe there's something for everyone whose a fan of hard hitting Metal. Not for posers so be warned. Athletic Rock is alive & well!! Open the door, and enter Metal City!
And there is Vinyl my Old-Skool maniacs! And purple Vinyl to boot! Get it while you can and turn it UP!!
4.8 Out Of 5.0 Skulls




Please log in to view RANTS

If you don't have a username, click here to create an account!