September 18th - Lamb Of God Set
Just like many other live music reviewers, I never thought I would be writing a review based off a livestream set. Who would have thought that I would be able to sit in my own home, drink some coffee, and enjoy a full LIVE concert right on my TV screen... Let alone it be LAMB OF GOD.
Unfortunately, I have never seen LAMB OF GOD Live "In Person" before so last year when I got word that they would be in town this year I was stoked to be able to be a part of it, and even though it didn't fully happen the way I was hoping, I'm thankful to have had the chance to at least see these Livestream events, which honestly, it really wasn't as bad as I thought.
It's obvious nothing can compare to an actual Live LAMB OF GOD show, and yes I've seen SO many of their pro-shot live concerts and festivals so I know nothing can even come close to that kind of energy, especially with the connection to the crowd. But, I gave both livestreams a chance and it was completely worth it.
First livestream on deck was the acclaimed new album, Lamb of God following the supporting opening band BLEED FROM WITHIN. LAMB OF GOD entered the small stage which made it even more cool to watch. It was almost like watching them at a local bar or a smaller club/venue so it seemed very up close and personal from the start.
They kicked off the set with "Memento Mori", the first track off Lamb of God since it's going in order of the album... which was also pretty cool to me.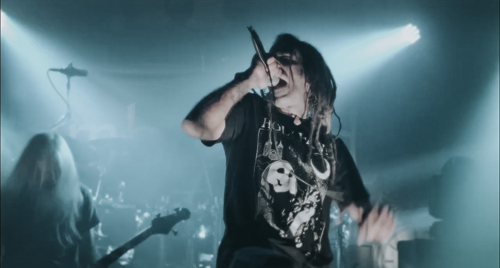 Being able to watch Randy up close to the camera as he's screaming at the top of his lungs was definitely something not most can see at an actual live show. It felt more raw, emotional, and powerful in a way. Or maybe it's just because I haven't seen a live performance in so long and I'm just starstruck to see some live metal that's actually live and not just an old YouTube cellphone footage of a live show. The album continued on, just in the right order, and it glimpsed back and forth from each member of the band (as it should). You see Mark, John, & Willie jamming out, clearly having a blast and then you see Art in the back throwing it down on the drums. It was epic! It's like they were playing in a garage at some points with how close they all were to each other.
Once "On The Hook" finishes you suddenly hear the growl of Randy saying "destroy your fucking house!" and immediately "Contractor" from Wrath and "Ruin" from As the Palaces Burn were added to the setlist followed by "The Death of Us", their newest single from the Bill and Ted soundtrack, and last but not least, my absolute FAVORITE LAMB OF GOD song, "512" from VII – Sturm Und Drang. Guys, I almost lost my mind with excitement. I definitely wasn't expecting to hear "512" at all for this set so I was definitely speechless and smiling from ear to ear. The performance as a whole was simply nothing short of amazing and obviously badass which made me much more stoked for the following week's livestream.
September 25th - Ashes Of The Wake Set
The week passed by, and it was finally time for Round Two, the livestream for their 2004 album Ashes of the Wake which is also being streamed straight from their hometown in Richmond, VA. Ashes Of The Wake is one of my top favorites from LAMB OF GOD, so I was pretty damn excited to say the least. This time I got to stream it from my work computer, which is obviously not as fun as watching it on your tv, or better yet, IN PERSON, but I was eager and ready to get the show playing nonetheless.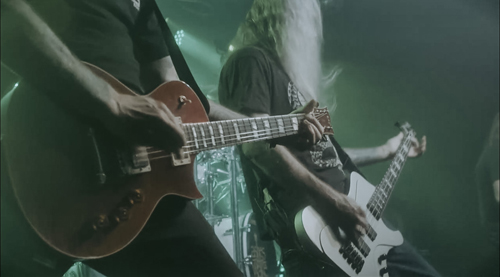 LAMB OF GOD retuned to the virtual world by starting off the set with "Laid to Rest", "Hourglass" and "Now You've Got Something to Die For" which got the mood driving, especially for Randy as he was clearly getting more and more into the set. His famous screams and growls rattled my Bluetooth earbuds and completely distracted me away from work, which I was already mentally prepared for so I got most of my work done earlier in the day.
I mean, how would I even be able to focus on anything other than those riffs, too?!
On top of that, being able to engage in the chat box with other metalhead viewers around the world was definitely a highlight of the stream. It almost felt at least one step closer to the true feeling of being at a live concert which seems like ancient history as of right now. The camera focusing on the different angles of the members got extra crafty this time around, making it also more pleasing to the eye and fun to watch.
Once they plowed through the jams from the album, Randy thanked us for watching as he looks directly into the camera as if he's legitimately speaking right at me, then reminds us that the following day was the 20-year anniversary of their well-known breakthrough album New American Gospel and finished out the set with encores "O.D.H.G.A.B.F.E", "The Subtle Arts of Murder and Persuasion" and "Black Label", three of the best jams from the album itself which was a great way to sum up the show. The fans in the chat box said their last goodbyes to the other fellow fans and the feed came to an end. It was an awesome opportunity to be a part of this and even though it wasn't what I was hoping for at the beginning of this year, I'm glad they are still trying to do everything they can for us LOG fans to at least bring us some true metal to this shitty year of 2020.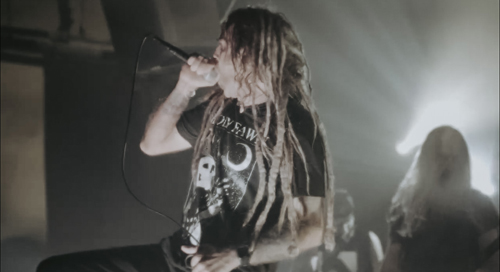 September 18th Lamb Of God Set List:
"Memento Mori"
"Checkmate"
"Gears"
"Reality Bath"
"New Colossal Hate"
"Resurrection Man"
"Poison Dream"
"Routes"
"Bloodshot Eyes"
"On the Hook"
"Contractor"
"Ruin"
"The Death of Us"
"512"
September 25th Ashes Of The Wake Set List:
"Laid to Rest
"Hourglass
"Now You've Got Something to Die For
"The Faded Line
"Omerta
"Blood of the Scribe
"One Gun
"Break You
"What I've Become
"Ashes of the Wake
"Remorse Is for the Dead
"O.D.H.G.A.B.F.E (from New American Gospel)
"The Subtle Arts of Murder and Persuasion (from New American Gospel)
"Black Label (from New American Gospel)
Screenshots from the streams



Please log in to view RANTS

If you don't have a username, click here to create an account!













BEAST IN BLACK Dark Connection
MASSACRE Resurgence
DREAM THEATER A View From The Top Of The World
JAY JAY FRENCH Twisted Business: Lessons from My Life in Rock 'N' Roll
BLACK LABEL SOCIETY, PRONG And OBITUARY In Portland, OR With Photos!
GEMINI SYNDROME 3rd Degree - The Raising
DORO/WARLOCK Triumph And Agony Live
BETWEEN WORLDS Between Worlds
ALCATRAZZ V
BEHEMOTH Sventevith (Storming Near the Baltic) Reissue
ALICE COOPER, ACE FREHLEY In Nashville, TN With Photos!
CARNIFEX Graveside Confessions
BLOOD RED THRONE Imperial Congregation
GUS G. Quantum Leap
BILLY IDOL The Roadside EP
AVATAR, MAGIC SWORD In Houston, TX With Photos!
APRIL WINE, MONKEYJUNK At The Ottawa Bluesfest
MINISTRY Moral Hygiene
CRYPTA Echoes Of The Soul
SKILLET In Houston, TX With Photos!
Immortal Axes: Guitars That Rock Book
IRON MAIDEN Senjutsu
GRINDER BLUES El Dos
GEORGE LYNCH Seamless Review #2
IN THIS MOMENT, BLACK VEIL BRIDES In Houston, TX With Photos!
WARLANDO Festival 2021 Photo Gallery
KISS In Ridgefield, WA With Photos!
LAURENNE/LOUHIMO The Reckoning
TREMONTI Marching In Time
ROCKLAHOMA 2021 Day 3 Photo Gallery
ROCKLAHOMA 2021 Day 2 Photo Gallery
ROCKLAHOMA 2021 Day 1 Photo Gallery
CARCASS Torn Arteries
SETH La Morsure de Christ
GEORGE LYNCH Seamless