TRIBULATION
Where The Gloom Becomes Sound
Metal Blade Records




The fifth studio full-length from Swedish dark rockers TRIBULATION marks the end of one era for the band, but launches it into the next in grand style. As the album was being readied for release, founding guitarist, primary songwriter and live focal point Jonathan Hultén announced his departure from the band – this after issuing his second solo album in April – leading some to lament that "TRIBULATION just quit TRIBULATION", to borrow from a Metal Sucks headline.

But he leaves as his legacy what is arguably TRIBULATION's finest effort, a masterpiece that takes the melancholia inherent in its title and turns it into something anthemic and glorious. Gone entirely here is any hint of the death/black metal musical overtones of the band's first couple albums – although bassist/frontman Johannes Andersson's snarling vocals are as gnarly as ever.

And while TRIBULATION had largely weaned itself off of brutality over its last two albums as its gothic/psychedelic rock aspirations grew more prominent, Gloom brings an almost pop sensibility in the effortless catchiness and epic swells of much of its material. It's like GHOST, without so much cheesy pomp, face masks and self importance.

And that's not to say Gloom is lacking muscle. The shimmering guitars and spacious, moody verses that provide the framework of "Hour Of The Wolf" and "Elementals" are offset by punchy, buoyant choruses. The opening track "In Remembrance" and the closer "The Wilderness" take a more slow-build approach that transforms what could have been ordinary rock songs into something monumental. They make for perfect bookends to album.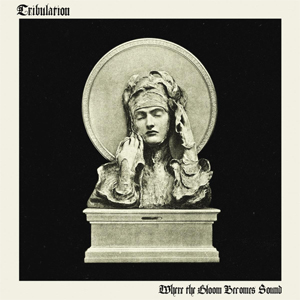 Somewhere in between are the bombastic and regal "Leviathans", with its organ sweeps, bells and beefy hooks, and the funereal yet elegant "Inanna" and "Dirge Of A Dying Soul" with their dramatic wash of guitar over a creepy crawl pace. The closest TRIBULATION comes to the aggression of old is the near speed metal of "Daughter of the Djinn" or "Funeral Pyre", both driven by slashing riffs, harmonized leads and an assertive chug. - though its still a far cry from something like, say, "Seduced By The Smell of Rotten Flesh" from 2009's The Horror.
Gloom is the most well-balanced and complete album in the TRIBULATION library, checking pretty much all of the boxes one could want and delivering the goods with every stride. So perhaps Hultén felt he'd reached his creative peak with the band and opted to exit on a high note – or, given the far mellower, folksy fare of his solo work, he'd lost his taste for heavier music and got it all out of his system here. Regardless, he – and by extension the band - has really outdone himself this time.
Hultén gives way to Joseph Tholl, who is no stranger to the band, having contributed to the songwriting on 2013's The Formula Of Death and lending a hand again on Gloom. So hopefully that is a good sign for TRIBULATION as it looks to fill Hultén's considerable shoes and carry on. Time will tell, but for now the band can revel in the triumph that is Gloom – and hopefully tour for it at some point – before the hard part comes trying to follow it up.
4.5 Out Of 5.0