ABSOLVA Live In Europe


By Daniel Höhr, European Correspondent
Wednesday, February 10, 2021 @ 10:31 AM


| | | |
| --- | --- | --- |
| | | |
ABSOLVA
Live In Europe
Rocksector Records




This one's been out for a while and should have received more attention from this reviewer much, much earlier. With my most sincere apologies for this negligence, I'll go into medias res straight away.

Manchester-based heavy metal four-piece ABSOLVA preserve and keep the tradition of melodic British heavy metal alive and kicking. If you haven't got any ABSOLVA in your music collection but the names Chris Appleton (lead vocals/lead guitar), Luke Appleton (rhythm guitar/backing vocals), Martin Mcnee (drums) and Karl Schramm (bass) sound vaguely familiar, it could be that you have read them on the cover of one of the more recent Blaze Bayley albums, as they are also his band. And if you play the first track on Live in Europe, "Live on the Edge", it is by no means only the song title that is reminiscent of IRON MAIDEN's "Man on the Edge" from the early days of the Blaze Bayley era, it is the groove and the melody of the verse of the MAIDEN classic that the Mancunians quite literally quote in their song. Overall, the four-piece sound energetic, tight and fresh on this album, exercising each and every heavy metal virtue you want on an awesome live album.

The twin guitars on "Rise Again", the song's catchy chorus, the thunderous and dramatic "Never A Good Day to Die", the stomping and anthemic "Never Back Down" – ABSOLVA string together highlight after highlight. The fast galloping "Live For The Fight" with its soaring chorus is my personal one on this live album. The stadium-compatible "Defiance" really gets the live atmosphere across – a real treat, not only when you haven't been to a show for ages and you know that it will be quite a while until you can see a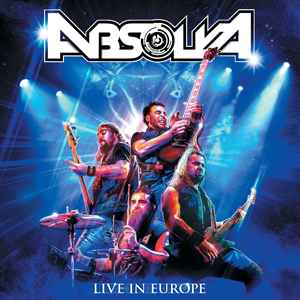 live band again. And one of the things you should put on your to-do list for the time when we are all back to normal life is see ABSOLVA. And if anybody's got any doubts left that this is a seriously awesome live band, turn up the volume for "No Tomorrow" – driving riffs, breathtaking lead guitar work, soaring vocal lines. "Harsh Reality" is a sinister up-tempo neckbreaker, "Victimizer" a heavy PRIEST-style rocker, and the closing "Code Red" contains all of ABSOLVA's British Heavy Metal virtues and is oozing with virtuoso twin guitar work.
In times when live shows are rare or don't happen at all, a decent live album is all the more appreciated. Live in Europe, however, is not just a decent live album, it definitely is one of the best I have heard in recent years. Thanks to the punchy and crystal clear production sound, which was in the most capable hands of frontman Christopher Appleton, and the mastering by Ade Emsley, who has worked for IRON MAIDEN, Blaze Bayley, AIR RACE, VOODOO SIX and TANK, this live album is a sonic feast and will make you hungry for more. Live in Europe is definitely recommended to all Heavy Metal fans and if you haven't checked out ABSOLVA, it is high time to do so now.
5.0 Out Of 5.0




Please log in to view RANTS

If you don't have a username, click here to create an account!