DAMON JOHNSON & THE GET READY
Battle Lessons
Double Dragon Records - 2020
http://www.damonjohnson.com




I'm not sure that it was anything I actually planned out, but as it turns out I've long followed the career of Damon Johnson. From WITNESS to BROTHER CANE and SLAVE TO THE SYSTEM and from ALICE COOPER to THIN LIZZY and BLACK STAR RIDERS, I've seemingly been along for the ride with Johnson for decades.

But I never seemed to discover his solo material until saw him in concert last year. It was the second to last concert I saw before the live performance industry got shut down. Johnson was opening for UFO and I saw his set and was really impressed. There was a song called "She's All That and More" that he played in the set. When I met him after the show, I asked him about that and he said that it was on his album Release which he had available for sale. I bought it and discovered just how easy it was to become a fan of his solo music. I've been playing that Release CD over and over again this past year.

So when I learned that Johnson had a new album coming out, I knew that I wanted to get my hands on it. The album was crowdfunded through Indiegogo, but I ended up missing out on that participation and bought the signed version of the album when it was put out for release through his website.

I read an interview with Johnson where he goes to great pains to make sure listeners understand that this is a BAND effort so DAMON JOHNSON & THE GET READY is definitely a band project for the singer/guitarist so deeming this a solo project is a bit inaccurate on my part. But allow me this tiny conceit of classification if you will. Either way you look at it though, bassist Robbie Harrington and drummer Jarred Pope are more than up to the task of providing the rhythmic foundation for the album's material.

While that Release album is an acoustic based CD, Battle Lessons is a straight up and plugged in collection of hard rock. The band wastes no time driving that point home with the album opening title track. It starts off fast from the start. The music has a great cool factor to it and the chorus has an instant melodic hook to the delivery. Damon Johnson wrote or co-wrote each of the songs on this disc and most of that was in collaboration with James C. Troglen, including this title track. I'm not sure who is responsible for the line "Someday you'll suffer for your sins / But right now I'm suffering from you", but that is an absolutely killer lyric.

I liked the big noisy musical palette for "Can't Clap Any Louder", though I was slightly less taken with that actual clapping that is in the song's mix. However, that's really the only thing I didn't find myself enthralled with about Battle Lessons. Speaking of great musical palettes, the song "Let The Healing Begin" has that same thing going for it. The way Johnson's guitar riff powers the entirety of the song made the track sing!

While "Talk Yourself Into Anything" finds itself in a higher gear overall, the main lyrical choruses are just slight bit slower in overall tempo. But what makes the song spark is how even in that slightly slower pacing, you can feel the restrained energy that is eventually let loose when the song picks up that pace in the chorus. That switching up helps make the song a brightly burning winner.

Reading the track listing on the back of the CD casing, the song "Shadow Country" struck me from the title alone that it might have a kind of gothic feel to it. I don't know why I thought that, perhaps given Johnson's southern roots or something. Whatever the reason, the song managed to straddle the line between hard rocking and throwing in just enough of a haunting sound to make my initial thoughts of the song seem not so crazy. Well, at least to me anyway.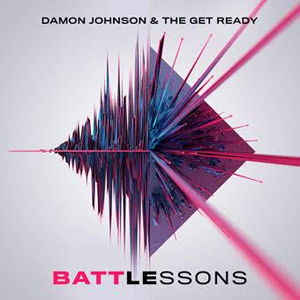 For a double dose of pure fiery rocking out, check out the songs "Lightning Bolt (Everything Will Be Alright)" and the sublimely awesome "Brace For Impact".
Two of my favorite songs come as the double shot that closes out Battle Lessons. Remember when I mentioned near the start of this review how much I liked that 2010 album Release? Well, while the rest of this album is pure hard rock, the song "Love Is All You Left Behind" is definitely reminiscent of that album. It's acoustically based and the song is marvelous. It's funny, this would now be two songs from Johnson that I think can be used to help convey one's own emotions to a past or even current loved one.
But enough of the unintentional sappiness on my part. The last song on this nine song set is "Casual Beast" and it is, no pun intended, a monster track! It starts off with a slow but burning intensity and then grows into this hard rocking gem. The way Damon Johnson delivers the lyrics is amazing and I loved the way the song's title came out in that vocal delivery as well. This is just a perfectly cast song and yet another highlight among an album full of them.
This may be the first album under the DAMON JOHNSON & THE GET READY banner, but from the starting gate, the band blows the doors off the place with one great song after another and provides an electrifyingly musical experience that will leave listeners eagerly anticipating any future albums from the band. Battle Lessons needs no further qualifying than to simply say that it is a fantastic album!
4.8 Out Of 5.0