CANNIBAL CORPSE Violence Unimagined


By Peter Atkinson, Contributor
Friday, April 16, 2021 @ 10:28 AM


| | | |
| --- | --- | --- |
| | | |
CANNIBAL CORPSE
Violence Unimagined
Metal Blade Records




What hasn't killed the death metal behemoth that is CANNIBAL CORPSE – or left it "Pounded Into Dust" or "Beheaded and Burning", to put things in its terms - has only seemed to make the band that much more, well, deadly. Thirty-plus years in, CANNIBAL CORPSE remains one of the often-tired genre's most dependable and consistent acts, and it continues marching inexorably forward despite a constantly shifting industry landscape, ever-fickle musical tastes and a degree of turmoil within its own ranks – not to mention the COVID pandemic.

The band has weathered such profound changes as the departure of original vocalist Chris Barnes in 1995 – only to add the even more formidable George "Corpsegrinder" Fisher who has gone on to become legend - and the less impactful but still disruptive revolving door of guitarists that saw Rob Barrett in essence replace both original axemen – Bob Rusay and Jack Owen – during his two stints, with Pat O'Brien sliding into the spot Barrett vacated in 1997 before returning in 2005.

And while CANNIBAL has steadfastly stuck to its gore-infested guns, it has made subtle shifts to its signature death metal sound over time – getting modestly sleeker and more technical, while at the same time injecting more groove and ratcheting up the heaviness. And through it all, the band remains every bit as brutal today as it ever was.

Some of all of the above comes into play with Violence Unimagined. CANNIBAL's 15th "Murderous Rampage", to borrow the title of its opening track, which stands as arguably its most overtly grotesque – at least where the uncensored cover art is concerned – yet finely honed and easiest to digest release, comparatively speaking. The album is the first to include new guitarist and long-time friend and producer Erik Rutan (HATE ETERNAL, ex-MORBID ANGEL), who stepped in as a touring replacement after O'Brien suffered a well-documented breakdown in late 2018 and has since become an official member. And he has made himself right at home. Along with producing Violence and bringing his formidable lead guitar chops to the table, Rutan also wrote three tracks.

Whether prompted by Rutan's addition and contributions, or perhaps spurred by COVID-related idle time that left ample time to hone new material, CANNIBAL has stepped up its game in just about every way on Violence, which is saying something for such a veteran act. The album offers some of the beefiest, most varied and memorable songs in the band's extensive catalog, starting with the aforementioned "Murderous Rampage" that sets the bar high from the get-go with its viciously catchy thrash metally riffs that Fisher ably follows with his roaring, bob-and-weave cadence.

There's really not a dud in the bunch here. Even though the lyrical themes deal with the usual nasty business – extinction-level plagues, killing sprees, cannibalism, human organ harvesting, resurrection through ceremonial mass murder, ritual mutilation, revenge by fire and being "buried alive, wrapped in skin from another human that is still alive" - in often lovingly graphic terms, only the leaden "Slowly Sawn" seems "stock". The rest of the 11 tunes are brimming with vitality and vigor as CANNIBAL blends guile with gusto and delivers its finest top-to-bottom outing since Kill in 2006 – ironically, the first album the band worked on with Rutan.

Rutan's tracks run the gamut from the imposing crunch of "Condemnation Contagion" to the epic tangle of "Ritual Annihilation" and the 2:28 blitzkrieg technicality of "Overtorture", which seems a nod to O'Brien and his similarly minded "Frantic Disembowelment" from 2004's The Wretched Spawn that is still regarded as the band's most diabolically challenging tune.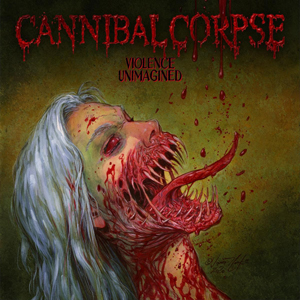 Barrett and Alex Webster each contribute four tracks here, with Barrett outshining the founding bassist, if barely. The first two singles, "Inhumane Harvest" and "Murderous Rampage", are Barrett compositions, and showcase his thrash/punk influences with their darting, slashing riffage, as does the somewhat heftier "Bound And Burned". The lurching "Follow The Blood" charts a doomier course at the outset before accelerating as Fisher bellows "Fire at will!"
Webster actually wrote some of the catchiest material here, with "Surround, Kill, Devour" and "Cerements Of The Flayed" offering downright sing-alongable choruses, despite the grisly subject matter, with Fisher capturing the savage melody in his inimitable commanding style. "Necrogenic Resurrection", on the other hand, rivals "Overtorture" in its twisty-turn technicality, yet still offers some immense, surging grooves. Webster also penned the aforementioned "Slowly Sawn", the lone C+ track on an album's worth of A-grade material, but it is a minor blemish on an otherwise darn near flawless effort.
Longtime artist Vincent Locke caps it all with his nightmarish cover art rivaling that of Butchered At Birth with its postpartum massacre scene laid out in its splatterific glory. Needless to say, a less explicit, but still quite hideous, alternate cover was commissioned to get the album "into the shops," as it were. Ether way, you can 't lose.
4.5 Out Of 5.0




Please log in to view RANTS

If you don't have a username, click here to create an account!