Immortal Axes: Guitars That Rock Book


By Larry Petro, News Monkey
Thursday, September 30, 2021 @ 6:12 AM


| | | |
| --- | --- | --- |
| | | |
Immortal Axes: Guitars That Rock
By: Lisa S. Johnson
Princeton Architectural Press, 2021




Let me just start off by saying holy crap, this is one big ass book! Immortal Axes: Guitars That Rock, the new book by author Lisa S. Johnson comes in at 388 pages, measuring 11 1/4" X 11 1/4", almost an inch and a half thick and weighs a whopping 5.2 lbs! You will need a strong coffee table to hold this monster.

This book isn't simply a collection of photographs of guitars with or without their owners, oh no, this is 'guitar art', carefully constructed and created artistic photos of some of rock's (and other genres too) most iconic instruments. Immortal Axes: Guitars That Rock is the sequel to Johnson's first book, 108 Rock Star Guitars, which was released in 2013 and contained photos from musicians that included Jimmy Page, Eric Clapton, Ace Frehley and Geddy Lee to name but just a few. Not to be outdone, Immortal Axes: Guitars That Rock contains a Preface By Lonn Friend, a Forward by Peter Frampton, an introduction by Johnson herself and an Afterward by Suzi Quatro, along with more than 150 artist's instruments, running the gamut of genres from rock to country to blues to metal. And you don't simply get a photo or two of the instrument being highlighted, you get stories of their creation, the year, make and model and the part they played (pun intended) in the artist's history. You also get some front and back photos and closeups of the headstock and pickups, again, all masterfully and artistically laid out by the author.

The guitar section of the book actually starts with Peter Frampton's 1954 Les Paul 'Phenix' and includes a total of 4 of his favorite axes. Following through the book you get guitars from THE ROLLING STONES guitarist Ronnie Wood and Keith Richards, several of Elvis Presley's acoustics, axes from the DEF LEPPARD guys (Clark, Collen, Savage and Campbell), and the members of TESLA. You get the photos and story of Bo Diddley's 1991 The Father guitar, aka 'The Get-Drum', that actually had a built-in effects and drum machine! Some of these photos you have to actually see to believe.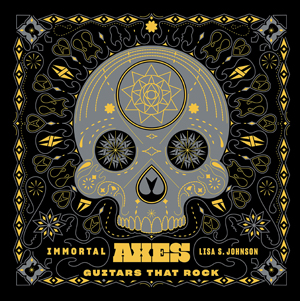 You also get a section on Randy Rhoads and the 1963 Harmony Rocket that he learned to play on while at the Musonia School of Music, which sadly was stolen in 2019 along with other Rhoads memorabilia and remains missing to this day. Metal is definitely well represented in this book as one might expect, like favorites from IRON MAIDEN 's gunslinging crew of Adrian Smith, Dave Murray, Jannick Gers and bassist Steve Harris, whose 1974 Fender Precision bass is on display, an instrument that he has played for almost 2 decades now. "Dimebag" Darrell Abbott's Dean Custom 'The Dean From Hell' as he affectionately named his axe is here too, along with the guys from MTEALLICA including one or two from the late Cliff Burton.
There's a nice Jimi Hendrix collection too which would not be complete without the 1986 Fender Strat that he played at Woodstock in 1969. THE BEATLES are in there and definitely not-to-be-forgotten, there are plenty of guitars from women who influenced their respective genres such as Nancy Wilson, Lita Ford and Joan Jett.
Obviously this isn't a comprehensive book because let's face it, a book that size would all but crush the weakest of furniture but if you already own the first book 108 Rock Star Guitars and need this one to complete your collection or if you just want a nice coffee table guitar book to amaze your friends with or stump them with trivia, then Immortal Axes: Guitars That Rock is definitely a book worth investing. It can be purchased just about anywhere fine books are sold and retails for around $50, a small pittance to pay for the years and miles accumulated by Lisa S. Johnson in putting this book together for you, the guitar aficionado.
5.0 Out Of 5.0

Please log in to view RANTS