SWALLOW THE SUN Moonflowers


By Peter Atkinson, Contributor
Sunday, November 28, 2021 @ 10:13 AM


| | | |
| --- | --- | --- |
| | | |
SWALLOW THE SUN
Moonflowers
Century Media Records




After issuing 20 Years of Gloom, Beauty and Despair – Live in Helsinki just a few months ago, Finnish death doomsters SWALLOW THE SUN have somewhat replicated its formula with the brand new studio outing Moonflowers. The live album was essentially split into two halves, an acoustic first set accompanied by a string quartet and an entirely different second set boasting the band's more traditional epic thunder.

Here, the playbook is changed a bit, with the full-metal Moonflowers being accompanied by a bonus album featuring chamber music-like instrumental interpretations of all its tracks. The Finnish group TRIO NOX performed the violin, viola and cello treatments accompanied by a pianist, and recorded it in an old church for an added sense of desolation. The result is an extra heaping helping of SWALLOW THE SUN's often jarring, yet also hauntingly beautiful odes of despair.

As with earlier albums like Hope and New Moon, Moonflowers has a deceptively innocent-sounding title, that here is accompanied by sparse, rather frail-looking cover art. But the red moon behind the wilting blossoms on said cover was painted by guitarist/songwriter Juha Raivio with his own blood, and the album's overall tone is every bit as grim, epic and bombastic as one might expect from SWALLOW THE SUN.

Like its preceding studio release, Moonflowers came together during a particularly traumatic period. Yet where When a Shadow Is Forced Into The Light was especially personal, with Raivio mourning the loss of his long-time partner, Aleah Stanbridge who died of cancer in 2016, Moonflowers seems more universal in its anguish and makes for a fitting soundtrack for a pandemic now washing its fifth wave of suffering across the globe.

"Will you die in misery?" frontman Mikko Kotamaki ponders in the album's opening line, a question revisited as the closing track "This House Has No Home" concludes. In between are tunes like "Woven Into Sorrow", "All Hallows' Grieve" and "The Void". So yeah, good times.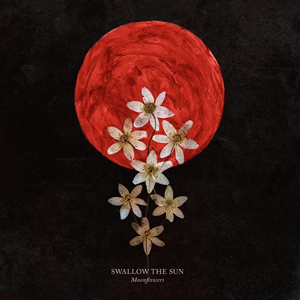 But as bleak as this - and pretty much all seven previous SWALLOW THE SUN studio releases before it - is, it is presented in a compelling, poignant manner that manages to engage and, indeed, entertain, and just not come across as one colossal bummer. Raivio's contemplative, sometimes gut-wrenching lyrics can really stir the soul as he lays it all out there and will at least make one long for hope, even if he seems averse to offering any of his own.
Raivio has the perfect vehicle for his reflections – or, at times, confessions - in Kotamaki, whose resonant, deliberate and prominent clean vocals, and equally commanding, more punctuating roar, capture both the melancholia and irascibility of the moment. Kotamaki's Mikael Åkerfeldt-like outbursts are typically deployed as fleeting, sometimes startling gestures. But on the aforementioned finale "This House Has No Home", he has more of a Jekyll and Hyde role as the song injects black metally sprints into its doomy plod, making for the album's most striking contrasts.
Most of the time though, Moonflowers slips effortlessly back and forth between somber, quiet passages, gloomy trudge and towering, majestic sweeps of metallic glory driven home by Raivio and Juho Raiha's heaving riffs and harmonious flourishes. Ample keyboard and string accompaniments add to the grandiosity, but also provide texture and grace to accent the mood and at times even lift it, if but briefly, which is most welcome here.
SWALLOW THE SUN marches into its third decade of "gloom, beauty and despair" in top form with Moonflowers. The album is doom/death brilliance presented by a band that has mastered its essence while being led by one of its most gifted and unflinchingly honest practitioners. No one sings the sorrow quite like these guys.
4.5 Out Of 5.0




Please log in to view RANTS

If you don't have a username, click here to create an account!