DARKWOODS MY BETHROTHED
Angel of Carnage Unleashed
Napalm Records




DARKWOODS MY BETHROTHED, pioneers of Finnish Black Metal, have been silent for a long time. Until now. Angel of Carnage Unleashed may be the best thing they have ever done, which begs the question of their hiatus. They clearly spent that time perfecting the sound of this album. Signed to Napalm Records, the band has come out of hiding and you will be glad they did.

The band was formed in Kitee, Finland in 1993 and garnered an underground following that soon launched them into the black metal world full force. Their early albums, Heirs of the Northstar (1995), Autumn Roars Thunder (1996), and Witch-Hunts (1998) were well received and it is a shame that the band went inactive; but that is over and they are back in rare form.

With a lush symphonic aura, thanks to Tuomas Holopainen (NIGHTWISH), the album kicks off with "Name The Dead" and it is reminiscent of the black metal we so loved in the early 1990's. I was transported back to the days of the black metal heyday before it all went up in smoke. If you know, then you know. Their previous albums are great but this album is proof that the band has matured. Not that I don't love that straight up "I recorded this in my bathroom on a tape recorder" sound because I do; but I also like an evolved sound that so many of the old bands have grown into.

The rest of the band consists of Pasi Kankkunen on vocals and guitars, guitarist Jouni Mikkonen, bassist Teemu Kautonen – bass and drummer Kai Hahto, also of NIGHTWISH fame. However, don't expect to hear anything even remotely resembling NIGHTWISH because you won't. Think early DIMMU BORGIR or EMPEROR and you will find that it is vey much in that vein.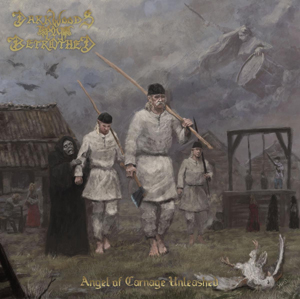 "In Evil, Sickness, And In Grief" is the second track and it is just as brutal as the first. This is truly fine work and may be very much what the black metal community has needed as it is so close to what we loved back in the day. "Murktide And Midnight Sun" has recently been released as a lyric video (seen HERE) and it has had much play on digital formats. It's a strong tune and segways easily into "You Bitter Source of Sorrow".
The vocals on this album, both screams and clean, are brutal and beautiful. Pasi is excellent and it fits well with all of the songs on the record. "Where We Dwell" is fierce and "In Thrall to Ironskull's Heart" are good, but are not quite as dense with evil as the others.
"Massacre" and "Black Fog And Poison Wind" round out the album fluidly. Both songs are brilliant. You can feel the pain and frustration that often categorizes many black metal offerings. There is an outro that pieces it all together.
It's better than their first albums and that may be because of the many line-up changes. The band is very tight and the songs don't all sound the same, which can sometimes happen in this genre. I hope they plan to tour because I would like to see this done live!
4.0 Out Of 5.0