https://nightlyspirits.com/the-haunted-tampa-theater/
IRON MAIDEN fans were out in droves as lead singer Bruce Dickinson was in town for one night doing a spoken word performance. As this was only the third show on the schedule, many including myself didn't really know what to expect as I have been to a couple of these before with other artists with mixed results. I never would have thought that laughter would reign supreme throughout night as Bruce Dickinson added the title of "comedian" to his vast repertoire of skills.
Hitting the stage with only an area rug, and a small round table that donned a single can of Trooper Beer on it, Bruce started off the first session of the evening going all the way back to his beginnings of being in his mother's womb to his birth. It was after this that he was given to his relatives as his parents were part of a circus and they didn't want him to be part of a clown show.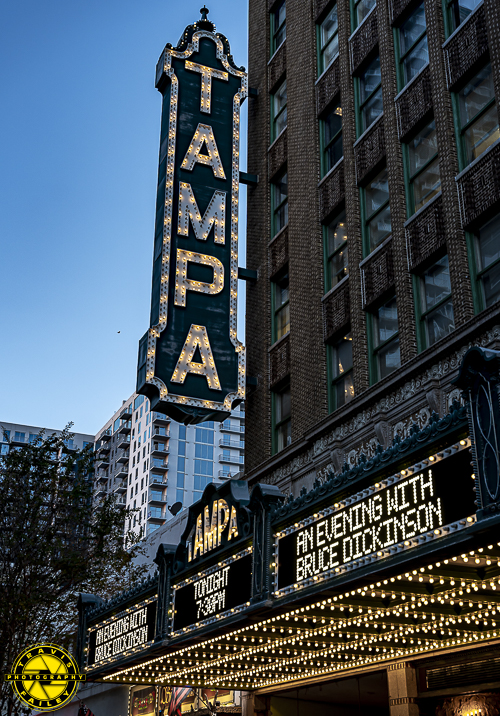 Bruce went into detail about his youth and how his parents came back from their circus travels and put him into a public boarding school that was actually private. This school had corporal punishment with lashings galore for any misgivings or dirty deeds and Bruce was a part of many including ordering two tons on manure for the head master that landed on the front doors of the school. Bruce was also introduced to playing music as in the bongos where he fancied himself the next John Bonham.
This would be short lived as his first band titled the "nameless band" was doing "Let It Be" by THE BEATLES where he was helping with the chorus and Bruce caught the singing bug.
He went on to discuss being recruited by SAMSON and the characters in that band, namely the drummer "Thunderstick" who wore a gimp mask like in Pulp Fiction and partaking in smoking weed for the first time with them. It was with SAMSON where Bruce was playing the Reading Festival when the boys in IRON MAIDEN asked him to join and the rest is history.
Bruce went through many other topics including a Canadian Goose fiasco, his various trousers, his fancy Michael Jackson shoes, bleeding after impaling himself with a guitar amongst many others. All of these got huge laughs from the crowd but the two stories that got the most were Bruce's escapades at a brothel in Germany and flying with Nicko (who was the first pilot in the band) in a small Piper 4-seater loaded with themselves and bags of fencing gear. The latter was a question posed from the audience.
The night wasn't all about laughs though as Bruce went into some detail about how he saw things before, during and after his cancer, especially how aware he was of churches, graveyards and hospitals during it. The crowd did roar though as Bruce stated how he lost only his bushy beard in chunks during chemo which left him a John Holmes-like mustache which we saw on the large theater screen. There were many other images shown of his old bandmates and family, tour photos, and military vehicles in Bosnia along with pictures of Bruce flying commercial planes etc.
One of the more interesting segments of the night was when Bruce went into IRON MAIDEN's Rock In Rio festival in 1985 and throwing monitors off the stage and how he didn't play a huge part in the making of the Somewhere in Time album. He stated that "I was in a weird place. I was ready for the funny farm."
Prior to taking a 30-minute break, Bruce introduced the video for the first single from the new IRON MAIDEN album Senjutsu in "The Writing On The Wall". This was where the Tampa Theatre was on full display as the audio was amazing. You heard every gun shot, lightning crash and motorcycle engine roar in its sonic glory. It's this kind of audio and visual experience that brings patrons back to the theatre time and again in its almost 100-year history.
After the break, Bruce returned to the stage and answered written questions from the crowd, of which at least half were wearing IRON MAIDEN shirts.
Some of the questions led to long stories about his favorite Monty Python episode, meeting Johnny Cash, the best way to bring people together (where his answer was "music, humor and beer," go figure) and how Bruce warms up before a show with "Trumpets of Jericho".
Bruce saved the best question or request for last as the fan asked him to do the chorus from one of his hits from his solo release Balls To Picasso in "Tears of The Dragon". Dickinson's voice resounded through the cavernous halls and bounced off the ceiling of the Tampa Theatre and left the crowd wanting more of the same. Bruce then took a bow and the crowd responded with a standing ovation with cheers and clapping as Bruce departed the stage.
To say this event was a rousing success would be an understatement. It had more laughs than the 4 comedians I've seen live in the last year combined. I also learned more about Bruce Dickinson's life and travels along with some of his life lessons that everyone can take something from. Even if you're just a casual fan of his or of IRON MAIDEN, this 2.5-hour show is a must attend and is worth every penny, no matter where your seat is or what venue you are attending.
For shows near you, go to https://screamforme.com/ for all dates and venues.
Check out some more photos from the show!
All Photos By Travis Failey Photography