ANVIL Impact Is Imminent


By Andrew Depedro, Ottawa Corespondent
Tuesday, May 10, 2022 @ 12:17 AM


| | | |
| --- | --- | --- |
| | | |
ANVIL
Impact Is Imminent
AFM Records




Tenacity!
Determination!
Finger-noise riffs!

Legendary classic Canuck metal stalwarts ANVIL may be more known for taking their fair share of hits rather than for writing them anymore even well before their 2009 documentary, but even in their *ahem* exodus of fame, they continue to bring forward the manic volume – and we're not just referring to the sonic power of the songs. Indeed, throughout the course of the past two years, the current lineup of Steve "Lips" Kudlow, Robb Reiner and Chris Robertson have made great use of their 2-year long down time by not only writing, recording and demoing one full-length studio album, but two. Maybe there's even a third in the pipeline that we're completely oblivious to at the time of writing this review given Lips' frequent habit of non-stop songwriting. And with the first of those hidden studio albums, ANVIL are making their ongoing presence known with Impact Is Imminent.

Music aside, the elephant in the room must be addressed here in that many a metal fan worth their proverbial weight should be questioning the album title's obvious familiarity. Gary Holt definitely would be among that camp. I suppose that going with, say, This Is Nineteen as an album title wasn't even floated as an option once the tracks were demoed and cut. Still, though, given ANVIL's own 40+ year career in the industry, one would think that a simple Google search on album title ideas should've been at least a bit more…well…thorough.

That said, over the course of their previous three efforts, Impact is definitely what Kudlow describes as the most "monolithic, right down to the very last details, both in terms of rhythm and harmonies". With the production magic of Martin 'Mattes' Pfeiffer (U.D.O., among others, including ANVIL's last three studio albums) and JörgUken at his Soundlodge studios once more reuniting with the band's aural colossus of sound, this album was firmly based on a solid blueprint and sounds like it: Focused and driven to perfection. "Not only was there plenty of time for the songwriting process in the run-up to the recordings, but I also had the leisure to put all my ideas to the acid test and work on them until they were perfect", claims Kudlow, whose self-confessed gamble has paid off in dividends. The first two anthemic-sounding singles, "Ghost Shadow" and "Take A Lesson" display a greater cohesive-sounding edge thanks to the skills of longtime co-founder/drummer Robb Reiner and bassist Chris Robertson – and those songs are only secondary to the real hidden gems throughout this album. Tracks such as the groove-heavy "Fire Rain", the anthemic-sounding thrasher "Bad Side Of Town", "Don't Look Back", the Blackout-era SCORPIONS-sounding "Someone To Hate" and the Dressed To Kill-era KISS-sounding cowbell-driven stomper "Shockwave" harken the closest to the band's own heavy influences such as CACTUS, CAPTAIN BEYOND and VANILLA FUDGE in parts, with Reiner's crashing and uncontrollable rolling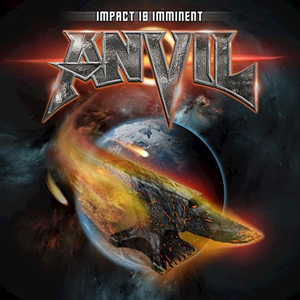 drumwork and Robertson's thundering bass broadening out more on the sound, giving a raw-sounding garage rock vibe in parts. And particularly on the crashing number "Wizard's Wand", which Kudlow admits to having originally re-tooled and re-titled entirely as "Give Me The Goods", he fully listened to a deeper voice from within: His own intuition, to which he explains here: "Suddenly the line 'The wizard's wand with just a wave, the wizard's wand all of us to save' came to my mind. Out of nowhere, the whole message was there: What would I actually do if I was a wizard? I'd change the world for the better! Once I'd found the theme, "Wizard`s Wand" was finished in ten minutes flat." Even the two instrumentals, the jumping groove jam "Teabag" and the ska-sounding (!) "Gomez", have a deeper-sounding distinct aura in their tone. Perhaps moreso because Kudlow prefers to keep mum on their actual interpretations. Is "Teabag" a goofy track about flying genitalia? Is "Gomez" an ode to Breaking Bad character Hank Schrader's more subdued DEA agent sidekick Steve? As instrumentals in ANVIL's catalogue go, they definitely stand out as a unique anomaly regardless of its subject.
Like many active bands since the beginning of the pandemic, ANVIL have endured its inherent confinement trappings and likened them to being trapped in a cage as outlined in "Lockdown", but its own two years of downtime has appeared to weather the band to become more musically adventurous and ambitious with its latest offering Impact Is Imminent. Even Lips sums it up best here: "In this constellation, these numbers are an absolute novelty. At least I haven't heard anything like them."
4.5 Out Of 5.0
http://my.tbaytel.net/tgallo/anvil/
https://www.facebook.com/anvilmetal
https://www.afm-records.de




Please log in to view RANTS

If you don't have a username, click here to create an account!