Chuck Wright's Sheltering Sky is the debut album by the legendary bassist known for his work with QUIET RIOT, HOUSE OF LORDS, ALICE COOPER, HEAVEN & EARTH, and many, many more. It features a bevy of special musical guests which at one time or another have worked with Chuck on projects in the past. Chuck Wright's Sheltering Sky is just as eclectic as the man himself, melding different genres of music throughout its 11 tracks. I had the chance to speak with Chuck Wright shortly after the album's release.

KNAC.COM: If I knew absolutely nothing about CHUCK WRIGHT'S SHELTERING SKY, how would you describe the music to me?

WRIGHT: The music is cinematic in feel. It's very diverse covering a wide range of styles such as Hard Rock, Funk, Prog, Jazz Fusion, Folk-Gospel, and even Celtic.

KNAC.COM: With a rock pedigree that spans nearly 40 years with bands like GIUFFRIA, QUIET RIOT, HOUSE OF LORDS, MONTROSE, ALICE COOPER and HEAVEN & EARTH, why was now the time for your first solo album?

WRIGHT: Between my weekly weekend fly-out concerts with QUIET RIOT since 2011 and organizing Ultimate Jam Night, which is a musical event that integrates over 50 pro musicians into a 3-hour live performance of unrehearsed cover tunes from a wide-range of popular music that I started in 2015, there just was never much time to just sit and compose.

Then the Pandemic hit us, which was a difficult time for most, but I didn't become a victim of the lockdown, instead I embraced the time as an opportunity for creative expression. I actually didn't plan on what I was creating becoming a solo album. I was just writing music I'd want to hear. Art for art's sake so to speak.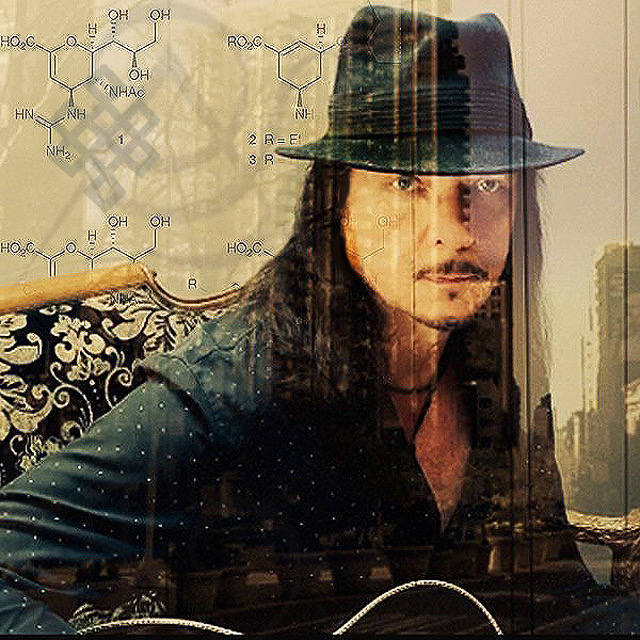 My first song, "The Weight Of Silence" was inspired by the way the world felt at that time. It was almost apocalyptic with all the emptiness in huge cities like Rome, Paris and New York. I recorded everything myself then edited a video together of my performance on guitar, bass and percussion mixed with drone footage of the barren city landscapes around the world.
After posting the video on YouTube, TESLA drummer Troy Luccketta reached out to me saying how much he loved the track and wanted to add drums to it. I never imagined that but was honored he contacted me and I loved what he did. At the same time, one of my favorite Jazz/Fusion guitarists in L.A., Allen Hinds, also volunteered to lay down some solo guitar throughout the song.
After hearing compliments on the song from keyboardist Derek Sherinian (SONS OF APOLLO, DREAM THEATER), I asked Derek if he'd be into adding some Mellotron and Synth. I then brought in Ben Woods, one of today's most acclaimed Flamenco guitarists to reinforce some of my acoustic guitar playing. Not many know I was in a Flamenco group for 2 years, hence the influence in this piece.
To my surprise, the song just now won "Best Musical Performance" and "Best Video" at the Rock Music Alliance Awards. It was presented online by Tony Kaye from YES. I was up against JOE SATRIANI, JOHN 5, and other amazing artists. I wasn't even aware I was nominated.
So after completing 5 songs in 2021 and the video for "Army Of Me", I felt I had something people might want to experience. I shopped it around, and Brian Perera from Cleopatra fully saw my vision so I joined forces with his label, Cleopatra Records.
KNAC.COM: The second single from the album, "Throwin' Stones" is a protest song calling for the end of the war in Ukraine. Was that the song's original intent or did it take on a new meaning as the war ensued?
WRIGHT: The lyrics and vocal melodies were written by Joe Retta (SWEET, TSO, DIO DISCIPLES) just before the end of last year, and well before the Russian invasion of Ukraine. I call it sad serendipity. In making the video however, I wanted it to reflect what was happening now. The message in the song is about how from the beginning of time we started with throwing stones at each other to now launching missiles, and we ask the question, 'how much longer until we grow?' Musically, one reviewer said it was like "PRIMUS and STEVIE WONDER getting together".
KNAC.COM: In addition to the single, you have started a fundraising effort through on-going live performances at the Whiskey A Go Go dubbed Ultimate Jam Night. Guests included members of THE RUNAWAYS, KING'S X, BULLETBOYS, STEELHEART, LIVING COLOUR, and members of BAD WOLVES, as well as Ukrainian musicians and guests. How emotional have these performances been?
WRIGHT: We've held one charity event so far to raise funds and continue building awareness of World Central Kitchen (www.wck.org) who have been on the front-lines of providing food to the entrapped in Ukraine and its millions of refugees. As honorary guests, a Ukrainian family that just fled the horrors of Bucha, Ukraine as war refugees joined us on stage. A 7-year-old-girl with them sang a verse of "We are The World" that left everyone in tears. We opened the show with MUSSORGSKY's "Great Gates Of Kiev". It was a very memorable night.
KNAC.COM: Much like your Ultimate Jam Night, CHUCK WRIGHT'S SHELTERING SKY is packed with numerous notable guest musicians, too numerous to list in fact. Was that the idea behind the album…to bring a bit of Ultimate Jam Night to a recording?
WRIGHT: I've been very fortunate to have made many new friends in the music community through Ultimate Jam Night. We've had well over 2,000 different performers with us which has allowed me to tap into the right player or singer for a particular song. I met singer WHITNEY TAI this way and when finishing my cover of BJORK's "Army Of Me". I thought she'd be the perfect choice to sing it. We really hit it off on all levels and wrote the song "Time Waits For No One", which appears on the album. I also asked her to sing a song I've held back for years called "Giving Up The Ghost". She has the right voice at the right time.
KNAC.COM: Your first single from the album was a reinterpretation of the 1995 BJORK song "Army of Me". This is probably not a song people would expect the bassist of QUIET RIOT to cover. Is BJORK a guilty pleasure of yours?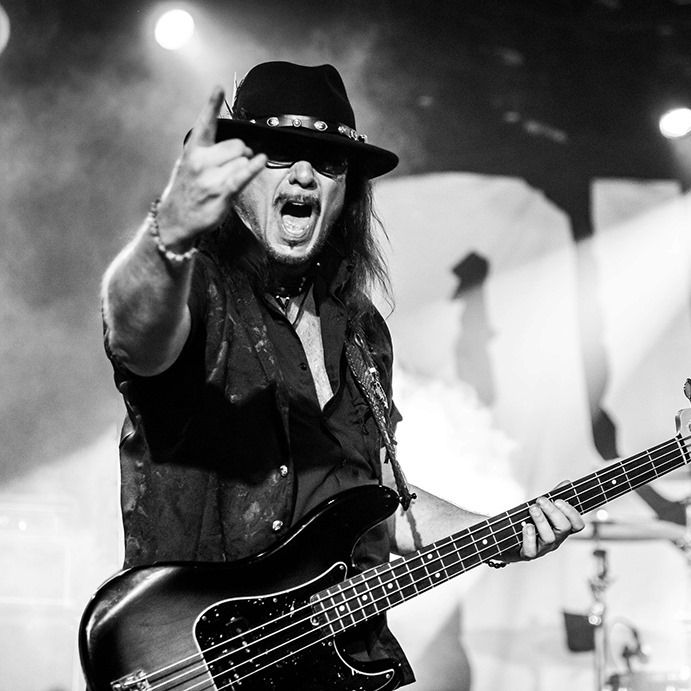 WRIGHT: Ha…I have many. I love a very wide range of styles of music which is reflected on this album. This song grew out of a jam recording with my late close friend, drummer Pat Torpey of MR. BIG and someone I have done many albums with, guitarist Lanny Cordola (HOUSE OF LORDS/GIUFFRIA), who has gained worldwide fame for efforts with war-torn children in Afghanistan. Pat loved the Bonham groove so we recorded it for fun.
Many months ago, I discovered the music files of that session which also include the basic tracks which have become "Throwin Stones" and "It Never Fails". I felt the tracks were too good to just let them disappear into the ethos and I also wanted to honor my late friend, so I finished them with the help of many others. In both the "Army Of Me" and "Throwin' Stones" video, the drums were synched by my friend Tosha Jones (SALIVA). Her energy on film is amazing.
KNAC.COM: The "Army Of Me" accompanying video pays homage to the late Supreme Court Justice Ruth Bader Ginsburg. Why was it important to you to honor her in this way?
WRIGHT: At the time of creating the video for the song, Justice Ginsberg had just passed. We had just gone through severe civil unrest in this country and I felt that, though she was gone, there was still an army out there with her strong beliefs in human rights. This video is also very timely right now with the possibility of Roe vs Wade being overturned. At the end of the video, you'll see the image of a woman that has 'MY BODY MY CHOICE' written across her chest. Big thanks to Drew Lanius for his excellent 3D animation skills.
KNAC.COM: Rock and Roll has certainly had its share of political views throughout the decades, but it seems today having the "wrong opinion" on a particular matter could have dire consequences for musicians, celebrities, or anyone with a platform. What are your thoughts on this?
WRIGHT: There's a time when you must take a position that is neither safe, nor political, nor popular, but we must take it because our conscience tells us it is right. I grew up watching the Vietnam-era protests and the Civil Rights protests, so this mind set has stayed with me.
KNAC.COM: With the amount of personnel involved in the new album, touring is probably not an option. Have you thought about assembling a live band specifically to support this album?
WRIGHT: To pull off what I envision a live show for this album, it would require a ROGER WATERS budget. Yes, I have considered a streamlined version of some of the material, and also delving into some of my favorite past works from releases like the Odd Man Out, Magdalen, and Chaos Is The Poetry albums.
KNAC.COM: You currently perform live with ACOUSTIC SAINTS. Who else is in the band and what can fans expect for material at a live show?
WRIGHT: We started that band 10 years ago on a lark for fun, but people loved our reinterpretations of classic rock songs using Violin, Mandolin, Acoustic guitars, a small drum kit and fretless Bass. We kept it going and have four hours of material right now. Stan Bush is the lead singer, and a solo artist with albums released world-wide. He's won an Emmy and actually wrote songs for HOUSE OF LORDS and QUIET RIOT. Tom Walsh is on drums and has played with JOE COCKER, AMERICA and currently works with actor Dennis Quaid's band. Our secret weapon is Rick Sailon, who is not only an amazing guitarist but also shreds on the violin and adds Mandolin on a few songs.
KNAC.COM: You are also performing with LEGENDS OF CLASSIC ROCK. Who else is in the band and what can fans expect for material at a live show?
WRIGHT: I actually just started working with them a few months ago. It's a blast! Everyone in the band has been a friend of mine for years. Greg D'Angelo, a founding member of WHITE LION, is on drums, Terry Illous you'd know from his many years with GREAT WHITE, is on lead vocals, and Kevin Jones who played with the Randy Rhoads-era OZZY OSBOURNE is on keyboards. We've had a few guitar players in just the short time I've been in the band. Right now, we have Marcus Nand who has worked with ROD STEWART.
KNAC.COM: Last year was the 35th anniversary of QUIET RIOT's III album. A very underrated album in my opinion. As it was the first full QR album you played on, what do you remember about the recording of that album and the events that followed?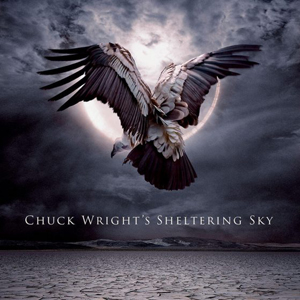 WRIGHT: The timing was perfect for Kevin DuBrow to call me with the offer to return to the band. I was in GIUFFRIA at the time. We'd just completed two long sold-out tours in support of DEEP PURPLE then FOREIGNER. We had a huge hit with the song "Call To The Heart", but Gregg Giuffria and singer David Glen Eisley weren't open to anyone else in the band contributing songs on the next album, so Craig Goldy left to join DIO and I left to re-join QUIET RIOT.
KNAC.COM: Are there any hard feelings with how the current version of QUIET RIOT brought back Rudy Sarzo for the bass guitar position?
WRIGHT: I believe this is the 4th or 5th time since 1982 that I've been asked to step aside for Rudy so no big surprise. This was also good timing for me after non-stop touring since starting back in 2011, after Kevin's passing. This change allowed me to give my full attention to finally doing my own music project.
KNAC.COM: As a musician that has kept himself quite busy over the years either live or in sessions, what other music projects do you have coming up?
WRIGHT: Right now, all my efforts are into getting the word out on my first solo album. To me, this is my legacy, not something I recorded decades ago. The music on the album speaks to what I'm about, the full spectrum. This is my focus for the next couple of months. We shall see what unfolds after that.