INVICTUS Unstoppable


By Peter Atkinson, Contributor
Wednesday, November 2, 2022 @ 6:48 AM


| | | |
| --- | --- | --- |
| | | |
INVICTUS
Unstoppable
MNRK Heavy




INVICTUS marks yet another side venture for ever-resourceful KATAKLYSM frontman Maurizio Iacono who, in addition to his Roman-themed band EX DEO, also heads a management company, co-owns a booking agency and runs Distortion Music Group. But despite its Latin-inspired moniker, INVICTUS opts for a rather different stylistic/thematic approach than the long-running EX DEO, which has issued four albums since 2009, even if some familiar faces have come along to lend a hand - notably KATAKLYSM/EX DEO guitarist J-F Dagenais and EX DEO's latest drummer Jeramie Kling.

Indeed, INVICTUS is more of a "solo" project for Iacono, who steps outside his comfort zone on Unstoppable by teaming here with producer/songwriter/vocalist Chris Clancy of MUTINY WITHIN - who worked with the production team on KATAKLYSM's last album Unconquered - for something that is more in the groove/arena/modern metal vein. There are only traces of the melodic death metal of Iacono's other bands to be heard here – and certainly none of the "northern hyperblast" of KATAKLYSM's early days.

While the contingent does ratchet up the intensity form time to time, most of the tunes are deliberate and anthemic, powered by hulking grooves, riding chunky tempos and building to massive choruses with Iacono's burly growls typically offset by Clancy's clean harmonies. And in that way, INVICTUS' sound is closer to the likes of KILLSWITCH ENGAGE, IN FLAMESLACUNA COIL – if Cristina Scabbia was a dude! - for better or worse.

Unstoppable is certainly heavy, with Dagenais' heaving riffs delivering ample heft over the beefy, occasionally surging rhythms anchored by Kling. But with the approach noted above as an all-too-common fall back, it can be tough to distinguish one song from another when listening the whole way through – as one should.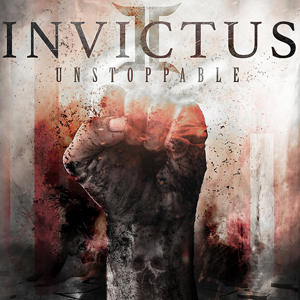 "You Will Know Who I Am" sets the bar from the get-go, launching with a determined chug out until the big chorus payoff. "Eagles" and "Exiled" are somewhat spunkier, as Kling shows some of the athleticism that has made him one of death metal's most sought-after session/live drummers, but the end result is essentially the same as good cop meets bad cop at the chorus over its melodic swells. "Bleed Me Out" adds some synths for a splash of symphonic grandeur, yada, yada, yada.
There are some exceptions, like the PANTERA-esque "Keeping The Wolves At Bay" – despite its faint piano tinkling - and "Get Up" with its rousing "Get up, or stay the fuck down" rallying cry, or the propulsive "American Outcast" that stick with growly vocals, largely maintain their intensity and don't feel quite so formulaic. "Weaponized" and "Ghost Of My Father" also forgo the clean vocals, relying on Iacono surliness for their emphatic choruses, but otherwise retain much of the familiar anthemic trappings.
As a one-off, I suppose Unstoppable serves its purpose, allowing Iacono to simply be the singer and, along with Dagenais and Kling, try something a bit different and definitely more melodic for a change. They certainly bring plenty of gusto to the effort, even if the songs do tend to rein them in.
Clancy ably captures their combined might in the album's resounding production, but the single-mindedness of material he gave them to work with lessens the impact considerably over the long run. So if the intent is to make INVICTUS a going concern, a la EX DEO, probably best to start thinking more outside that box ASAP.
3.0 Out Of 5.0

Please log in to view RANTS