HIMSA - Hail Horror


By Charlie Steffens aka Gnarly Charlie, Writer/Photographer
Wednesday, March 8, 2006 @ 9:54 AM


| | | |
| --- | --- | --- |
| | | On Prosthetic Records |
Like an insidious disease or creeping mental disorder taking its victim into the blackness of enlightenment via music, Seattle's HIMSA is back to comfort the afflicted and afflict the comforted. Simply put, you're fucked.

Hail Horror is one of a few recently released records that have brought the New Year in right. By HIMSA hiring Danish producer Tue Madsen (The Haunted, Mnemic, Heaven Shall Burn) to engineer, mix, and master the album -- it was a turn for the brilliant. Upon several listens it seems to have as much to offer as the previous Courting Tragedy and Disaster, while having more thrash quality and slightly less of the Swedish flavor in its guitar work as in their previous works. But make no mistakes, it is unmistakably HIMSA.

"Sleezevil" is my pick for the best track on Hail Horror. It's heavy, alright. Just play the fucker and you'll be delivered from those haunting voices, the lies, and the other anemic, weak-assed shit your parents, teachers, cops, and preachers told you years ago. Don't you think it's time for a brain washing and soul vaccination, once and for all? Turn it up –rip it out!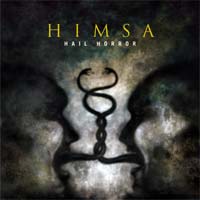 "Wither" is a song that sounds like it's taken a Lamb of God sound injection, but I don't think LOG was there during the recording of the record, even though they are fellow Prosthetic label mates. "Wither" keeps to its namesake in the beginning with a moody, slow tempo that eventually build into a stormy crescendo, revealing a fusion of mad guitar playing and machine-gun fire drumming. Don't laugh, just play it.
"Wolfchild" - holds all the HIMSA goods in one song: amazing drumming, dueling guitars with speed, tone, and death metal-like syncopation – well done.
"S.E.M.I.N.A.L." is a tight-sounding HIMSA masterpiece, possessing a Michael Amott/Arch Enemy sound, and therefore defies my previous statement about "less of the Swedish" … just a bit.
Hail Horror, overall, has a great, guitar-heavy sound –plenty of dark and diabolic lyrics with John Pettibone's ominous, roaring vocal delivery -- complete with brilliant instrumentals, and dark-vibed heavy metal soul. From the minds and black hearts of heathens, and a little help from someone who resides in the bowels of hell. Moo-hoo-hoo-hoo-hah-hah!
* * * ½




Please log in to view RANTS

If you don't have a username, click here to create an account!