ROSS THE BOSS Legacy of Blood, Fire & Steel


By George Dionne, Podcaster
Tuesday, April 18, 2023 @ 7:32 AM


| | | |
| --- | --- | --- |
| | | |
ROSS THE BOSS
Legacy of Blood, Fire & Steel
AFM Records
www.ross-the-boss.com




Has it really been 15 years since ex-MANOWAR guitarist Ross "The Boss" Friedman debuted his band ROSS THE BOSS? *checks notes* Yes it has! What a decade and a half it has been, resulting in four powerful Heavy Metal albums; New Metal Leader (2008), Hailstorm (2010), By Blood Sworn (2018), and Born of Fire (2020).

Legacy of Blood, Fire & Steel is a collection of the best material from each of those albums. Greatest hits packages these days usually indicate a big change for the band. Either ROSS THE BOSS has finished up their deal with AFM Records, the band is going on hiatus, or there is going to be a change in their vocalist.

If you hadn't heard, current ROSS THE BOSS vocalist Marc Lopes was just announced as the lead singer of METAL CHURCH for their upcoming album and tour. I suspect maybe all three scenarios are possible, but as they say, stay tuned.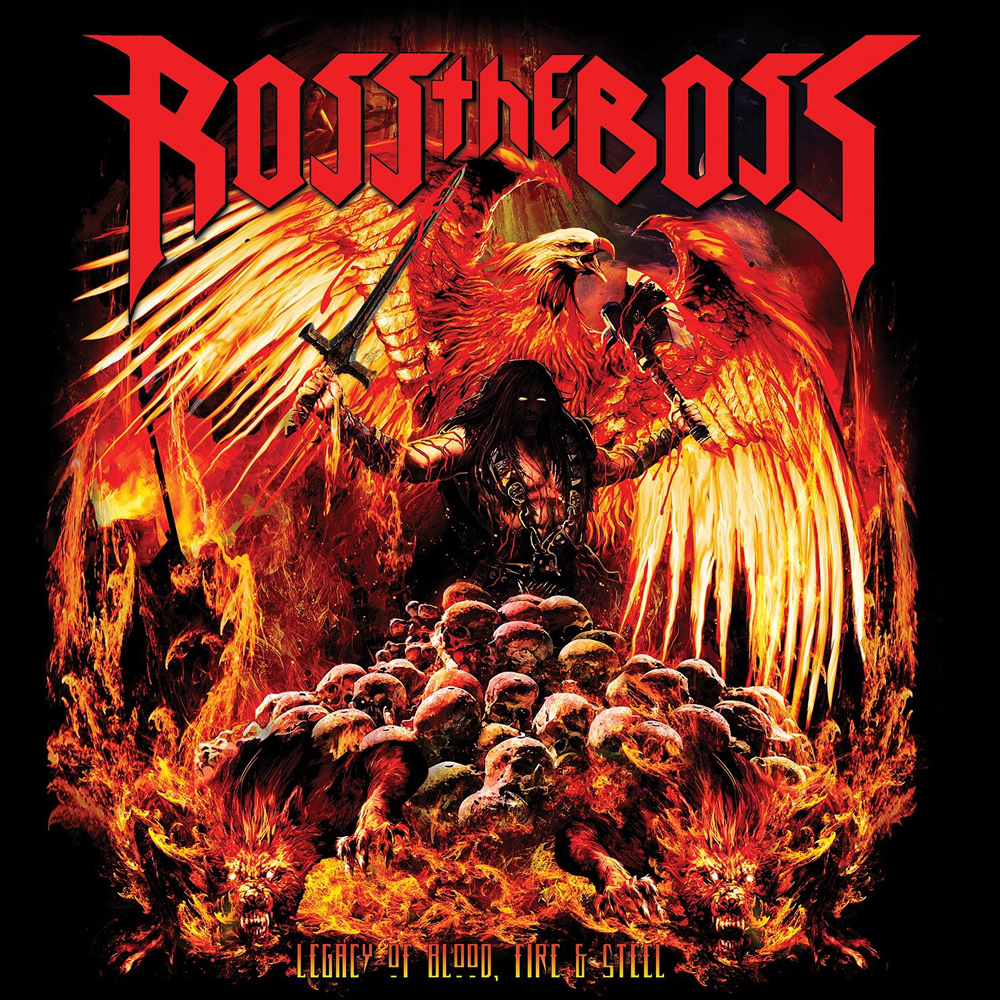 First thing I love about this 'hits' package is that the song selection is in chronological order. Whether you've followed the band from the start or are just checking them out, you can see how they've grown over the years. Three songs are featured from each ROSS THE BOSS album, with the first half of the collection featuring vocalist Patrick Fuchs (now vocalist from HAMMER KING under an alias).
The second half features Marc Lopes of course. One thing you'll notice is that the transition from Fuchs to Lopes is flawless. Similar vocal styles and delivery. Of course, the music dictates such a vocalist. It's clear that ROSS THE BOSS excels at powerful, in-your-face, Heavy Metal tales and anthems.
Of course Ross Friedman's proficient guitar skills run throughout this collection. Friedman puts his stamp where it's needed, but is not overly flashy in his solos, nor does his guitar work detract from the song itself. Lyrically, ROSS THE BOSS leans heavily on the medieval fantasy realm, as Friedman did with his time in MANOWAR. It would have been nice to get a new track on this release, but I'm sure with pressing this on vinyl, there were time constraints in keeping this to a single LP.
Legacy of Blood, Fire & Steel is a great sampling of the 15 year career of ROSS THE BOSS. It's inevitable that some fans will feel slighted that one of their favorites didn't make the cut (for me "Glory To The Slain" from Born of Fire). In the end, no one can argue that the songs on Legacy of Blood, Fire & Steel are anything less than 'the best'.
4.5 Out Of 5.0

Please log in to view RANTS