BLACK ROZE Penny For Your Sins


By Daniel Höhr, European Correspondent
Sunday, April 30, 2023 @ 5:46 AM


| | | |
| --- | --- | --- |
| | | |
BLACK ROZE
Penny For Your Sins
Independent Release, 2023




It took BLACK ROZE three years to write and record their sophomore album Penny For Your Sins. At the same time, the female-fronted four-piece hailing from Kent, England was restlessly touring up and down the country. As the venues got bigger and the gigs more prestigious – the band supported acts like DIAMOND HEAD and ENUFF Z'NUFF – and the number of radio plays increased, BLACK ROZE moved up a class or two artistically, musically and sonically. Their 2019 debut Spiritual Hell was already a blast but now with three years of hard work writing, playing live and recording under their belt, BLACK ROZE have unleashed a killer album.

According to the band, Penny For Your Sins is 'a BLACK ROZE confession booth! A collection of the band's deepest, darkest thoughts, deeds, and desires.' And these are clad in a variety of styles ranging from Glam, Sleaze, Goth to Metal and Rock. There's also a classic 1980s ballad, a pinch of Punk and an acoustic bonus reminiscent of FLEETWOOD MAC.

The opening title track kicks in with Baz Rose's relentless riffing. The song thrives on onbridled power, driving Hard Rock feel and Viixen's straight-in-your-face vocals. A short half-time part lets you catch your breath before a short but brilliant lead guitar part. And short and brilliant are keywords here – each song is very much to the point, perfectly balanced, tells a story and draws you deeper into the world of BLACK ROZE. Sometimes gloomy and sinister, sometimes with a good times Rock 'n' Roll feel – check out "Hit Me Up", reminiscent of MÖTLEY CRÜE and certainly with no shortage of cowbell. The balladesque (in the best sense of the word) "Devil's Door" is the nexus and, at the same time, the artistic starting point of the album. It was the first song written in February of 2020 after singer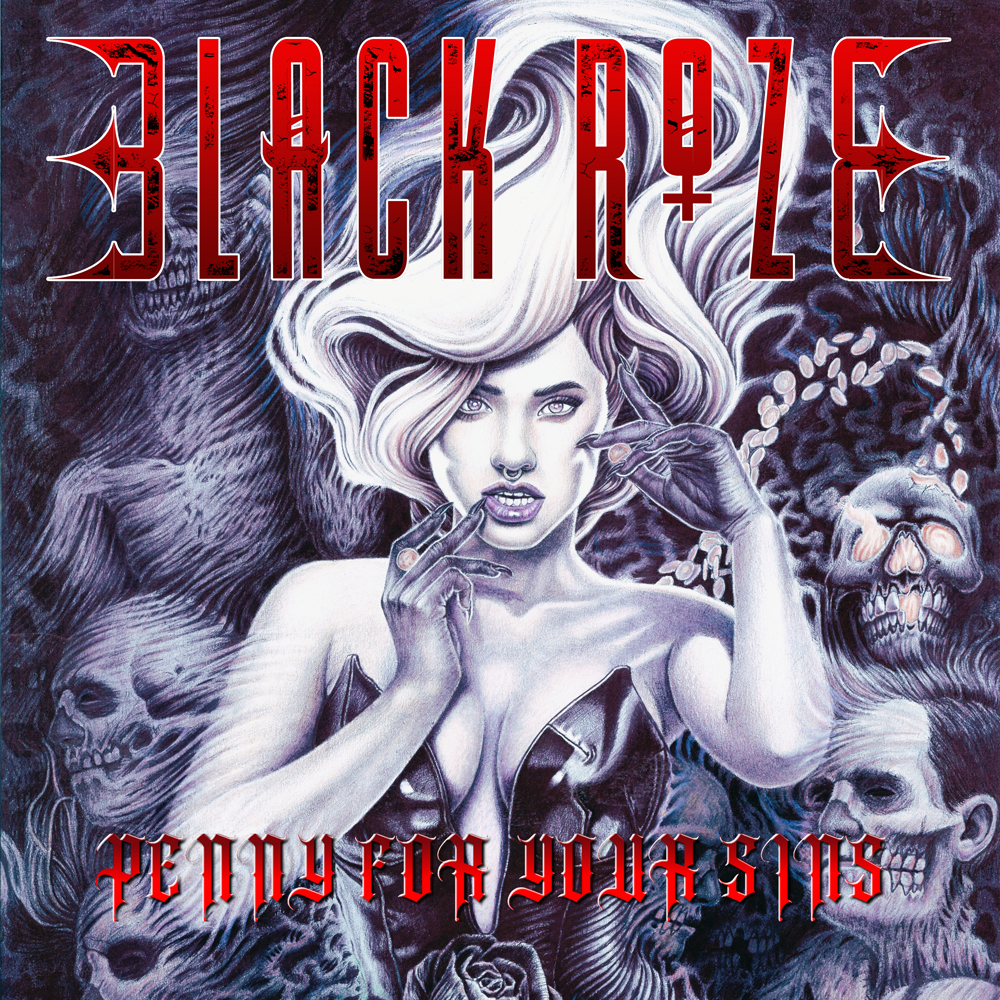 Viixen had a life-threatening illness and needed to be resusciated in hospital. On the boundary of life and death Viixen experienced a series of visual and auditory hallucinations, which inspired this haunting song. "Wake Up!" adds a good dash of Punk feel to the album and features some stellar bass playing by Steve Rankin, who forms a formidable rhythm section with drummer Vic Finch. "Burn It Down" is actually my favourite track on this album: a brilliant composition bursting with melody, drama and dynamics. "Footprints In The Sand" is a moving ballad and is bound to send shivers down your spine. Another definite highlight is the single "Not Your Whore (Anymore)", which like no other song on this album showcast's singer Viixen's vocal versatility. She masters any timbre in any register with ease and her charisma shines through each and every track on the album. Excellent guitar work by Baz Rose: powerful, expressive but always in line with the songs and never an end in itself – a rare quality in rock music.
The album has a full but crystal clear production sound, each instrument cuts through the mix and everything is well balanced. Kudos to producer and engineer Dan Lucas at the Joplin House.
Bottom line: an excellent album, each of the ten tracks plus one bonus is a killer and there's no filler. Penny For Your Sins is very likely to end up at the top of my top-ten list at the end of the year.
5.0 Out Of 5.0
https://www.blackroze.co.uk/shop

Please log in to view RANTS