SIGNS OF THE SWARM Amongst The Low & Empty

By Peter Atkinson, Contributor
Monday, August 14, 2023 @ 10:27 AM

| | | |
| --- | --- | --- |
| | | |
SIGNS OF THE SWARM
Amongst The Low & Empty
Century Media Records




For a band just approaching its 10th anniversary, Pittsburgh's SIGNS OF THE SWARM (or SOTS) has endured a lifetime of turmoil and travail. One member - drummer Bobby Crow - remains from the band's 2016 debut Senseless Order, which is perhaps not that unusual, but only two are left of the five members - Crow and vocalist David Simonich - that recorded its last effort, Absolvere two years ago.

Just before that album's release, longtime guitarist Cory Smarsh and bassist/ex-guitarist Jacob Toy were both dismissed following abuse allegations against them - similar accusations also led to former SOTS frontman CJ McCreery getting the boot from LORNA SHORE in 2019. Second guitarist Jeff Russoleft at some point last spring under far less dramatic circumstances. A host of others have come and gone as well, and Crow has switched from guitar to drums to bass and back to drums over the years. Throw the pandemic into the mix, and that's a lot of shit for the deathcore brutes to deal with.

But SOTS has been nothing if not resilient - not to mention productive - as evidenced by its latest album, Amongst The Low & Empty, amazingly its fifth full-length and first with its new deal with Century Media. Given all the tumult that has preceded it, it's perhaps no surprise that the band has taken the extremes of its earlier efforts and ratcheted up the, well, extremity in all areas here.

The cudgeling breakdowns, wolverine vocals, and dizzying technicality contrasted by utter brutality are taken to the nth on Low & Empty, as SOTS takes a page from LORNA SHORE, who managed to have a mainstream breakthrough with the ...And I Return To Nothingness EP and Pain Remains full-length over the last year-plus in spite of - or perhaps because of - their jarring extremes. This approach, however, can often yield plenty of awe-inspiring, "what the fuck just happened?" moments, but not a lot of genuinely great songs.

LORNA SHORE was able to combat this with its at times symphonic, almost always cinematic presentation, which lent an air of grace to the body horror physicality of Will Ramos' vocals and surrealistic dynamics of the band's deathcore bluster. But while SOTS does add electronic flourishes and industrial tangents, its focus is mostly on the meaty bits here: titanic riffs, battering ram drums and heaving rhythms and grooves, all topped by Simonich's roars, urps and bellows. Much of the time, though, it all seems rather stitched together, a disjointed Franken-metal if you will - something that is not uncommon to deathcore, and one of the main gripes of those subjected to it - with lots of pieces/parts ina crazy-quilt structure, a malformed approximation of what it aspires to be.

Things had a more of a logical beginning, middle and end on Absolvere. The compositions and execution were comparatively cohesive, even with the extremes noted above, a benefit no doubt of Smarsh and Toy having played on all of the band's previous albums and it being the second with Simonich.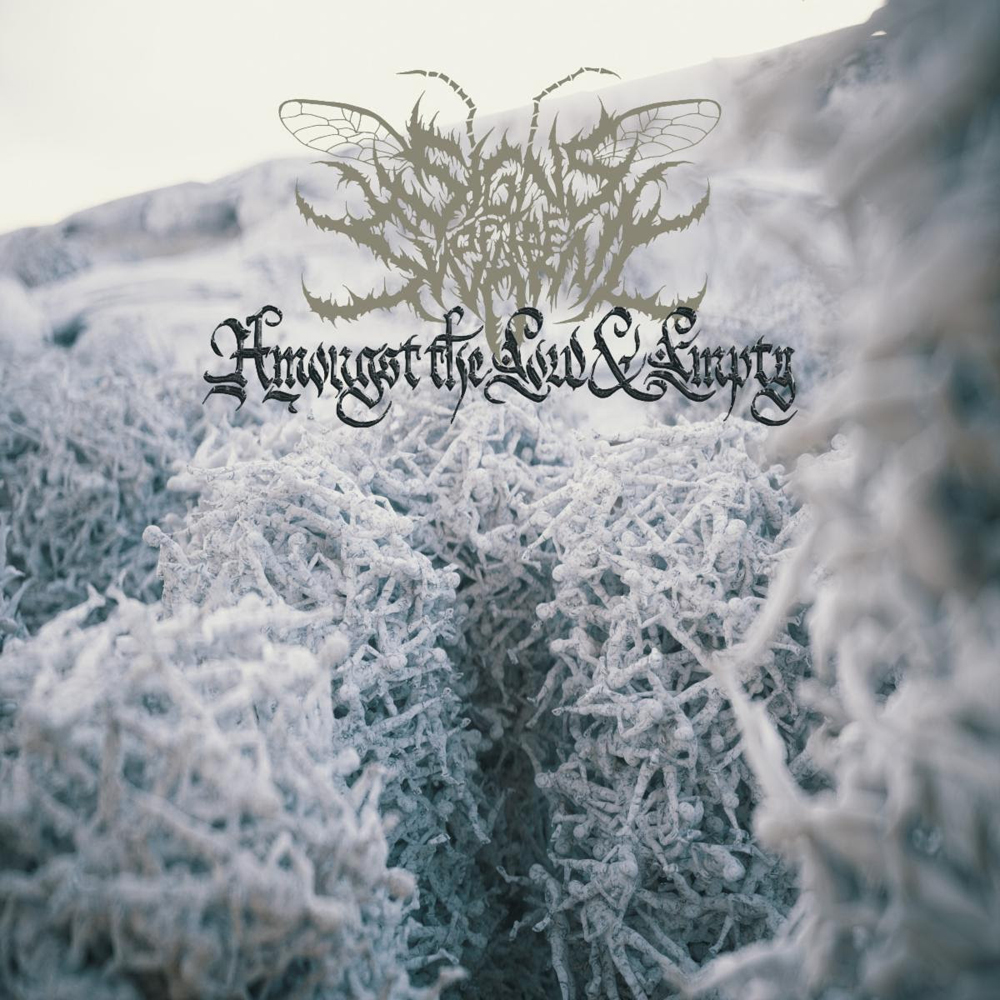 With Crow, as the primary songwriter, now left largely to his own devices - not sure just how much input Russo may have had before his departure - things have gone a bit sideways. Not surprisingly Low & Empty is a very drum-driven album, with the songs pivoting on the whims of Crow's chaotic tempos, fusillades and jackhammering. Often, just as a tune like the imposing "Tower Of Torsos", "Faces Without Names" or "Borrowed Time" is hitting its stride, it takes an abrupt about-face with a dub-steppy bass-drop breakdown, electronic bibs and bobs or some spasmodic freakout.
In some cases, like the all over the place "Echelon" or "The Witch Beckons" - which features a brief clean vocal burst from TRIVIUM's Matthew K. Heafy - it's pretty much all of the above. Other tunes, like "Pray For Death", never really get settled in before the deathcore rollercoaster heads over the precipitous edge and goes flying around the sharp curves with Crow leading the charge.
A few songs, though, do feel downright "songy" when compared to the others. The title track makes for a promising start, with its chugging pummel, synth splashes and actual chorus carrying the way, until a shitfit of wretching vocals and spray gun drums closes things out. "Dreamkiller" is alsomore fully formed, and dials back some of the brutishness with its djenty thrum and PERIPHERY-like finish, cleanish vocals and all, coming about as close to genuine melody as you're going to get here. The electro-industrial plod that permeates "Malady" makes for another interesting diversion, and leads into the like-minded, but groovier "777 Plague Maiden" that concludes the album like a 'roid-raging FEAR FACTORY.
Obviously, SOTS felt like it had something to prove with Amongst The Low & Empty. But instead of building on the strengths of Absolvere, the band opted for excess - perhaps egged on by producer Josh Schroeder, who has worked on the last three LORNA SHORE releases - and instead takes a step backward. Extremity in and of itself is fine. Extremity for extremity's sake, not so much.
2.5 Out Of 5.0