DETHKLOK Dethalbum IV

By Peter Atkinson, Contributor
Monday, August 28, 2023 @ 5:18 AM

| | | |
| --- | --- | --- |
| | | |
DETHKLOK
Dethalbum IV
Water Tower Music




After a decade of eerie silence, DETHKLOK is back in a big way to make up for lost time - and perhaps give itself a fittingly epic send off. There's a movie (Metalocalypse: Army of The Doomstar) and its companion soundtrack, a second brand new album and an upcoming tour with the equally theatrical but less grotesquely audacious BABY METAL.

And if that was not enough, Metalocalypse: The Complete Series is also being released digitally and on DVD, so you can catch up on all 62 insane episodes of the Adult Swim series that began as a way-over-the-top animated send up of extreme metal and the perils of celebrity and became a phenomenon. Indeed, 2012's Dethalbum III remains the highest-charting death metal album ever. Amazing.

But things kinda went sideways after that. A year later, The Cartoon Network canceled the series after its fourth season, and the "rock opera special" Metalocalypse: The Doomstar Requiem - A Klok Opera, leaving DETHKLOK in limbo. Until now, of course.

For our purposes, I'll focus here on Dethalbum IV, the new full length album - there being only so much "KLOK" I can handle at one time. With all of the DETHKLOK-related stuff in the works, one might expect series co-creator and musical director Brendon Small to have been spread rather thin, resulting in a patchwork batch of outrageousness that was big on crass brutality and cheap laughs but low on "artistic value" - such as that term applies to something like DETHKLOK.

I can't speak for the movie or soundtrack - which I believe shares one song, the single "Aortic Desecration", with Dethalbum IV - but what I found striking about the new album is just how serious and, indeed, "professional" it turned out to be - again, as those terms can be applied to DETHKLOK. Where the guts of the previous Dethalbums began as snippets played during Metalocalypse episodes that Small then fleshed out into actual songs, the materialhere seems to be more fully formed and purposeful from the get-go.

Since it is not tied directly to a narrative or dramatic arc, Dethalbum IV is less frilly and jokey by comparison, despite titles like the opener "Gardener Of Vengeance" or "Mutilation On A Saturday Night". It is more of a genuine-to-its-core death metal album and less the sum of its parts of before - though those parts were often pretty awesome, given Small's Berklee College of Music bona fides and the backbone provided by Gene (TESTAMENT, DEATH, SYL, DARKANGEL, etc.) Hoglan. DETHKLOK may have been/still is a cartoon, and the Dethalbums often reveled in outlandishness, but none of them ever sounded "cartoony".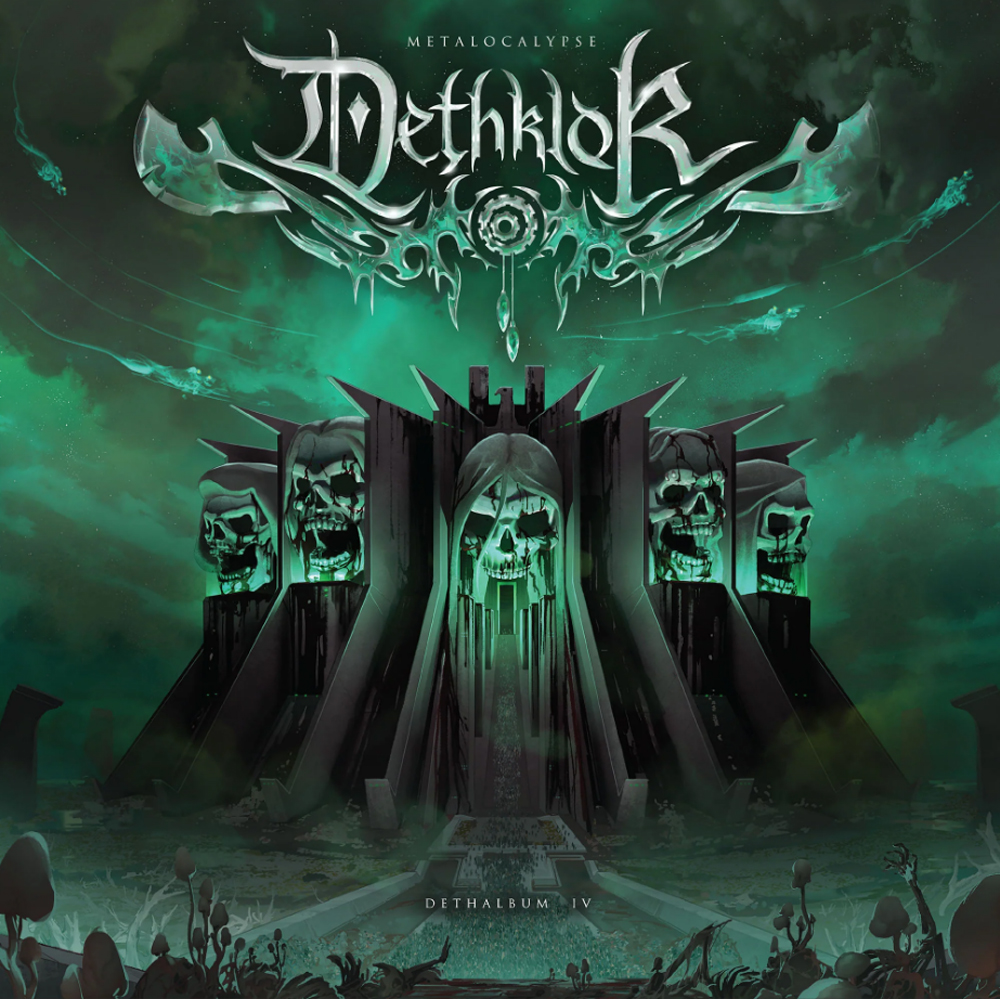 This time, the pair has crafted a leaner, meaner and less obviously absurdbatch of tunes and deliver them - in the guise of frontman Nathan Explosion, guitarists Skwisgaar Skwigelf and Toki Wartooth, bassist William Murderface and drummer Pickles - with gusto and plenty of heft. The grandiose, unbridled melodic/tech death of old- think AMON AMARTH meets DRAGONFORCE with a splash of QUEEN - has been transformed into something beefier, more focused and lethal - think AMON AMARTH meets GOJIRA with just a pinch of QUEEN.
The tone is deeper, denser and more menacing, accentuating crunch and groove while, for the most part, steering clearing of obviously punchliney tropes, even on the likes of "Poisoned By Food" or "Horse Of Fire". There is still plenty of velocity, thanks to Hoglan's steady gallop, but the tunes don't simply careen about - not that there was anything necessarily wrong with that.
Small also gives Nathan Explosion's huffing and puffing grunts some extra grit and bite here, perhaps having picked up some tips along they way from CANNIBAL CORPSE's George "Corpsegrinder" Fisher, a frequent Metalocalypse guest. It makes for a more potent, and again less comedic, presentation overall - and the Metalocalypse: Army of The Doomstar soundtrack album may well offer all the shenanigans that are noticeable in their absence here.
The film is intended to be the final chapter in the Metalocalypse series. With Dethalbum IV, DETHKLOK definitely goes out on a musical high note - if indeed this is the end for that too.
4.0 Out Of 5.0