CRYPTOPSY As Gomorrah Burns

By Peter Atkinson, Contributor
Thursday, September 7, 2023 @ 10:19 AM

| | | |
| --- | --- | --- |
| | | |
CRYPTOPSY
As Gomorrah Burns
Nuclear Blast Records




Canada's CRYPTOPSY has been relatively and mysteriously quiet over the past decade, emerging only for the jarring bursts of The Book Of Suffering Tome 1 and Tome 2 EPs in the decade since the band's last full-length. That self-released and self-titled album, issued in 2012, saw CRYPTOPSY right the ship after 2008's disastrous The Unspoken King, which marked a revamped lineup - most notably with Matt McGachy taking over on vocals from the notorious Lord Worm after his second stint - and an equally radical sonic departure that is regarded by many as an epic fail.

Tome 1 and Tome 2 took the self-titled comeback album's return to form and ratcheted up the brutality with its chronicles of murder most foul [do a search for "1 Lunatic, 1 Icepick" or "Tim McLean killing" as a frame of reference] and a solidified, very athletic lineup of McGachy, founding drummer Flo Mounier, guitarist Christian Donaldson and bassist Olivier "Oli" Pinard. But with Donaldson being a very much in demand producer/studio hand, Pinard splitting time with the increasingly popular and very active CATTLE DECAPITATION, Mounier also working with several different bands and then, of course, COVID, a new full length has been painfully slow in coming.

But with As Gomorrah Burns, it's here now - and on Nuclear Blast, no less - and is very much worth the wait, taking the strides made in the aftermath of The Unspoken King and continuing to move the band forward. Gomorrah, too, boasts plenty of elasticity and vehemence, but channels that aggression through some headier subject matter - despite titles like "Flayed The Swine" and "Praise The Filth" - by paralleling the story of Sodom and Gomorrah and the modern-day Internets, which is perhaps not that much of a stretch. But still.

As CRYPTOPSY's eighth album, Gomorrah is a concussive and tumultuous, yet compact and efficient, tech death/extreme metal package. Riding Mounier's agile, breakneck tempos, Pinard's roiling bass and Donaldson's epileptic riffs, the music ping-pongs from the utterly relentless to galloping grooves to the surreal mashups of prog, jazz and industrial elements that flit in and out and keep listeners on their toes, especially over the first few spins.

The spasmodic intensity makes the perfect foundation for McGachy's authoritative, yet gymnastic screams, barks, growls and croaks as he pistol-whips the omni-present cyber stalkers, trolls, thieves, pervs and pedophiles, racists, bullies and conspiracy theorizing twats that have turned cyberspace into such a den of iniquity. Or Sodom and Gomorrah, as the case may be here.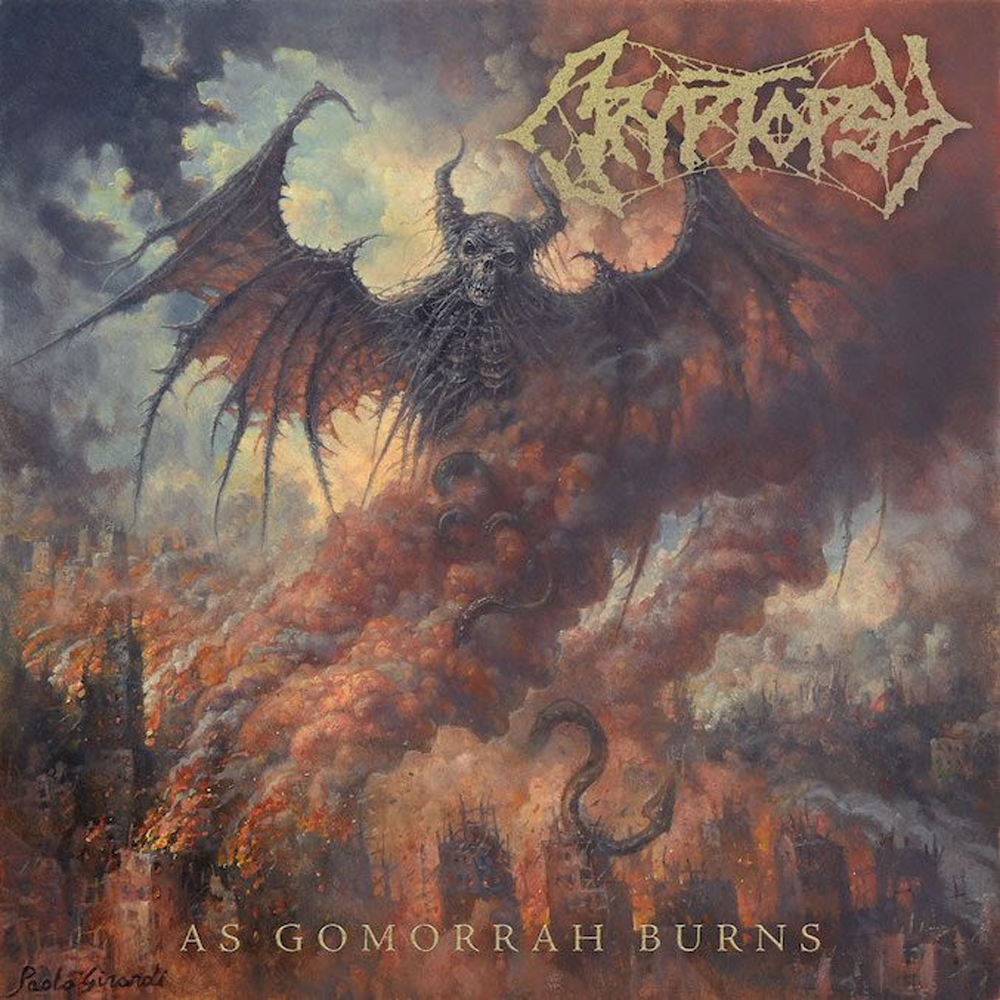 The first three tracks - "Lascivious Undivine", "In Abeyance" and "Godless Deceiver" - open at full throttle and with McGachy already at a full-throated roar. They make for a rather savage opening salvo, to be sure. But CRYPTOPSY's reach broadens a bit from there.
"Ill Ender" brings more hooks to the table and some nifty guitar shenanigans from Donaldson as he mixes in a pinch of VOIVOD weirdness and black metally terms. The hookiness carries over to "Flayed The Swine", which also features one of the album's few, if brief, lead breaks, making it perhaps the most "listener-friendly" track here, in a manner of speaking.
"The Righteous Lost" has a bit of funkiness as Pinard adds extra bounce to his basslines amid the tech-death frenzy while "Obeisant" offers brief stretches of almost doomy thrum - between pummeling breakdowns and balls-out sprints - that are given more play on the finale "Praise The Filth" and its melancholy slow fade. The outro makes for quite a contrast to the abruptness that launches Gomorrah, and the sudden twists and turns that pervade throughout, seeming almost like an exhausted sigh after so much activity.
Yet, as with the self-titled "comeback" album and the Tomes 1 and 2, CRYPTOPSY doesn't waste any energy or effort here. It's 34 minutes of, for the most part, "all killer, no filler" material - the three opening tracks sound a bit the same one right after the other - delivered with urgency and purpose, proving the band still very much "has it" after 30 years of ups, downs and arounds. Let's hope the wait's not quite so long for the next one.
4.0 Out Of 5.0