BARONESS Stone

By Peter Atkinson, Contributor
Monday, September 11, 2023 @ 10:20 AM

| | | |
| --- | --- | --- |
| | | |
BARONESS
Stone
Abraxan Hymns




Over the course of 20 years, BARONESS has established a distinct aesthetic - color-themed album titles, frontman/guitarist John Baizley's garish, yet evocative cover paintings and a rough and tumble heavy rock sound - that has become the band's signature and withstood a number of lineup changes, a devastating tour bus accident in 2012, and other challenges. So even subtle changes to that can be cause for alarm.

And there are changes afoot with the sixth BARONESS album, Stone, most obviously with a title that eschews the color theme to a degree - it could be argued that "stone" is a color, or at least a color palette - and most definitely with the overall sound and vibe, which is more brash, direct and heavy, especially when compared with its immediate predecessor, 2019's sprawling Gold & Grey. So for anyone hoping for the band to rock a bit harder - and indeed sound a bit better - the changes here will be a good thing.

After the somber, folky intro "Embers", "Last Word" opens with a tangle of intricate, almost MEGADETH-like thrash riffs that then cycle in and out around the band's more typical airy grooves and buoyant choruses. And though the song concludes with U2-like jangle, its prominent metallic hues permeate throughout much of the rest of the album.

Like, for instance, the speed metally "Beneath The Rose", which immediately followswith abundant guitar crunch over a bracing pace, THIN LIZZY-style lead harmonies, and surly, Henry Rollins-like spoken/hollered vocals that give the song a convincing menace-"I wanna lie to you and tell you this is over/I want to say this is for the best/But when you're hanging from the rafters in my attic/You know I'll never let you down". Or "Anodyne", which offers a more measured, martial pace and generally restrained vocals, but is offset by heaving grooves that deliver the album's most resounding punch.

"Shine" is not quite as assertive, but still delivers plenty of hooks and, again, LIZZY-esque tandem leads that Baizley and Gina Gleason seem to have a real knack for. Both "Under The Wheel" and the epic "Magnolia" are more of the slow build variety, with dreamy almost hypnotic opening passages giving way to a beefy backbone and driving riffs as they move forward with greater authority.

That's not to say that Stone is just about muscle and might. The keen, pop-style melodies and catchy choruses/harmonies that seem to come so effortlessly to BARONESS are as deeply rooted as ever - even with the more imposing surroundings. And the unpredictable, sometimes downright weird proggy tangents the band is fond of exploring are mixed in betwixt and between as well. To wit, the propulsive, but surreal, Western/industrial-tinged "Choir" with Baizley once again adopting a spoken word delivery that this time recalls Iggy Pop's monologue on WHITE ZOMBIE's "Black Sunshine" meets Gibby Haynes rambling on MINISTRY's "Jesus Built My Hotrod" as it grows more distorted and ominous.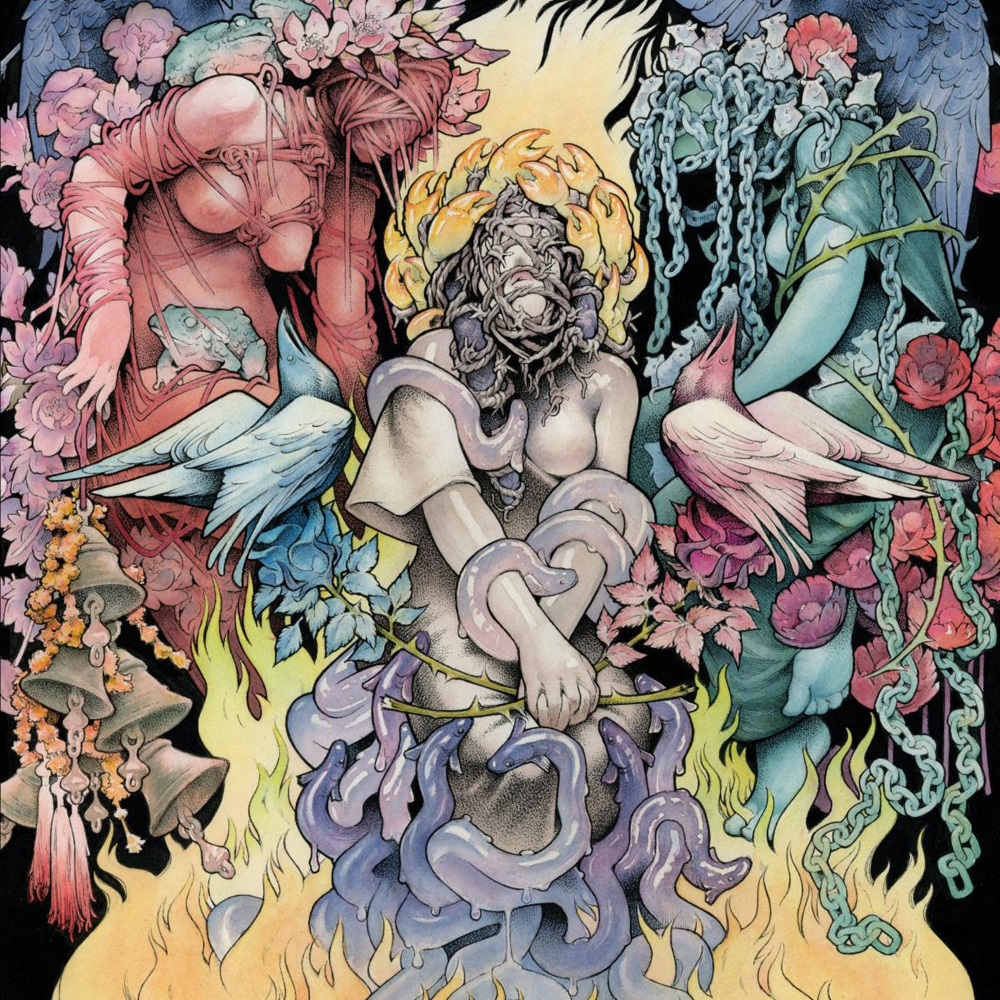 More conventional is the serene closer "Bloom", which harks back to "Embers" with its naturally sparse, country/folk presentation making it sound like the band is sitting around campfire picking at acoustic guitars and singing along. It's a soothing end to an otherwise fairly agitated effort.
People often grouse about the sludgy, raw-boned - or "messy" as some describe it - production that has been a staple/sticking point of previous BARONESS albums, and not without reason. The sound on Gold & Grey really was all over the place. But that is not an issue with Stone.
Self-produced/recorded by the band and mixed/mastered by the heavyweight tandem of Joe Barresi and Bob Ludwig, Stone has a comparatively clean and resonant sound. It's by no means slick, but it is crisp - especially Sebastian Thomson's whip-crack drumming - focused and consistent, which accentuates the heaviness here and definitely gives things more kick.
Perhaps it was the pandemic that prompted BARONESS to look inward for the new album - or maybe the band finally felt it could do a better job of presenting itself than others had managed on previous releases - or some combination thereof. Whatever the reason, the band ultimately made the right choice, and the results speak for themselves here.
4.5 Out Of 5.0