From Ray and Dave Davies of the KINKS to Skynyrd's Van Zant brothers and AC/DC's Angus and Malcolm Young to the brothers Robinson from the BLACK CROWES and the Gallagher brothers from OASIS and somewhere in between Gunnar and Matt Nelson, generations untold have seen sibling rivalries in hard rock and heavy metal being synonymous with public spats, high-profile brawls and occasionally the release of landmark albums inspired by those same public spats and high-profile brawls.

Naturally, if you're in NELSON, you're lucky to even get one out of three here.

Kidding aside, there has been a pairing of two equally talented siblings that up until recently had been sorely overlooked. And two fresh new opening bands would be the lucky recipients of the rare offer of opening for them at this concert

. Starting the show off would be local thrashers DESCENDANT who describe their lineup as "an unstoppable prodigious drummer, an unapologetic metal head guitarist, a horror buff / psychobilly bass player, and a rock 'n roll to the core lead singer". It's a chemistry that's helped the band well since their debut disc First Assault dropped in 2009. Fusing modern hard rock with lots of speed metal elements (especially given how fast their guitarist plays, making songs like "Rebel Yell" and "Breaking The Law" sound like power ballads in comparison to their cover versions of both those songs),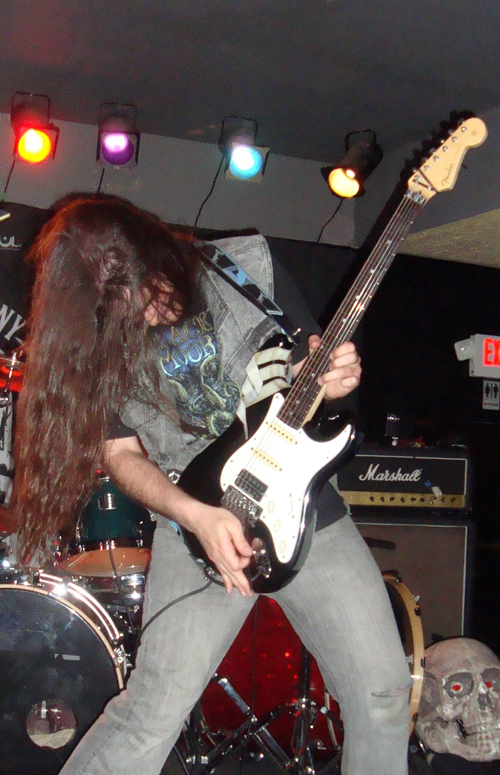 DESCENDANT played an action-packed 45-minute set which while not entirely the bastion of groundbreaking musical history it showed the band enjoying themselves which brought out a solid and energetic performance. Songs like "We Are The Night", "Before My Time", "Blood Empire" and the hypnotic-sounding "Tabula Rasa" were tight and rife with stellar playing and raw attitude. Onwards and upwards, indeed.
https://www.facebook.com/descendantband
They may prefer to let their music speak for itself as their bio simply describes their music as being hard rock bordering on good ol' metal but that won't stop frontman Armin Kamal from DIRTY BELOVED from interacting with the audience every chance he gets. Sometimes it's small talk - mostly asking folk which Appice brother is their favorite ("Team Carmine? Team Vinny?" ) - and sometimes it's a speech about the meaning behind their songs. Most of the time Armin sang so clear and precise you could make out the words to the songs anyway. On songs like "Priest Of Hiroshima", "Set It All Alight", "Unlock The Cage", "I Walk Away" and the awesomely-titled "13 Shades Of Bat Shit Crazy" (about the trials of dealing with abusive relationships from the male's perspective) Armin's powerful vocals backed by the soulful blues-inspired licks of Michael Hope brought DIRTY BELOVED to greater heights that night and one can only assume that the recent release of their latest album Pass The Ammunition will continue the momentum. Especially now that they have the hardware for it.
http://www.dirtybeloved.com/
Closing the night is a tale of two legendary percussionists: One got his start at age 16 in his first band BOMF which led to a chance meeting with John Lennon in the mid-70's which led to his appearance on some of his critically-acclaimed albums including Double Fantasy before moving on to the heavier side of hard rock by that decade's end: BLACK SABBATH for 3 albums (among them Mob Rules), DIO (5 albums including Holy Diver and The Last In Line) and more recently in HEAVEN & HELL, 3 LEGGED DOGG and ultimately, KILL DEVIL HILL.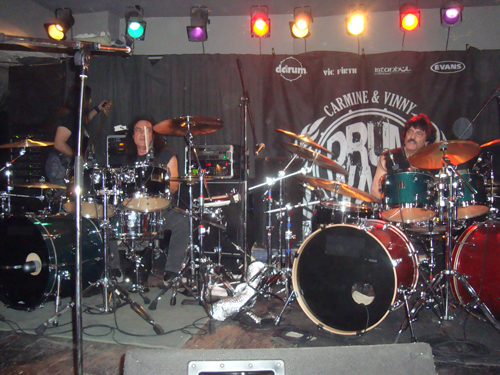 The other got his start in the mid-60's with his first bands VANILLA FUDGE and CACTUS. Legendary guitarist Jeff Beck was such a huge fan of his work that he selected him (and bassist Tim Bogert) for his BECK, BOGERT & APPICE project. Then it was Rod Stewart's turn to do some bogarting and he did so with Beck's drummer for 4 albums (among them 1981's Do Ya Think I'm Sexy?, which he co-wrote with Stewart). By the mid-80's he was turning up the volume on his playing, having recorded albums with Ted Nugent (1982's Nugent) and Ozzy Osbourne (1983's Bark At The Moon) before co-forming his own bands such as KING KOBRA (which he recently reformed for an upcoming album) and BLUE MURDER while continuing with his own drumming clinics.
Together as one they are respectively Vinny and Carmine Appice and they are bringing Drum Wars to Ottawa - the only live show where the drum solo really is the concert. And noting of the obvious stigma that comes with drum solos at live shows being little more than an excuse for a bathroom break for most concertgoers the Appice brothers stepped up their game and got an insanely talented backing (or is that forwarding?) band to accompany them on many of the classic hard rock and heavy metal gems they've played on and written. From "Mob Rules" to "We Rock" to "Bark At The Moon", the Appices' backing band of the night were so technically flawless they were almost in danger of outshining the sibling drummers. Even their rendition of Rod Stewart's "Do Ya Think I'm Sexy?", which had long ventured into the depths of karaoke hell decades ago thanks in part to, well, bad karaoke versions of the song, is given a stark reminder by Carmine and the band that in spite of the cringeworthy disco era it was associated with back in the day, it's actually a well-written catchy pop song which could also pass as a metal song when played in the right context. And thanks to Carmine and the bass player's anthemic chants in place of the synth intro it actually was.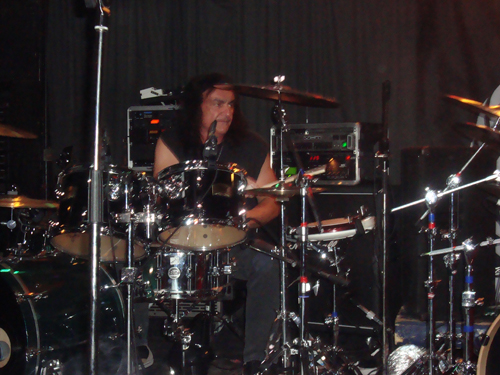 Getting to the actual drumming wars themselves, there may have been rivalry present between both Vinny and Carmine over which one could outlast the other on the kit but it all went into their equal amounts of high-performance tubthumping. Vinny definitely excelled in ferocity, precision and skill whereas Carmine opted for technique, spontaneity and a general ubiquitous playing nature. In their own mindset they were almost the same drummer but approached their craft in a different manner. Vinny had always come from a hard rock background within his influences and this reflected on how astute he was in his measured playing, often following up a simple drum roll with a flashy yet neatly-concocted fill with a few fast-sounding triggers here and there. Carmine had cut his teeth in the fast-paced jazz drumming scene and his spiralling rolls and tumbling fills definitely reflected on his performance and a combination of primordial wrist-wrecking and triggered blast beats on his fills as a follow-up made the elder Appice appear as much Gene Hoglan as it did Gene Krupa.
So to really call this a championship of the better drummer is somewhat of a misnomer as both opponents were so well-matched it was difficult to choose between the two. Luckily both Vinny and Carmine work best as a team with each other's playing laying on the compliments with every pounding thud followed by twice as many triggers and blast beats. And they also work best as a team when the audience is involved in many parts including a moment where Carmine encourages the crowd to follow him along in chanting the words to The Flintstones - which we did, beating out crowd performances in Toronto, Montreal and Windsor and had any of the Ottawa crowd been trilingual as opposed to bilingual we also could've outdone Krakow who, according to Carmine, responded back to him by singing the song in Polish before resuming the drum performance during Drum Wars' European tour.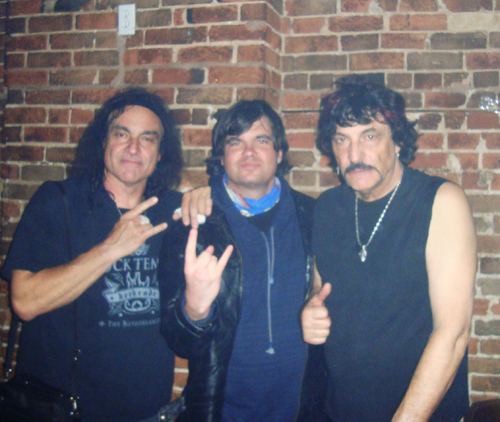 In summation, Drum Wars and their hard rock and metal mob ruled and proved why the percussion instrument as well as the person sitting behind it will always remain a vital entity in music for its capacity to create and shape rhythm and melody. And also why siblings need to have each other's backs.
http://www.drumwars.com/
http://www.carmineappice.com/
http://www.vinnyappice.com/
Photos By Andrew DePedro