BLACK SABBATH - Opening Night In Houston, Texas With Photos!


By Larry Petro, News Monkey
Sunday, July 28, 2013 @ 1:21 PM


| | | |
| --- | --- | --- |
| | | Even A Flawless Band Performance Can't Overcome Ozzy's Shortcomings |
I was fortunate enough to have seen Ozzy Osbourne back in the day. I managed to catch him twice n fact, once in 1982, barely a month before guitarist Randy Rhoads was killed in a plane crash, and then again almost exactly 2 years later in 1984 on his Bark At The Moon tour. Those were great days watching Ozzy being the ultimate showman in rock. But I never caught him in concert after that, for one reason or another. So when they band released their first album together in like a century, 13, and announced a 20 date North American tour that was to kick off right here in Houston, Texas, naturally I was stoked. I had seen the Ronnie James Dio fronted incarnation, HEAVEN & HELL, a few years back and thought that was one of the best concerts I had ever seen, so I naturally (or unnaturally) had high expectations for this show. Little did I know that I would leave the show at the end of the night glad that I had actually gotten to see a semi-reunited BLACK SABBATH (no Bill Ward), but also sad at the performance I had just witnessed on behalf of Mr. Osbourne.

The opening 'act' for this tour was Andrew WK, a singer, songwriter, performer, etc who's been around for the past 5 years or so and has released some pretty decent music over that time. But tonight he would not be performing music as a band. On the contrary, his 'set' was basically him playing 'Heavy Metal DJ'. There was a 10-12' tower set in the middle of the stage with an assortment of turntables and other assundry DJing items inside, basically a DJ booth. From there, Andrew spun some of his favorite hard rock and metal tunes like "Thunderstruck" by AC/DC. All photographers, even those of us that weren't approved to shoot BLACK SABBATH (which didn't bother me as I was sitting 2nd row anyway), were allowed to shoot Andrew WK's set. He even said we could shoot the entire 45 minutes, but my first thought was, 'Why would anyone do that?'. There's only so many shots of a DJ you can get and so I was out of the barricade before the first song even finished, headed to the hospitality tent for a drink.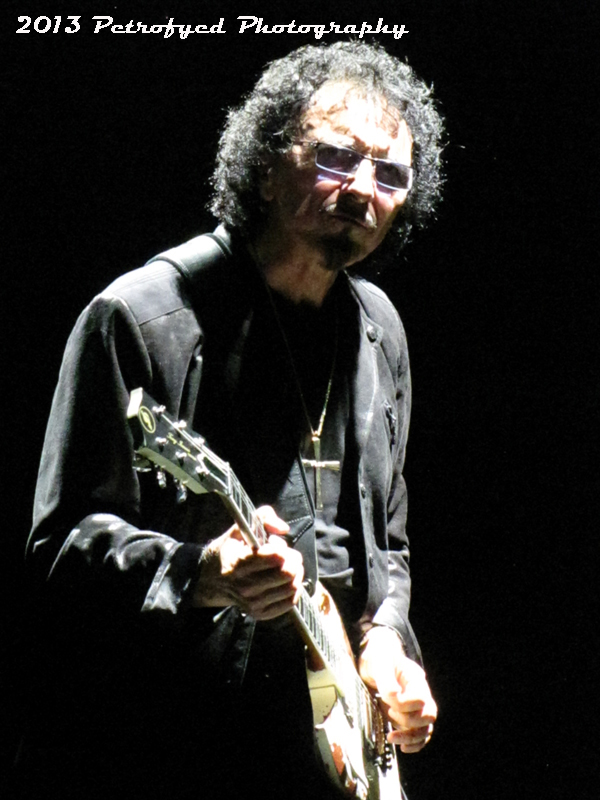 When I first saw the set time sheet I had to chuckle to myself because BLACK SABBATH was down for 8:30-10:15, even though most bands don't come on until around 9-9:30 and play right up to the 11:00 curfew. I thought 'it must be passed their bedtime', I mean, after all, these guys are around retirement age. As it turned out, things were running a bit behind and when the lights dimmed around 8:45 and the sirens started to wail, the crowd erupted as the band kicked off their North American tour with the ultimate anti-war classic, "War Pigs", from 1970's Paranoid album. The band kept things classic early, going right from the opener into "Into The Void" (Master Of Reality,1971), then performing 2 songs from 1972's Vol. 4, "Under The Sun/Every Day Comes And Goes" and "Snowblind".
There was certainly no shortage of material from the band's new, first ever #1 album 13 either. The band performed 4 tracks from it, "Age Of Reason", "End Of The Beginning", "God Is Dead?" and "Methademic", which is one of the bonus tracks you get with the deluxe edition of the album, tracks that are, in my opinion, the best on the entire album.
The band was in excellent form throughout the show. The band was actually in Houston 2 days prior to the show rehearsing and presumably getting acclimated to the oppressive late July heat and humidity that we have here. Even so, it was incredibly hot down front and I can only imagine what the temp was up onstage. Ozzy kept a bucket of water in front of the drum riser (one of which he doused the crowd with later in the show) and in between songs he would basically dunk his head in it to cool off. You could catch guitarist Tony Iommi every now and then wiping sweat out from under his trademark glasses or see sweat dripping off his nose during his masterful solos. And then there was bassist Geezer Butler, who recently celebrated his 64th birthday. I have determined that this man has no sweat glands. On a night when I was sweating just simply standing there in the 2nd row watching the show, this man played the entire set without breaking a sweat! I'm not kidding. I shot photos during the entire show and by the end of the night Geezer looked exactly the same as he did at the beginning! His hair showed no signs of being wet, no sweat stains on his clothes, nothing. A miracle of modern science if ever I saw one. And he worked the hardest of anyone, except the drummer and his thundering bass playing was a spot on, perfect foundation for the setlist they performed.
Of course, this wasn't a true reunion of the band, as they chose to go forward without drummer Bill Ward, a fact that disapointed me a bit as I was really looking forward to seeing the original band, but tour replacement Tommy Clufetos, long time drummer for Rob Zombie before leaving to become the skin basher in Ozzy's solo band. He more than performed up to the task, not only adding a deep backing throughout the band's set, but ripped off a solo that would have had Ward throwing in his sticks, though Tommy is probably half his age.
Guitarist Tony Iommi showed absolutely no sign of after effects from his recent battle with cancer as he pulled off solo after solo with perfect precision. He was in great spirits as well as he could be seen smiling throughout the show (check the photo gallery for one) and joking back and forth with the Ozzman. I only wish he would have made it over to our side of the stage once or twice, but I digress.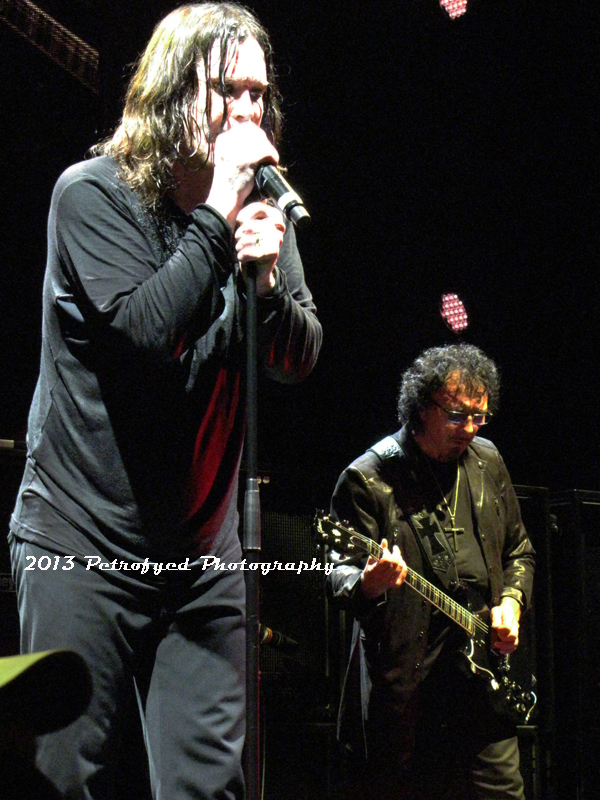 Then there was Ozzy's performance, or the lack thereof. Overall, I found his singing to be okay. There were some songs where he sounded decent, like when performing the new material, and maybe that's because it was recorded with how his voice is now. Even on older tracks like "Dirty Women" and "War Pigs", where it didn't require a lot of vocal range, he sounded pretty good. But then there were the abominable renditions of classics like "Fairies Wear Boots", "Iron Man", "Children Of The Grave" and set closer "Paranoid", where Ozzy didn't simply sing out of key, he sang with no key. It was monotone at best and perfectly clear to anyone who's followed Ozzy over the past few years that his voice left along with his sobriety long ago. And it was sad to watch at points, really. Here he was, a shell of his former self who, if he had to sing for his supper would starve in very short order. I mean, this is the self-proclaimed "Prince of Fucking Darkness" for Christ's sake, but he gave a performance that would make the real Prince Of Darkness cringe. I actually felt sorry for him. Yeah, I know, the years of self-induced abuse have led him to where he is now, but at some point you have to decide enough is enough. I left there truly believing that this would be he last time I see him perform live, and how much disappointment I felt at what I had seen. One has to wonder what wife Sharon was thinking as she stood offstage watching this unfold. By the end of the night it was clear that Ozzy had run out of gas and again I wondered if this would be the way I remembered him. It wasn't the worst performance, but it was a far cry from the best, too. Just a word to the wise: If you plan on attending one of the remaining shows, don't go expecting to see the Ozzy of old, expect to see an old, tired Ozzy.
Setlist:
"War Pigs"
"Into The Void"
"Under The Sun/Every Day Comes And Goes"
"Snowblind"
"Age Of Reason"
"Black Sabbath"
"Behind The Wall Of Sleep"
"N.I.B."
"End Of The Beginning"
"Fairies Wear Boots"
"Methademic"
"Rat Salad"
Drum Solo
"Iron Man"
"God Is Dead?"
"Dirty Women"
"Children Of The Grave"
Encore: Remaining Tour Dates:
Mon-Jul 29 - Tampa, FL - Live Nation Amphitheatre
Wed-Jul 31 - W. Palm Beach, FL - Cruzan Amphitheatre
Fri-Aug 02 - Bristow, VA - Jiffy Lube Live
Sun-Aug 04 - Holmdel, NJ - PNC Bank Arts Center
Tue-Aug 06 - Detroit, MI - DTE Energy Music Theatre
Thu-Aug 08 - Uncasville, CT - Mohegan Sun Arena
Sat-Aug 10 - Philadelphia, PA - Wells Fargo Center
Mon-Aug 12 - Boston, MA - Comcast Center
Wed-Aug 14 - Toronto, ON - Air Canada Centre
Fri Aug 16 - Tinley Park, IL - First Midwest Bank Amphitheatre
Sun-Aug 18 - Indianapolis, IN - Klipsch Music Center
Thu-Aug 22 - Vancouver, BC - Rogers Arena
Sat-Aug 24 - Seattle, WA - Gorge Amphitheatre
Mon-Aug 26 - San Francisco, CA - Shoreline Amphitheatre at Mountain View
Wed-Aug 28 - Irvine, CA - Verizon Wireless Amphitheatre
Fri-Aug 30 - Phoenix, AZ - US Airways Center
Sun-Sep 01 - Las Vegas, NV - MGM Grand Garden Arena
Tue-Sep 03 - Los Angeles, CA - Los Angeles Sports Arena
Check out the photo gallery from the show!

All photos by Larry Petro




Please log in to view RANTS

If you don't have a username, click here to create an account!