OVERKILL, EXHORDER, HEATHEN In Los Angeles With Photos!

By Francisco Zamudio, Metal X Candy 2.0
Friday, August 18, 2023 @ 9:57 AM

| | | |
| --- | --- | --- |
| | | At The Grove Of Anaheim |
All Photos By Thomas Delgado/@batfacetom/@forthehordeprod
Just about a month ago I crossed the Orange curtain and headed to a venue that I had not been to in a long, long time. The Grove of Anaheim that sits right next to Angels' Stadium. I've seen many great shows there, attended some I don't remember too well due to partying too hard. Thanks to the open bars for the Winter NAMM parties, or all the shots of Jagermeister right before SLAYER. The California Metalfest and Summer Slaughter where I caught one of my favorite Death Metal bands twice in one year, SUFFOCATION (BEFORE Frank and Mike would leave the band!). And many other greats. Adding to that long list is Jersey greats OVERKILL who landed in Orange County for their 'Scorching The Earth' tour in support of their new album Scorched, definitely a contender for 'Best Of 2023' (read our review HERE). Along for the ride making this a killer action packed tour was Bay Area's HEATHEN and NOLA's (New Orleans) EXHORDER, both label-mates on Nuclear Blast. Old school and highly respected names in Thrash Metal set the stage for what was a blitzkrieg of a nite.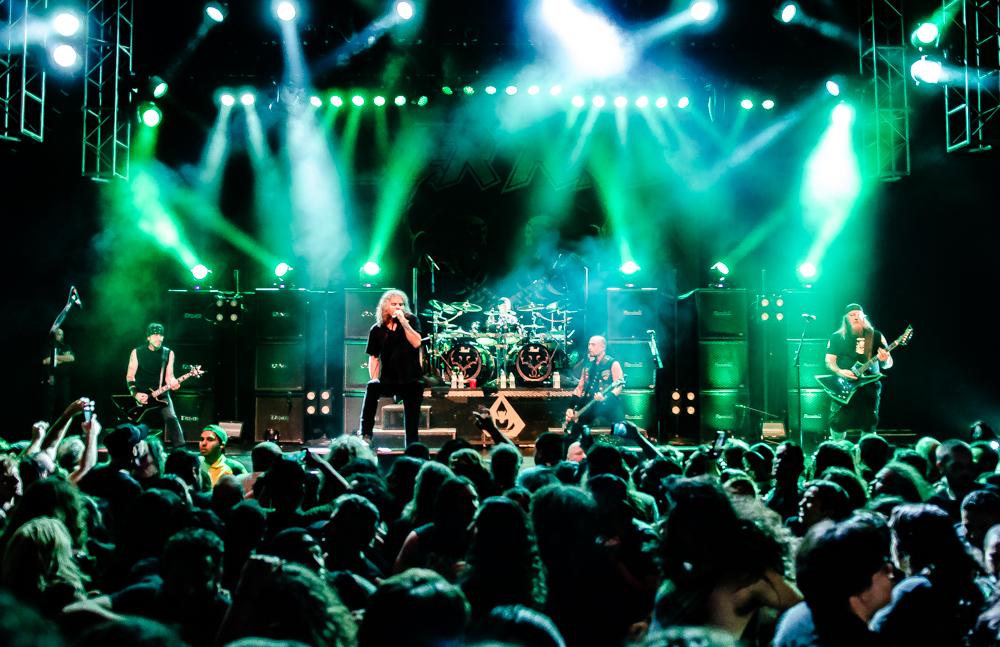 The first band up on this tour was HEATHEN who opened up with "The Blight", the opening track from their latest release from 2020 Empire Of The Blind. I've had the pleasure of sharing the stage with guitarist and main songwriter Kragen Lum in a local act here in Los Angeles. I knew then he was a master shredder, as evident with his time in EXODUS. Since returning full-time to HEATHEN they have been crushing it since and belted a non-stop energy filled blitzkrieg on this nite with 3 songs of the latest album and 3 separate cuts from the previous first 3 records. It was great seeing him up there and the fury in ther set really started off the nite well.
Next up, EXHORDER caused quite a bit of a ruckus and I was absolutely stoked to find out (after the fact by my colleague, KNAC.COM photographer Thomas Delgado who shot some amazing pics - see below) that Pat O'Brien, formerly of CANNIBAL CORPSE, was on guitar with EXHORDER. It was great to see him in action and really helped make their sound sound so tight. Hard to believe that such a powerful group has only released 3 albums. As such, their setlist covered all three albums with 3 tracks, half the set with cuts from their 1990 debut Slaugher In The Vatican, but opened up their set with the instrumental track "Incontinence", a song from their second album, The Law. Although Pat hardly moved at all and stood poised to shred, EXHORDER still threw it down for an already pumped crowd that was raging since the nite started.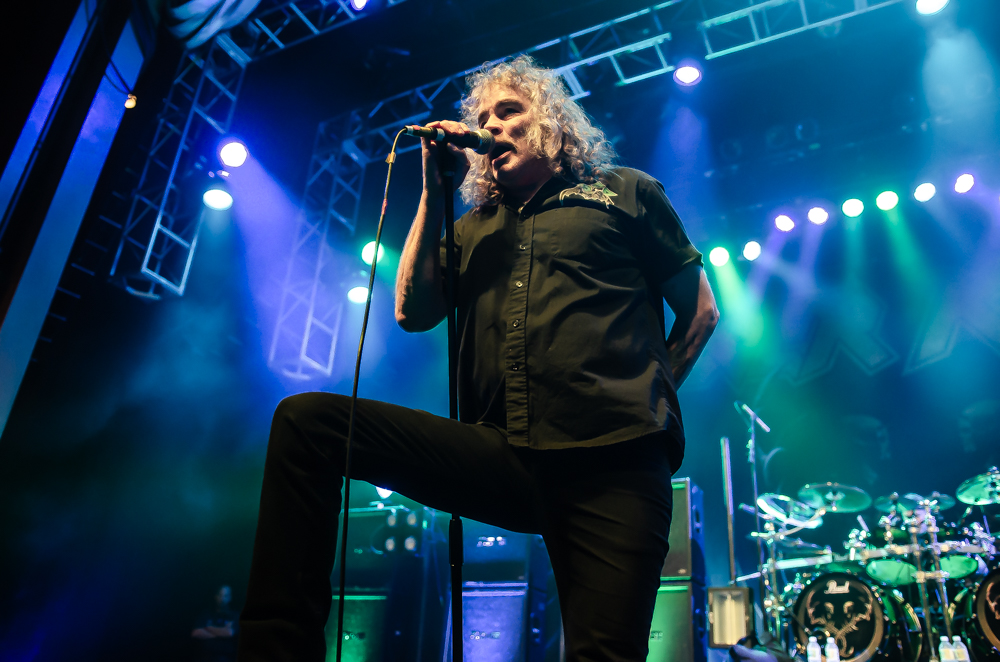 For decades, the unique voice of Bobby Blitz and sound of OVERKILL have broken necks with their East Coast Thrash. Their cult following and uniqueness has me filing them in the same category as TESTAMENT and EXODUS with vocals and riffs that stand out from the rest and are under-appreciated. Although The Grove of Anaheim was packed and sold out to the max, the crowd within was still highly intense with several pits going on at the same time and many bodies staying afloat, crowd-surfing. With much respect to Rat Skates and the others who threw down in between, since sick drummer Jason Bittner has joined in 2017, it's brought new life and re-sharpened their sound, not that OVERKILL was ever at all dull. Opening the set with the title track from their new album Scorched, the crowd was absolutely insane and headbanging hard. Following it up with "Bring Me The Night", OVERKILL showed they weren't F'N around and wanted to move the crowd, showing them that there was no rust on this blade. No letting off the gas, they went right into "Electric Rattlesnake" and it really set off the crowd. Followed by a cut from 1988's Under The Influence, no set would be complete without crowd favorite and set staple "Hello From The Gutter". From their they kept going farther back as the crowd showed no signs of giving up. They were just as intense up to the last song just as they were once they started. OVERKILL's setlist covered a lot of ground aside from the majority naturally coming from their latest release. A real good setlist encompassing many great cuts, showing that after 20 records why OVERKILL has and always will remain one of Thrash Metal's big hitters.
Check out some more photos from the show!
All Photos By Thomas Delgado/@batfacetom/@forthehordeprod