UFO And SAXON In Cleveland, OH With Photos!


By Geoff Ketler, Cleveland Contributor
Thursday, March 30, 2017 @ 9:08 AM


| | | |
| --- | --- | --- |
| | | English Metal Legends Grace The Stage Of The Cleveland House Of Blues |
All Photos By Geoff Ketler/Aces High Photography
UFO and SAXON are often regarded as two of the defining bands in the hard rock and metal genres. Having formed in 1969, UFO is considered to be one of the transitional bands that paved the way for their touring counterparts, SAXON, in becoming one of the leaders of the new wave of British heavy metal. As classic metal acts, both bands have been cited as influences by an immeasurable amount of today's musical talent. This packaged, co-headline tour allowed UFO and SAXON to reach larger venues with better production and bigger crowds here in the states; a stark contrast to their most recent individual tours.
Blues/rock guitarist Jared James Nichols kicked things off early. In fact, so early that I did not make it to the pit in time for photos, but nonetheless, the bluesy trio from Wisconsin settled in quickly as concertgoers made their way to the barricade. Jared's powerful, soulful voice shined on the group's rendition of "Mississippi Queen".
The mighty SAXON blew open the doors right out of the gate with "Battering Ram" – the title track off of their 2015 release. The fans swelled on the floor of the venue. I was truly shocked by how heavy SAXON really was – the older studio material just does not do them justice. "This Town Rocks" stirred the fan frenzy even more. Guitarists Doug Scarratt and Paul Quinn traded solos throughout the set. Biff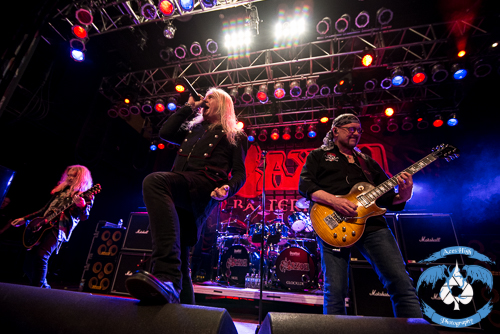 Byford still gets around pretty good, often jumping and stretching out over the monitors and his voice is still there as well. Biff even took requests from the crowd and Cleveland's choices were "20,000 FT" and "Strong Arm Of The Law" in the 1 hour-15 min set. The energetic effort was highlighted by the anthem "Denim And Leather" and capped by "Princess Of The Night".
Setlist:
"Battering Ram"
"This Town Rocks"
"Sacrifice"
"Power And The Glory"
"Sold Ball Of Rock"
"The Eagle Has Landed"
"Dallas 1PM"
"20,000 FT"
"Crusader"
"Wheels Of Steel"
"Strong Arm Of The Law"
"Denim And Leather"
"Princess Of The Night"
Supporting their 21st studio release, A Conspiracy of Stars, British metal pioneers UFO made their way to the stage after their tour manager's introduction. Vocalist Phil Mogg greeted the crowd and said "Okay…"Mother Mary"" and away we went. Vinnie Moore - the longest tenured UFO guitarist, absolutely mesmerized. He's a freak…I don't know what else to say. His sizzling, effortless playing really drives the live show. Phil Mogg is quite charming; telling jokes and speaking to individual members of the audience and he still has the pipes. Phil interjected "Lights out in Cleveland" during the song "Lights Out" which took the fans all the way to 11.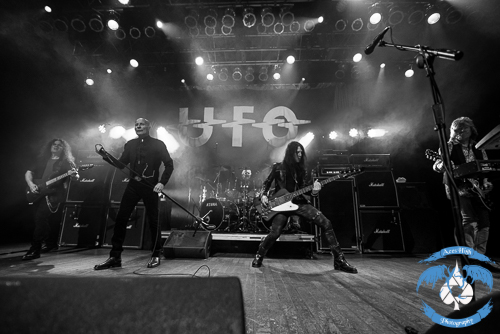 The entire set encompassed hit after hit with a handful of the new material just to garnish. Set staples like "Let It Roll", "Too Hot To Handle" and "Rock Bottom" were all executed flawlessly. What a night – two legends sharing the same stage and proving not only their relevancy, but their supremacy.
Setlist:
"Mother Mary"
"Run Boy Run"
"Lights Out"
"Baby Blue"
"Let It Roll"
"Only You Can Rock Me"
"Burn Your House Down"
"Too Hot To Handle"
"Messiah Of Love"
"Love To Love"
"Rock Bottom"
Encore:
"Cherry"
"Doctor Doctor"
"Shoot Shoot"
Check out some more photos from the show!
All Photos By Geoff Ketler/Aces High Photography

Please log in to view RANTS


ACID KING Beyond Vision

STEEL PANTHER On The Prowl

NIGHT DEMON Outsider

YNGWIE MALMSTEEN In Ottawa, Canada

THEORY OF A DEADMAN, SKILLET, SAINT ASONIA In Houston, TX With Photos!

OFFICER X Hell Is Coming

PERIPHERY Periphery V: Djent Is Not A Genre

INSOMNIUM Anno 1696

STEEL PANTHER, CROBOT, TRAGEDY In Houston, TX With Photos!

BABYLON A.D. Live Lightning

ROTTING CHRIST, CARACH ANGREN, UADA, GAEREA In Houston, TX With Photos!

MOTÖRHEAD Bad Magic: Seriously Bad Magic

TRAGEDY I Am Woman

ROXANNE Stereo Typical

ANTHRAX, BLACK LABEL SOCIETY, EXODUS In Houston, TX With Photos!