STYX Crash Of The Crown


By Ruben Mosqueda, Contributor
Monday, June 21, 2021 @ 9:54 AM


| | | |
| --- | --- | --- |
| | | |
STYX
Crash Of The Crown
Alpha Dog 2T/UMe 2021




After the split, there was the Dennis DeYoung STYX-era base, who followed him and his endeavors. Then there were those that were very accepting of the 'reality' that Dennis was gone and he'd NEVER be back. Over the years STYX has move full speed ahead with Canadian solo artist Lawrence Gowan in the DeYoung role. Gowan has been embraced by the base and rightly so, he's a fantastic singer, songwriter, performer and his charisma and stage presence is second to none, even to band mate Tommy Shaw! DeYoung has about as much of a chance of returning to STYX as I have of getting pregnant…by my wife!

On their 16th outing, The Mission, STYX crafted a critically acclaimed, brilliant concept album about travel to Mars. Four years have passed since its release, yet it's still fresh and still seems very much new. STYX wasted no time during the pandemic and got in full swing to complete their 17th studio album, Crash Of The Crown. The album is a 15 track opus, but don't fear, it's not a record that is heavy on filler. While the record clocks in at close to 45 minutes, some tunes are short and then there's intro/interlude tracks that set up the next. Nothing new here as that is what we got on The Mission. As you might expect, you'll be treated to a heavy helping of their trademark triple harmonies [quadruple actually, as bassist Ricky Phillips has a fantastic set of pipes himself], progressive grooves and signatures, crunchy riffage and their first class musicianship. If you've seen them live, you know this.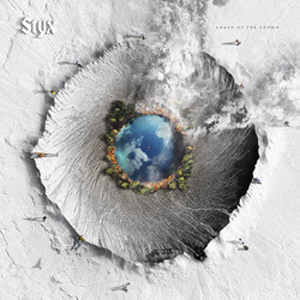 If you haven't be prepared to get destroyed when you do. STYX are much 'heavier' live than you might think and while they are a 'legacy' act, they thankfully mix in new tunes in their set. Also, Tommy Shaw did the 'heavy lifting' in the songwriting on this album as he did on The Mission. Kudos to James 'JY' Young for being a team player and not changing what worked last time around. Returning in a prominent role as he did on The Mission is Will Evankovich who co-wrote, performed and produced the album.
Back to Crash Of The Crown. The highlights of the record include "A Monster", which has classic STYX vibe and might I add, one of the best solos on the album. Drummer Todd Sucherman's abilities are showcased on the track. It's progressive elements are 'heaven' for the prog-heads. "Crash Of The Crown" is a masterpiece. We hear Shaw's QUEEN influences bleed through, as we do on "The Fight Of Our Lives", the opening intro to the album. "Reveries" is another classic STYX-sounding track with a heavy helping of progressive elements, AOR and melodic hard rock. While not a concept album, there's a recurring theme to Crash Of The Crown, stuff that the American people or the world for that matter can relate to; isolation, internal struggles, unrest and hope. It's a 'heavy' record lyrically, that listeners of all ages will embrace coming out of the pandemic.
4.0 Out Of 5.0

Please log in to view RANTS


WISHING WELL Sin And Shame

OTTTO Life Is A Game

SAXON More Inspirations

THE WINERY DOGS, BLACK HEART SAINTS In Houston, TX With Photos!

ROBIN MCAULEY Alive

CRADLE OF FILTH, DEVILDRIVER In Santa Ana With Photos!

KAMELOT The Awakening

ALTER BRIDGE, MAMMOTH WVH In Houston, TX With Photos!

ACID KING Beyond Vision

STEEL PANTHER On The Prowl

NIGHT DEMON Outsider

YNGWIE MALMSTEEN In Ottawa, Canada

THEORY OF A DEADMAN, SKILLET, SAINT ASONIA In Houston, TX With Photos!

OFFICER X Hell Is Coming

PERIPHERY Periphery V: Djent Is Not A Genre

INSOMNIUM Anno 1696

STEEL PANTHER, CROBOT, TRAGEDY In Houston, TX With Photos!

BABYLON A.D. Live Lightning

ROTTING CHRIST, CARACH ANGREN, UADA, GAEREA In Houston, TX With Photos!

MOTÖRHEAD Bad Magic: Seriously Bad Magic

TRAGEDY I Am Woman