W.A.S.P., ARMORED SAINT In Anaheim, CA With Photos!


By Junkman, On-Air Personality
Monday, October 31, 2022 @ 2:27 PM


| | | |
| --- | --- | --- |
| | | At City National Grove of Anaheim 10-29-22 |
All Photos By Junkman
For the second show of their "40 Years Live" tour, W.A.S.P. touched down in Anaheim California, and rocked a sold out crowd at the City National Grove of Anaheim, a 1700 person capacity venue on the outskirts of Angel Stadium of Anaheim, home of the professional baseball team, the Los Angeles Angels. "The Grove" as it's known locally, is a wonderful place to see a show, sold out or not. It's "Art Deco" décor and its outstanding sound and light system provide a very consistent concert experience. I have had the pleasure to attend countless events there over the years.
Upon arrival at the venue, huge lines of fans lined up around the building waiting to be let in. It brought to mind the shows at the defunct Pasadena, California theater "Perkins Palace" which long ago hosted lots of rock shows featuring W.A.S.P. as well as tonight's openers, ARMORED SAINT, and plenty of others. Many in the crowd were discussing their previous encounters with these bands as they waited to get in and I heard a lot of stories about "back in the day" rock show experiences as I strode to the box office to collect my credentials.
As the venue filled up, I found my place upfront and proceeded to enjoy the opening set from none other than Los Angeles' own ARMORED SAINT. They literally blew the roof off the place before a very excited crowd of both old school and new headbangers. Opening up with "Reign of Fire" from their classic 1991 Symbol of Salvation release, it was like kick-starting a Harley Davidson. Drummer Gonzo Sandoval's locomotive drumming, combined with his brother Phil Sandoval's shredding lead guitar, provided the fuel that lit the flame that is singer John Bush.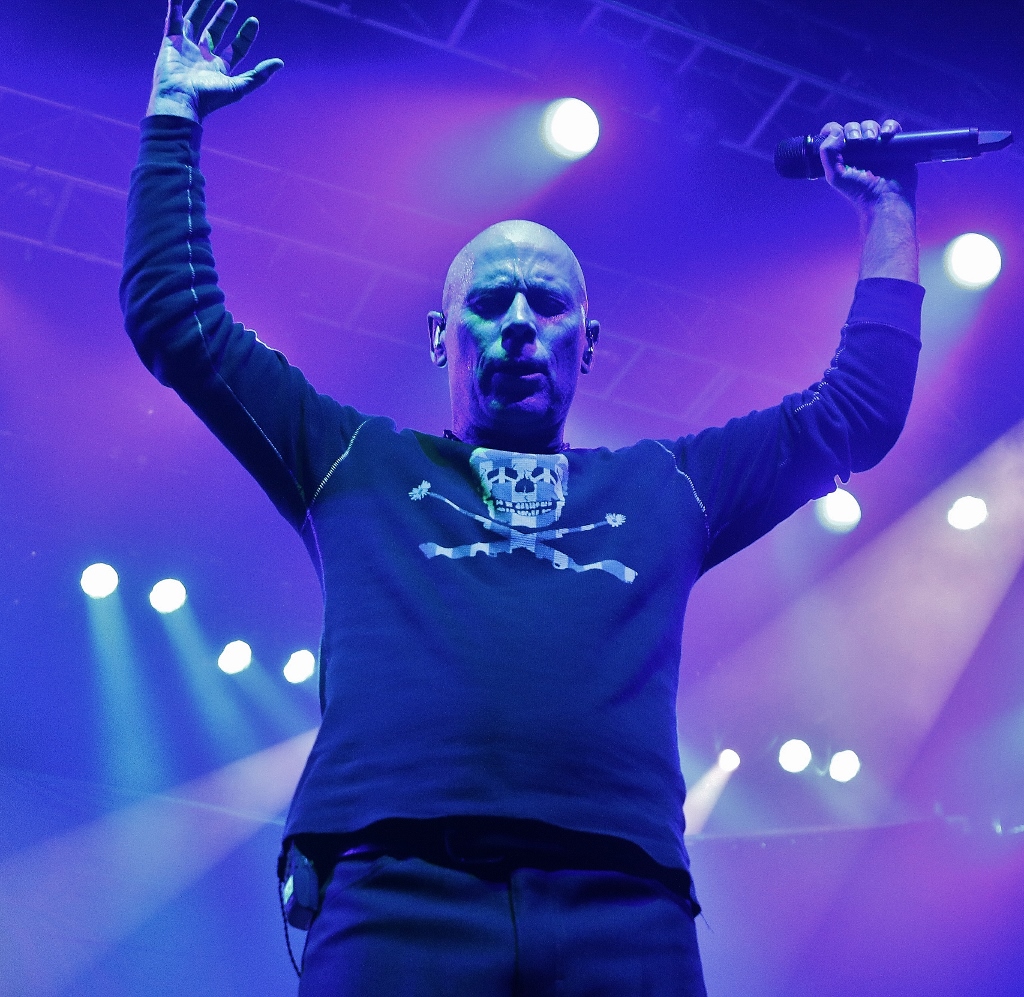 Bush was racing like a fireball during the entire ten song set. His energy onstage is a total adrenaline rush. He never misses a note and his treatment of newer songs, such as "End of The Attention Span" and "Standing On The Shoulders of Giants" fit right in with their older material seamlessly. In this genre of rock that is not always easy to do these days. Bush told the crowd that during the lockdown, he and his bandmates said "Fuck it, let's make a new album" and the result was, in my opinion one of their best, 2020's excellent Punching the Sky release.
Phil Sandoval traded lead solos with their other guitarist, the outstanding Jeff Duncan, and the two played numerous fat, chunky chords and dueling harmony leads during classics such as "Chemical Euphoria" and "Symbol of Salvation" which was dedicated to their late, original guitarist Dave Pritchard. Bassist Joey Vera provided the solid bottom end and his backing vocals supplied plenty of strength to the title track to "Win Hands Down". ARMORED SAINT made their fans go absolutely ballistic by going back to their beginnings with the 1-2 punch of "Can You Deliver" and the set closer "March of The Saint". To say this band could have been the headliner was something that many of us in the audience would not argue too much about. Just a great set, as ARMORED SAINT did an awesome job of firing us all up.
After a brief set change, the covers unveiled a back drop of old circus posters and even a large, creepy monkey holding a pair of cymbals on stage left while a pair of spooky skulls hung from either side. Center stage though stood "Elvis", W.A.S.P. singer Blackie Lawless' famous skull adorned, alien-backboned microphone stand that he has used for years. It is huge, mounted on a weighted platform, and has supported this large man as he occasionally climbs it throughout the band's set. As the strains of THE DOORS 1967 hit "The End" permeated the sound system the band, Lawless, guitarist Doug Blair, and long-time bassist Mike Duda, stood silhouetted in the dark and with their back against the audience, faced drummer Aquiles Priester as the crowd roared.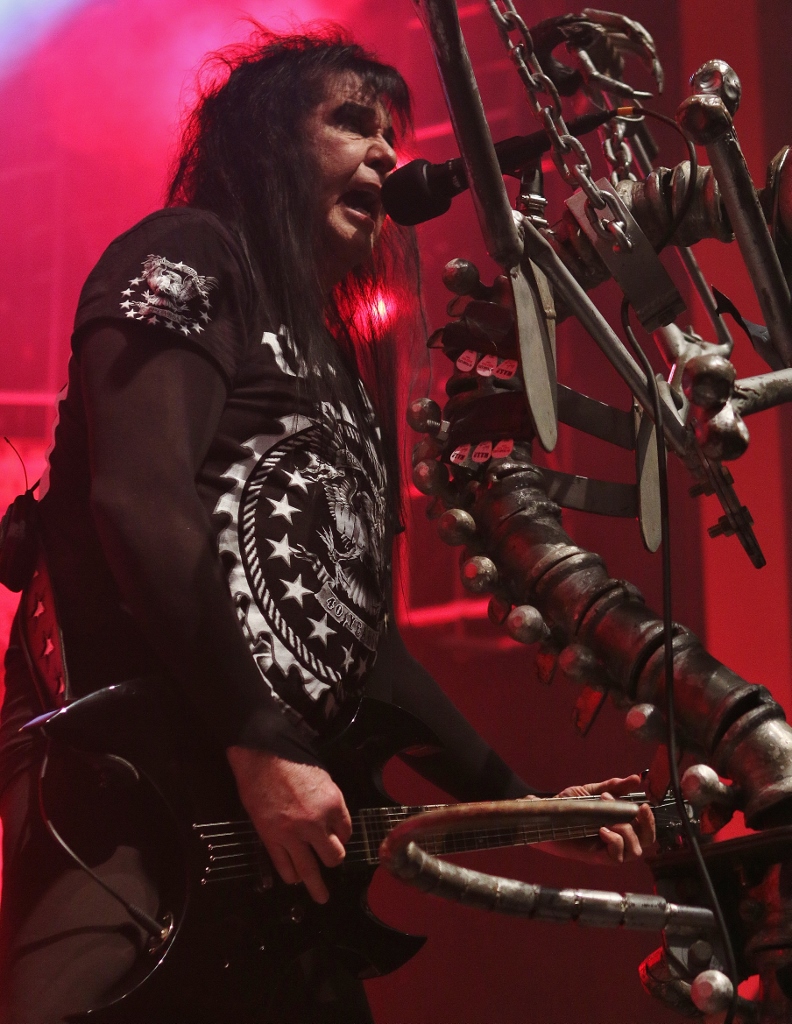 What followed was a loud, classic thirteen-song set that had their fans on their feet and rocking for the next 90 minutes or so. A "medley" of sorts of "On Your Knees" and "The Flame" as well as "The Torture Never Stops" and "Inside The Electric Circus" was a great way to start the show, as well keep the whole "Circus Theme" intact. Lawles was looking fit and sporting white fringed boots and knee-pads as well as a black shirt with "Lawless" and the number 40 on the back, signifying 40 years of touring.
"It's been a loooong time" Lawless addressed the crowd. He then thanked them for selling out the show, even though "The promotors said we wouldn't." The band hit their stride with the popular "L.O.V.E. Machine" and "Wild Child" before bringing it down a bit for "Heavens Hung In Black" that was accompanied by a backdrop video featuring scenes from American battles from the Civil war, right up to the American conflict in the Middle East.
Lawless thanked and saluted the members of the armed forces and then got back to rocking with "Hellion" which led into the Ray Charles/HUMBLE PIE classic "I Don't Need No Doctor" which bumped up the crowd yet another notch. Doug Blair is an outstanding lead guitarist and seemed to hit all the right notes. There have been many guitarists in this band over the years but he, just like bassist Duda, are about as solid as they get and have been for a long time. After a spirited version of 1992's "The Great Conceptions of Me" the band briefly left the stage.
W.A.S.P. then returned to the stage with "Chainsaw Charlie (Murders In The New Morgue)", also from The Crimson Idol release of 1992. They then shifted gears with the wildly popular "Blind in Texas" in which it seemed that the entire audience was singing every word. Lawless, occasionally grinning at what he and his band had created, came out from behind his large mic stand and rocked his black BC Rich guitar. "Good Night" he yelled at song's end, and again, the band left the stage.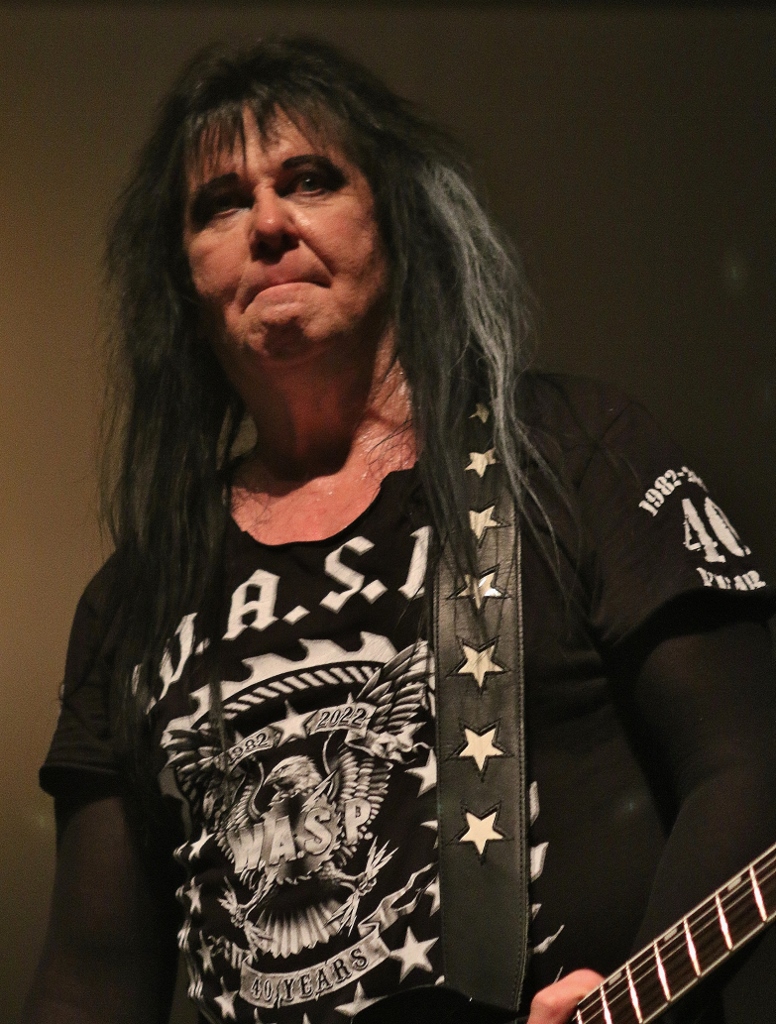 After a short video that transcribed part of the 1995 PMRC Trials as well as a display of "The Filthy 15" songs that the PMRC was having such an issue with, (for those unfamiliar, Google it…) and this of course was the natural lead-in to "Animal (Fuck Like A Beast)" which topped that list. Apparently, this is the first time that the band has performed this song on tour since 2006. Naturally the crowd loved it. It was followed by their great cover of THE WHO classic "The Real Me" (who had coincidentally performed right up the street at the Honda Center in Anaheim the night before and played that number as well) that was driven by the pounding drums of Aquiles Priester, who is a real monster behind the drum kit.
W.A.S.P. then closed their set with "I Wanna Be Somebody" which is always such a great rocker to shout out the chorus to. I must admit, I was initially skeptical at seeing W.A.S.P. at this stage in their career. Unlike many in this genre of rock, 40 years of being a band can take its toll on band members, in particular the vocalist, but tonight that was not the case. Both bands did an outstanding presentation of a good old fashioned rock show. As Blackie Lawless stood upon his mic stand and waved his arms, occasionally swaying it back and forth, you could see the joy in his face that comes with his continued passion for performing to an adoring crowd. Bravo, gentlemen, we were rocked. The W.A.S.P./ARMORED SAINT "40 Years Live" tour continues and will hopefully be hitting a city near you. Go to www.livenation.com for further info and tickets. My thanks to those that made it possible for me to attend.
Check out some more photos from the show!
All Photos By Junkman

Please log in to view RANTS